Haribo can't bear SAP S/4HANA implementation
Haribo's recent deployment of S/4HANA may have led to problems getting its products into stores, but experts believe they could have been avoided with better project management.
Did a troubled SAP S/4HANA implementation project cause the great gummy bear shortage of 2018?
In many parts of the world, especially in Europe, the sweet, gelatinous gummy bears are a holiday season staple treat, but the candy's maker, Haribo, had serious problems getting the gummies onto the shelves of stores and suppliers late in 2018.
Haribo ran into its gummy bear supply problems after it replaced a legacy merchandising management system with an SAP S/4HANA implementation, according to the news site Lebensmittel Zeitung.
While it's unlikely the S/4HANA implementation alone was the cause of Haribo's gummy bear shortage, the problems cost the company lost sales and damaged its reputation. Industry analysts agree that the Haribo case -- along with German discount grocer Lidl's failed SAP deployment -- points out the risks involved with large and complex ERP projects.
S/4HANA teething pains
For its part, Haribo acknowledged the problems but said those problems are largely behind it now. Haribo was one of the first companies to implement SAP S/4HANA with all of its functions, a company spokesperson said. However, the S/4HANA implementation was "accompanied by teething troubles in some areas," particularly supply difficulties.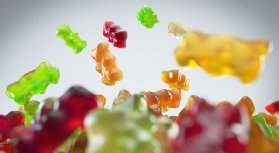 "Considering the far-reaching nature of this project, we did expect a certain extent of teething troubles," the Haribo spokesperson said in an email. "However, the supply difficulties were admittedly more extensive than envisaged beforehand."
The company "made a concerted effort" to address the issues, and the supply has improved to previous levels for most products, according to the spokesperson.
Poor planning causes problems
This kind of project implementation trouble is not exclusive to S/4HANA but can be common in many ERP projects, according to industry analysts. Haribo did not provide any details about the project, such as testing methods or project management plans, so the analysts could not comment specifically on the company's situation. However, problems like what Haribo experienced with complex ERP implementations can be avoided or at least mitigated with sound planning and project management.
Companies must take into account a realistic plan for a project as complex as the S/4HANA implementation, said Eric Kimberling, CEO of Third Stage Consulting, an independent ERP consulting firm.
"There are many times when you put together an implementation plan or budget that assumes an ideal state scenario where you don't take into account some of the longer-term costs," Kimberling said. "This looks like a case where that clearly happened, and they hadn't factored in the fact that sales might be lost as the result of operational disruption and not being able to get the product on the shelves."
Get regular health checks
Jon Reed, co-founder of the technology news and analysis site Diginomica and a longtime ERP analyst, said insufficient testing can lead to the type of problems Haribo experienced.
A principle of sound project management is to test systems before they go out into broad production scale, Reed said. Still, testing can't always ensure the right outcome; even companies that perform rigorous testing still experience problems, he explained.
Third Stage Consulting's Kimberling said proper process mapping, scenario testing and user acceptance testing should expose these kinds of problems, enabling the issues to be remediated before go-live.
In addition, any complex ERP implementation should have regular "health checks" from third-party entities that can provide an independent voice on the project's progress, according to Reed.
"There needs to be someone who can step back and say, 'Here's something that isn't working all that well, and here's why,'" he explained. "It's a lot like personal medicine where you're going to be a lot healthier if you have regular wellness checks and making course corrections."
"You read about these projects and have to ask, 'How did they get so far down this problematic road? Where were the health checks and people saying what was happening?'"
Get the timing right
Timing is everything in an ERP implementation. Projects may go off the rails if a company tries to switch the system on during its busiest business period -- like just before the holidays, according to Steve Ditty, senior project manager at Panorama Consulting, who has served as an expert witness in several ERP implementation lawsuits.
"Companies need to understand their business cycle and understand the impact that such a complicated ERP system deployment is going to have on their business," Ditty said. "You need to put aside time on your calendar to put it in, test it and stabilize it so it doesn't affect business operations significantly, and they may not have done that."
Companies should plan ERP implementation projects around business calendars and enter blackout dates for the busiest times, according to Ditty.
Troubled ERP projects, like Haribo's S/4HANA implementation, can have many causes, Ditty explained, but the main culprit is usually poor planning and change management issues. ERP project planning should start as much as a year or more before the implementation work begins. Companies need to determine their strategy and know what functions they want to automate or consolidate with the software.
"[A successful ERP project depends on] planning, process design, data management and cleansing of historical information, staffing the project with the right people and planning the project around the business events which could impede your ability to get the product out the door when you're implementing," he said.
Impatience in an ERP deployment project can also lead to costly consequences, according to Kimberling.
"Companies can get impatient with a project like this or just get tired from spending time and money on building this new system, and they get to a point where they just want to get it done," he said. "They don't really think about having to spend millions of dollars dealing with the fallout after a botched implementation. You need to have the patience to recognize that it will be a lot cheaper for you to do it right the first time rather than having to fix your mistakes later on."