SAP NetWeaver is a technology platform that allows organizations to integrate data, business processes, elements and more from a variety of sources into unified SAP environments. SAP NetWeaver forms the technical foundation for a large number of SAP application landscapes.
SAP NetWeaver is an open application server platform primarily used by SAP developers, administrators and consultants. The SAP landscape is a complex place that involves various business applications -- for example, finance, supply chain management (SCM), customer relationship management (CRM) and human capital management (HCM) -- that all need to talk to each other. These applications also need to talk to other systems and applications outside of the SAP business suite environment. SAP NetWeaver allows users to manage the complexity and costs of integrating all of these systems, applications and services in their SAP environments.
Content Continues Below

Download this free guide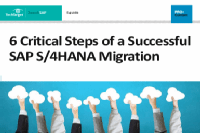 Download Now: 6 Critical Steps of a Successful S/4HANA Migration
To avoid ERP implementation failure, taking the right approach to an S/4HANA migration is a must. In this guide that we designed for you, you'll get your hands on 6 critical -- and too easily overlooked -- steps your organization can take to successfully move forward.
It comprises a collection of components that organizations can use to solve specific problems or introduce and manage specific features and functions in SAP environments. SAP NetWeaver is commonly used to develop apps, connect users, orchestrate processes, manage systems, manage data and access security.
SAP NetWeaver components
SAP NetWeaver encompasses a variety of components that enable functionality in SAP environments. These components include:
SAP Business Information Warehouse, which provides data warehouse functions and a business intelligence platform and tools that organizations can use to analyze and interpret business application data.
SAP Business Intelligence, which provides analytics and reporting tools.
SAP Enterprise Portal, which allows organizations to develop single access points for applications, services or data in SAP environments.
SAP Exchange Infrastructure, which facilitates the exchange of data between an organization's internal SAP environment and external systems.
SAP Knowledge Warehouse, which helps organizations set up and manage enterprise-specific knowledge bases for documentation, training materials and manuals.
SAP Master Data Management, which allows organizations to consolidate and manage master data from heterogeneous sources into a centralized repository.
SAP NetWeaver Process Integration, which enables organizations to integrate business processes that run in different systems, such as when companies merge or are acquired.
SAP NetWeaver architecture
SAP NetWeaver forms the foundation of the SAP technology stack and is the platform used for Advanced Business Application Programming (ABAP) and Java applications. SAP NetWeaver components are built on the SAP NetWeaver Application Server and are written in ABAP or Java Platform, Enterprise Edition.
SAP NetWeaver uses ABAP or Java servers to support the applications. It also includes application lifecycle management capabilities. As an application server, SAP NetWeaver forms the foundation of the on-premises versions of SAP Business Suite and other applications. It's the foundation for the on-premises SAP S/4HANA next-generation business suite, with SAP HANA serving as the sole underlying database.
SAP NetWeaver 7.5 includes integration capabilities with SAP HANA and SAP Cloud Platform, allowing on-premises applications on ABAP or Java application servers to connect with cloud services and take advantage of HANA's in-memory computing functionality. SAP NetWeaver can also enable evolving technologies, including the internet of things (IoT), mobile services, big data and advanced analytics.
SAP NetWeaver history
SAP NetWeaver originated in 1997 with TopTier Software. SAP acquired TopTier in 2001, and the first version of SAP NetWeaver was released in 2004.
The most current version, SAP NetWeaver 7.5, was released in 2015.
This was last updated in
October 2018
Continue Reading About SAP NetWeaver
Dig Deeper on SAP NetWeaver