Problem solve
Get help with specific problems with your technologies, process and projects.
Download and install the trial version of SAP NetWeaver 2004s ABAP
With the new build of the SAP NetWeaver 2004s ABAP trial version (SP11), we bring you a series of tips that will update your ABAP developer skills (beginners and experienced) to this new version. By the end of this series, you will have a good understanding of what's going on in the ABAP application server.
If you're interested in downloading a free trial version of SAP ABAP, please check the system requirements first....
Continue Reading This Article
Enjoy this article as well as all of our content, including E-Guides, news, tips and more.
By submitting your personal information, you agree that TechTarget and its partners may contact you regarding relevant content, products and special offers.
You also agree that your personal information may be transferred and processed in the United States, and that you have read and agree to the Terms of Use and the Privacy Policy.
If your PC doesn't meet the requirements, the installation might fail or the performance will be very bad (and this might reduce the fun in working with ABAP). The download consists of two .rar files:
'SAPNW2004sABAPTrialSP11.part1.rar'
'SAPNW2004sABAPTrialSP11.part2.rar'
These two files should be downloaded into the same directory. Because both of them are bigger than 1 GB, the download might take some time. To find out whether the downloads are complete, you can check the file size (click on the file in Windows Explorer and choose 'properties'): '…part1.rar' = 1.572.864.000 and '…part2.rar' = 1.189.536.491 If everything is alright so far, you have to extract the files with an appropriate .rar tool (if there is none on your computer just search Google for "rar tool download" and download and install it on your PC). Just click on the first one ('…part1.rar') and after a little while your unpacked structure should look like: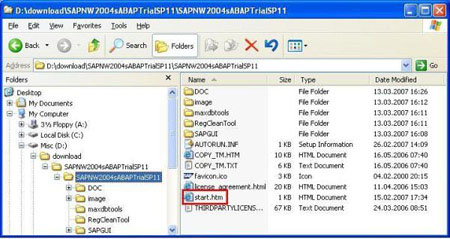 The .rar tool creates a structure that you can see in the right side of the Windows Explorer window. In the DOC directory, you can find all HTML stuff related to the installer. The image is the installation itself. There are two database tools in the maxdbtools directory. And the SAPGUI directory contains a Compact SAP Logon 7.10 that you should use as User Interface. To start the ABAP server installation, click on 'start.htm' and follow the dialog steps.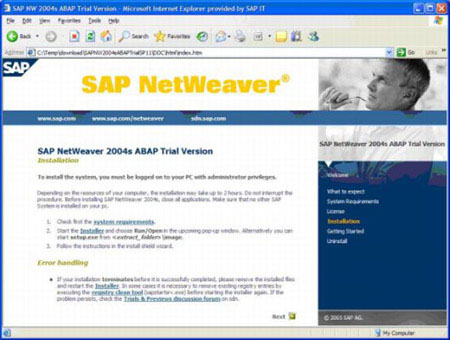 Be sure to check the system requirements. It is also important that there are no remnants of an older trial version or sneak preview installation left on your PC.
The installation can be started from the Installation page by clicking on the word 'installer'.
Be aware that the installation of an SAP system is typically a pretty complex task, with installing a database, starting it, filling it with a huge amount of data, configuring the network connection, starting the system and doing lots of configuration steps. Therefore, the installation guide of a real SAP system consists literally of hundreds of pages for experienced administrators. All this is hidden in this trial version as much as possible, but nevertheless, it is done under the hood. So it might be a good idea to leave the installation alone and not to work heavily on the PC during the installation.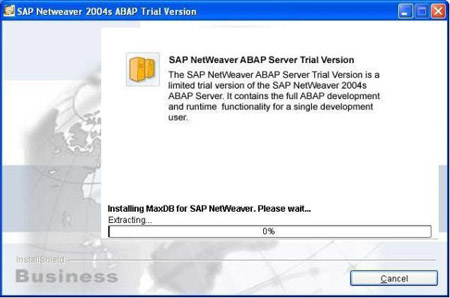 Doubleclicking on 'SapGuiSetup.exe' will start the installation of the Compact SAP Logon 7.10. In the dialog, you are guided through some information pop-ups and finally you come to the window with the product selection. Just click on the 'Select all' that will check the check-box for you and then choose 'Next' and finish the installation.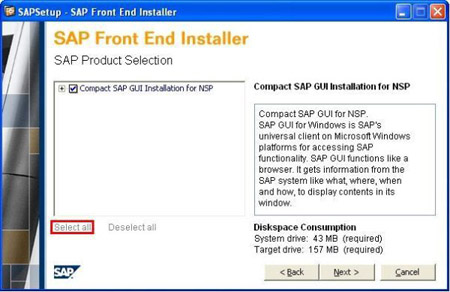 There will be a new icon for SAP Logon on your desktop now. After the installation of the SAP Logon a reboot might be required.
In the next edition of 'ABAP Trial Version for Newbies,' we'll discuss how to start the Application Server and how to log on with the SAP GUI to the system.
Manfred Lutz is in Netweaver Product Management with focus on Application Servers.
This content is reposted from the SAP Developer Network.
Copyright 2007, SAP Developer Network
SAP Developer Network (SDN) is an active online community where ABAP, Java, .NET, and other cutting-edge technologies converge to form a resource and collaboration channel for SAP developers, consultants, integrators, and business analysts. SDN hosts a technical library, expert blogs, exclusive downloads and code samples, an extensive eLearning catalog, and active, moderated discussion forums. SDN membership is free.
Want to read more from this author? Click here to read Manfred Lutz's Weblog. Click here to read more about ABAP on the SDN.
PRO+
Content
Find more PRO+ content and other member only offers, here.