Part 4: Using Web Design API to export to Excel
Get inside Visual Composer and its functionality within NetWeaver and for composite applications.
Double click on the Output Table and choose "Edit" on the toolbar.

Specify this button as "Export to Excel", System Action=Hyperlink, and then click Formula.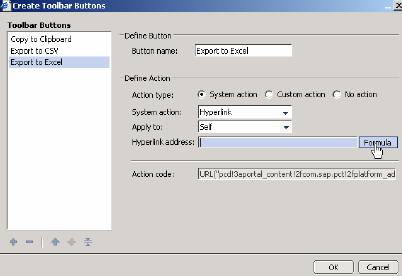 Specify this formula:

"pcd!3aportal_content!2fcom.sap.pct!2fplatform_add_ons!
2fcom.sap.ip.bi!2fiViews!2fcom.sap.ip.bi.bex?
QUERY=" & STORE@REPTNAME &"&BI_COMMAND_1-
BI_COMMAND_TYPE=EXPORT&BI_COMMAND_1-
EXPORT_FORMAT=XLS&BI_COMMAND_1-null="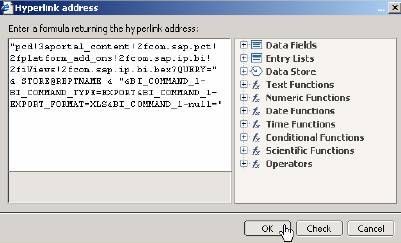 NOTE: This URL is for the Web Analyzer PCD Location if Visual Composer is on the same server as BI-Java. If it is not, see the section on Mapping External BI locations.
Choose OK.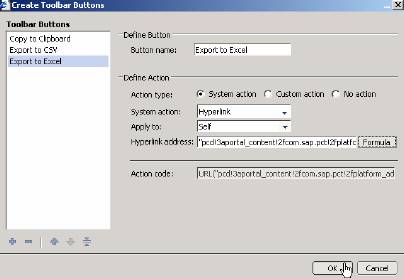 NOTE: This will export the default view of the data service to an Excel File. It will not keep filters or navigation states.
Deploy your model.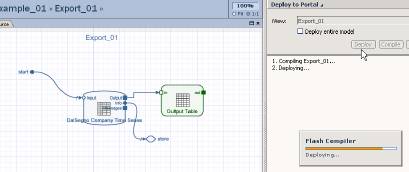 Run your iView and choose "Export to Excel".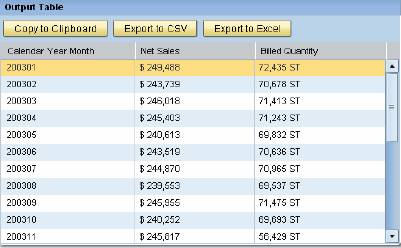 Look at your exported Excel file.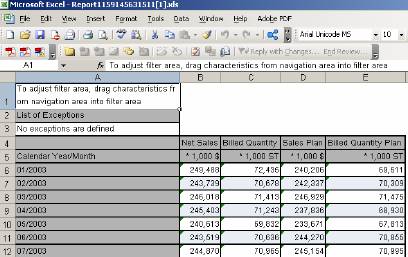 Visual Composer for xApp analysis

Home: Introduction
Part 1: Architecture of Visual Composer BI Kit
Part 2: Using the native Visual Composer export data functionality
Part 3: Using Web Design API to export to CSV
Part 4: Using Web Design API to export to Excel
Part 5: Using Web Design API to export to PDF
Review: Conclusion and additional resources

Dig Deeper on SAP development and programming languages