Andres Rodriguez - Fotolia
With the release of HANA SPS 09, SAP continues to innovate
With the release of SPS 09, SAP HANA is cementing itself as the in-memory benchmark for other database vendors to compare themselves against.
Although customers are still trying to understand exactly how SAP HANA can help their company, SAP continues to deliver innovations to HANA at a steady pace. Such innovations ensure that the product has the expected features and meets the needs of the evolving big data community. SAP recently released HANA SPS 09, and some new features are worth noting.
As part of SAP's goal to ensure that customers are given as much flexibility as possible, SPS 09 introduces Multi-tenancy. CIOs want their HANA appliance investments to handle more than one ERP or business information warehouse, or BW, system, and multi-tenancy gives them the ability to share infrastructure and resources across multiple systems, as well as reduce operational overhead by allowing administrators to handle backup, disaster recovery and patching at a higher level. This innovation alone, as well as the total cost of ownership benefits, should encourage customers to consider SPS 09 when they make purchasing, upgrade or evaluation decisions.
As Hadoop continues to make an impact in enterprises globally, SAP realizes a need exists for data federation, simplified access and a consolidated front end for the new wave of self-service business intelligence, or BI, tools. Hadoop is challenged by compatibility and integration of legacy systems, and SAP is providing customers with an alternative option for developing, managing and invoking Hadoop functionality through the familiar interface of SAP HANA smart data access, or SDA, and the new Hadoop integration features. This new functionality provides the ability to execute ad hoc querying and processing of unstructured data, and allows direct access to the Hadoop distributed file system, or HDFS, without the need for a package, mapper or reducer specification.
The features noted above cater to companies embracing Hadoop, but SAP has its own alternative feature, called dynamic tiering, for companies that want to keep their big data under the SAP umbrella. Dynamic tiering enables customers to manage data costs more effectively by defining different data assets as either "hot" or "warm" (see Figure 1). With dynamic tiering, HANA can now store warm data on conventional, lower-cost spinning disks. Only the hot data needed for speedy analysis remains in memory.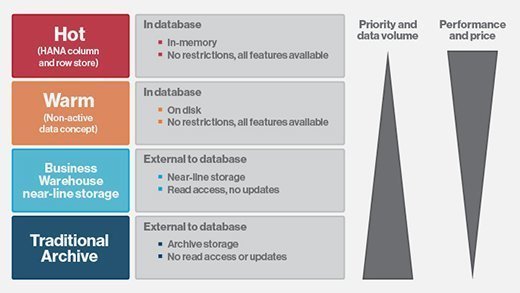 To ensure that big data can get into HANA quickly, SAP is introducing the acquisition of Sybase and its innovative technologies through a feature called smart data streaming. This feature will allow HANA to capture streaming data continuously from devices and applications. Smart data streaming not only enables the capture of the data at a rate of up to a million events per second, but also enables the user to act on it as soon as it arrives. This can provide alerting, notifications and responses to changing business conditions. Smart data streaming also provides a solid foundation for the innovative and effective use of operational dashboards within the enterprise.
Another major improvement included with SPS 09 is one to the predictive analysis library. This impressive HANA feature now includes eight additional algorithms and multiple enhancements to the existing ones. Data scientists and developers will be anticipating the service pack because it has an enhanced modeling and programming editor in HANA Studio.
New exploration tool aids application developers
Application developers will be more effective in the new release of HANA, thanks to a new OData exploration tool, integrated debugging and a multitude of updates to its modeling capabilities. The Web-based development workbench and the studio have also received some welcome updates in the form of application previews, additional Web templates and a visual view of an application's function flow.
SAP HANA SPS 09 also adds more XSJS application program interfaces (APIs). This includes the ability to handle Zip and Gzip files and a SMTP API that allows you to send emails. The new APIs also give developers the ability to run virus scans, all directly from their XSJS code. Also introduced is an unanticipated secure store API, which allows developers to securely store data. The API handles the encryption, decryption and persistence of the sensitive data, which could include credit card numbers, passwords or PIN codes.
Innovation and development improvements were not the only focuses of the SPS 09 update. Operational enhancements were included, ensuring that IT staff are notified when problems occur; and SPS 09 now includes backup, storage and log issue alerting to avoid additional or unexpected downtime.
Although the SPS 09 update is a major one, I was hoping for a few additional features. I would like to see HANA SPS 10 add support for Windows-based servers and for Websockets to truly enable real-time Web applications on SAP HANA. I also hope that SAP can keep expanding its developer offering of the product and make a limited or free version of the HANA software available for download.
Overall, the HANA application has come a long way, and the product is cementing itself as the in-memory benchmark for other database vendors to compare themselves against.
You can find a comprehensive list of SPS 09's updates and enhancements here. Just like the HANA system, the documentation has been updated and is more thorough and informative than ever before.
Next Steps
Understanding SAP's cloud strategy
What to consider before installing SAP HANA on-premises
Could new finance apps encourage HANA adoption?