WavebreakMediaMicro - Fotolia
What can the SAP HANA Cloud Platform do for you?
If you need to add a customized function to an SAP application, the HANA Cloud Platform may be the development resource you need.
In 2013, SAP launched its platform as a service (PaaS) to enable cloud-based application development for both SAP...
Continue Reading This Article
Enjoy this article as well as all of our content, including E-Guides, news, tips and more.
and non-SAP customers. In addition to providing tools to build and deploy Web applications, the platform enables SAP customers and partners to build extensions for SuccessFactors, Fiori, Financial Services Network, Product Stewardship Network, S/4HANA and more. This is known as extensibility. Although the cloud is known for its configurability and lack of customization, extensibility enables customers and partners to build new applications that look, feel and behave as if they are part of an SAP application, such as SuccessFactors or S/4HANA. Essentially, this is customizing your SAP applications without customizing them.
A number of use cases demonstrate the benefit of using the SAP HANA Cloud Platform. These include building application extensions for SAP cloud applications and on-premises applications, building custom applications and building Internet of Things (IoT) applications.
Extension applications let you build out application features that don't exist in the core product. For example, you may want to build out your own asset management feature as part of Employee Central. Extensions built on UI5 are designed to inherit the look and feel of the target application, so an end user can't tell that they are in a different application than the target application.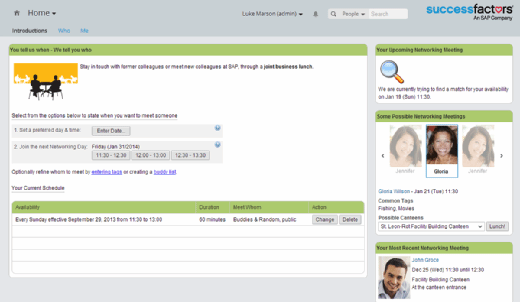 Let's take a look at an example. Figure 1 shows the Networking Lunch application, which SAP built on the HANA Cloud Platform. It has inherited the olive green and white color scheme of the system, so that the portlets -- the boxes containing data or features -- match how other portlets display. And while it appears to be part of the SuccessFactors application, it is not; but to the end user, it is. This creates a seamless user experience between the target and extension applications.
Custom applications can cover any area a customer wishes. Examples include the NFL picking fantasy football winners application -- which also leverages Lumira technology -- and the Dutch SAP User Group (VNSG) Enhancing the VNSG Congress Experience application.
IoT is a fast-growing area of IT that enables multiple devices around the world to be connected. SAP has launched IoT services for the SAP HANA Cloud Platform, so it can be used to build and connect devices in numerous IoT scenarios.
The SAP HANA Cloud Platform supports the Open Data Protocol (OData) v2.0, a standardized protocol for creating and consuming data. This enables applications built on the HANA Cloud Platform to both consume and modify data in other applications that support the OData protocol, such as SuccessFactors and Fiori. To communicate with on-premises SAP systems, the HANA Cloud Platform supports the HANA Cloud Connector. The SAP Application Partner Developer Center provides a good explanation of the concept.
Applications. Currently, SAP does not have a strong catalog of applications or extensions. Although the company has built out some apps itself, partners have contributed only a few applications. For example, of the handful of SuccessFactors extensions, only a few solve real everyday HR problems. Although there are some excellent applications, such as Enterprise Jungle and JobPts, these are certainly for more specific talent management and social collaboration use cases.
Licensing and pricing. The SAP HANA Cloud Platform -- like most PaaS offerings -- is licensed on a subscription basis. Pricing is currently available on the HANA Cloud Platform website, but customers should be warned that pricing is not straightforward. This is a by-product of the different packages and different types of customer needs. For example, while some customers may want the HANA Cloud Platform to run one or two SuccessFactors extensions, other customers may want to subscribe to the HANA Cloud Platform so they can build and consume their own applications that require a number of services, such as mobile and large database storage. Although SAP is working on further packages and simplification of the pricing, in many cases, it may be best for customers to speak to their SAP representative to understand which options work best for their specific needs -- partners can contact their Partner Service Advisor.
Where can I browse and buy applications? The SAP HANA App Center -- previously called the SAP HANA Marketplace until April 2015 -- is the core store from which to browse and purchase HANA Cloud Platform applications. However, there are a few other places where applications can be purchased, including two different app stores, both called SAP Store.
The SAP HANA Cloud Platform provides capabilities to build your own applications that can be consumed independently or within certain SAP cloud applications as extensions, both through your Web browser and on a mobile device. Although more applications are needed to show the use case for the platform and pricing requires more simplification, customers with certain use cases can begin building their own applications and consuming partner applications.