Use SAP Classification to bring sanity to SAP master data
Managing SAP master data can be a headache, but it doesn't have to be, writes Jawad Akhtar.
Despite growing challenges in master data management, spurred by the increasing amounts of data in SAP ERP systems,...
Continue Reading This Article
Enjoy this article as well as all of our content, including E-Guides, news, tips and more.
few companies look to the Classification function in SAP to manage their SAP master data.
In short, SAP Classification can be used to group like data objects so they can be easily found, which can cut back on duplicate master data entries.
Data classifications available in common SAP modules include the following:
Materials Management module: Material Master, Item Code, Vendor Master, Batch, etc.
Plant Maintenance module: Equipment Master, Functional Location, etc.
Project System module: Network
Quality Management module: Inspection Characteristics, Inspection Method, etc.
Document Management System (DMS) module: Cross-application
It takes just three steps to set up a classification: Define the characteristic, create a class of specific class types, and assign the previously defined characteristics to the class.
A characteristic can be any physical or chemical attribute of the object that you would like to record information about. For a manufacturer that produces pumps, characteristics might include the amount of horsepower or the volume the pump is capable of processing. Or it could include the physical makeup of the pump, whether it's iron, carbon steel or steel alloy. Or maybe it's whether the pump processes sludge, slurry or brine.
When creating a characteristic, users have the option to define various input options, such as single value, multiple values, a range of values or a negative value. They can also define the number of characteristics, the decimal places and the unit of measure associated with the characteristic.
A class can be any freely definable value. A class type is the unique identifier, as well as the control function of the class application. The class type for material master is 001, for example. Equipment is 002, DMS is 017 and batch is 023.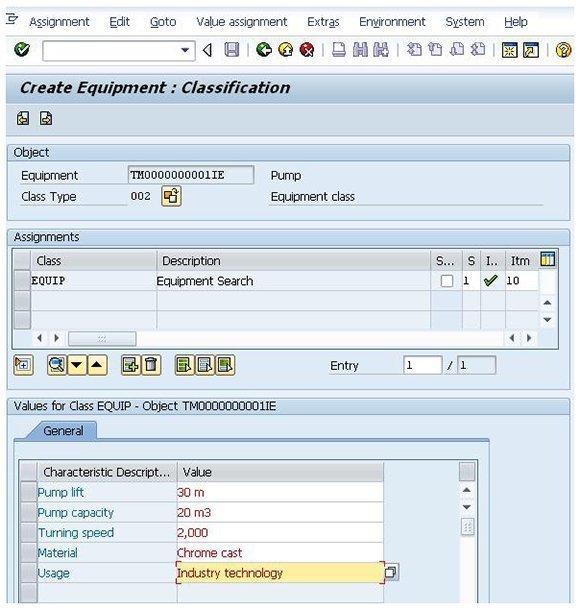 Figure 1. The EQUIP class and its five characteristics. It is assigned to the Equipment Master.
Once the class type has been created and relevant characteristics assigned to it, the class can be assigned to the SAP object. For example, you might create a class called "EQUIP" of class type 002 (for Equipment Master) and assign five characteristics to it: pump lift, capacity, turning speed, material and usage. For each of these characteristics, you enter the respective value.
This newly created EQUIP class is then assigned to an SAP object for an item such as Equipment. Once the class is assigned, the system will provide the user with the option to enter all of the classification data. (See Figure 1 for details.)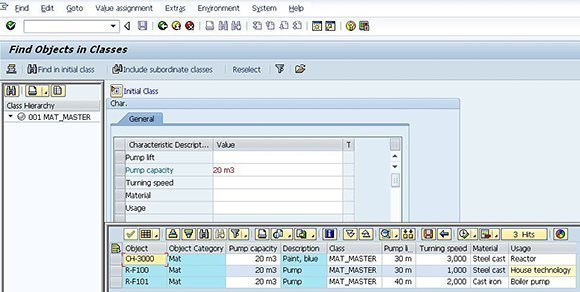 Figure 2. Results of searching in the material master for objects with a pump capacity of 20 m3.
Figure 2 shows that the system is able to bring up three results from the material master for a search on a pump capacity with a value of 20 m3. The results appear in the lower half of the figure.
Users typically only need one or two hours of training on SAP Classification before being able to manage on their own, including making changes to already created characteristics.
You will need to spend time assessing and evaluating master data to see how best to integrate it with various classifications. It's a good idea to segregate the master data into logically relevant sections before integrating their classifications. This way, if you make a mistake creating or assigning any of the classification data, it is easy to amend or delete the information.
About the author
Jawad Akhtar is an assistant vice president and SAP project manager for AbacusConsulting, where he focuses on supply chain management issues. AbacusConsulting is based in Pakistan.