Problem solve
Get help with specific problems with your technologies, process and projects.
Upgrading your SAP NetWeaver 2004s ABAP Edition
SDN contributer Tiest van Gool guides through eight steps to upgrade your NetWeaver 2004s installation from Service Pack (SP) 5 to the most recent version SP8 and/or further when available.
This weblog is intended as a sequel on the infamous Blog Series of Craig Cmehil regarding the MiniWAS 620 and his travels. I recently installed the NetWeaver 2004s Sneak Preview with ABAP Stack in order to play around with WebDynpro for ABAP (WDA) and therefore had to say goodbye to my good old MiniWAS. This blog assumes you have successfully installed the WAS 700 as outlined in the installation guide. As a note on this installation I must say that the actual process is many, many times easier as its 620 counterpart. Craig, this installation looks like heaven compared to our MiniWas 620 endeavors ;-).
I also would recommend that you register your local installation as described in License Key Guide. In order to complete this process, ensure you log on to your machine as user nspadm in order to avoid any issues during registration.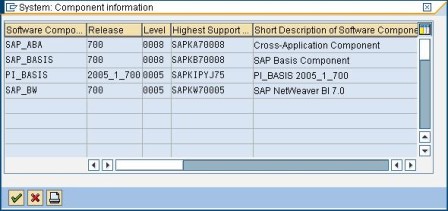 As seen in the picture above this weblog will contain the steps for all you out there that would like to upgrade their NetWeaver 2004s installation from Service Pack (SP) 5 to the most recent version SP8 and/or further when available. This since every SP upgrade adds new functionalities to your local installation this enables you to gain exposure to SAP's most recent development efforts. During my previous experiences I had several more or less basic knowledge gaps regarding the actual upgrade process that I will try to fill in this blog. Also you might want to have a look at the blog Thomas Jung wrote on this subject: Apply Support Packages to the SDN ABAP-AS Sneak Preview .
Step 1: Download SAP kernel patches -OPTIONAL-
Even tough given the current SP requirements do not require a kernel upgrade; I will execute this upgrade to complete the information in this weblog. Kernel upgrades are divided into database independent and database dependent portions. The sneak preview of SAP NetWeaver 2004s ABAP edition comes packed with Kernel version 23 and at the moment of writing this blog patch level 58 is available. First step is to download the newest kernel version located at on the SAP Support Portal. Here you select the Kernel version for WAS 700 32 bit, select your operating system (Windows Server on IA32 bit) and download the database independent file as well as the database dependent file for MaxDB.
Step 2: Download the latest SPAM/SAINT release
Download the possible SPAM/SAINT (SAPKD700*) updates that are available. Use transaction SPAM to determine your current version (download comes with release 19). Similar as the regular support packages ensure no additional import conditions are mentioned.
Step 3: Download the relevant support packages for BASIS and ABAP components
Download the Basis (SAPKB700*) and ABAP (SAPKA700*) SP's that are available for WAS 700 higher then release 05 on the SAP Support Portal. Also check whether there are any additional conditions in place before applying the SP. Place the available SP's in your download basket and assume downloading. In the situation additional requirements are identified also download these components, e.g. Kernel, TP.
Step 4: Unpack and installing the Kernel patch -OPTIONAL-
Locate your Kernal files and move them to a temporary directory. Unpack these files into this directory using the following command: sapcar.exe –xvf " .CAR" –r " ". Ensure the sapcar application is not located in the since this will result in a partial unpacking process. After a successful unpacking stop the SAP NSP System and ensure all SAP related services, e.g. x-server, are stopped. Now make a back-up of your 'usr' directory just in case your need to return to the old kernel version. Execute the actual kernel upgrade by moving the content to the following directory: ' :\usr\sap\ \ \exe\' and the non-unicode destination: ' :\usr\sap \sys\exe\nuc\ '. Restart your system and compare your extended status information to the picture below.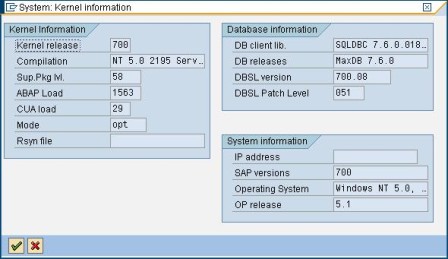 Note: SAP Note 19466 contains additional information regarding a Kernal upgrade, please consider this note before making any upgrades.
Step 5: Determine available NSP disk space
Before actually unpacking and importing our downloaded SP's we need to determine whether or not we have enough disk space available. In order to do so we need to install the DBGUI for Windows delivered with your sneak preview .rar archive, and located at <extract_drive>\SAPNW2004sSneakPreviewABAP\MaxDB_7.6.0_RDBMS_Installations_Build_09__ID__MAXDB760\MAXDB_WINDOWS_I386\SETUPS. After installation of the Database Manager application establish a connection to your NSP database (superdba and password information required) and check the amount of data and log space available. I would recommend you have at least 30% (in case of 9 gigabyte MaxDB size) of database space available. If you do not have enough space available you can create another volume using this application.
Step 6: Unpacking the .CAR files
Manually unpacked the SP's downloaded in the previous steps using sapcar.exe. In order to do so locate your downloaded files and move them in the C:\usr\sap\trans directory. Locate the sapcar.exe application and place a copy in the same directory. Finally execute the following command in this directory: sapcar.exe –xvf "KA70006.CAR" and the SP SAPKA70006 is being unpacked and placed in your EPS inbox. Repeat this step for all downloaded SP's.
Step 7: Upgrade SPAM/SAINT version
Before we can apply our new SP's we have to upgrade our SPAM/SAINT version. In order to do so execute transaction SPAM and select Support Package -> Load packages -> From application server. After the import all our not imported SP's are visible to our NetWeaver Installation. Next step is to perform the actual SPAM/SAINT update by selecting Support Package ->. Upon execution of this import the actual SP is imported through the TP layer and its content is being applied to our local installation. Most possibly the import ends in a short dump, just rerun transaction SPAM and you will see your version has been upgraded successfully. If SPAM status still shows a red light simply continue by re-initiating the SPAM import as previously mentioned. Congratulations you just upgraded your SPAM/SAINT version!
Note: SAP Note 822379 contains various known issues/requirements regarding the actual import process for the individual SP's. I recommened you review this note before continuation of the next step.
Step 8: Upgrading your local NetWeaver 2004s installation
Finally we have arrived by the actual SP imports. In order to start this import click the button 'Display/define' which shows you a pop-up window containing the components your NetWeaver application consists of. Select the SAP_BASIS component; remember these are required for a successful import of your SAP_ABA imports. Select the first package ensuring the imports are being imported one by one. Click the 'import queue' button and off you go. Similar as the previous import, a short dump can occur, also here simply re-start transaction SPAM. Congratulations again, you have completed the upgrading effort!
Tiest van Gool has been working in the SAP area for 7 years+. He started is career as an ABAP developer. Using his programming knowledge he started to get more involved in customizing related activities. He is working as a solution architect for Accenture.
---
This content is reposted from the SAP Developer Network.
Copyright 2006, SAP Developer Network
SAP Developer Network (SDN) is an active online community where ABAP, Java, .NET, and other cutting-edge technologies converge to form a resource and collaboration channel for SAP developers, consultants, integrators, and business analysts. SDN hosts a technical library, expert blogs, exclusive downloads and code samples, an extensive eLearning catalog, and active, moderated discussion forums. SDN membership is free.
Want to read more from this author? Click here to read Tiest van Gool's weblog. Click here to read more about Application Servers on SDN.
---
Dig Deeper on SAP NetWeaver