Problem solve
Get help with specific problems with your technologies, process and projects.
Understanding SAP NetWeaver process integration
Looking for information on end-to-end process integration? Learn capabilities related to SAP NetWeaver process integration in this article, the third in a four-part installment from SAP.
This is the third installment in our series of articles entitled "Using IT Practices and IT Scenarios to understand SAP NetWeaver." Today's topic is the IT practice end-to-end process integration. This topic highlights capabilities related to SAP NetWeaver Process Integration.
End-to-end process integration is an IT practice that enables disparate applications and business partners' systems to exchange information and execute transactions smoothly, operating as if they were a single system. By integrating a variety of processes, businesses have timely access to accurate data, allowing them to gain a number of advantages, such as accelerating time-to-market of products and services, maximizing partner business results through synchronized product catalogs, and being more responsive and adaptive to changing conditions.
End-to-end process integration has the following IT scenarios:
Enabling application-to-application processes
Enabling business-to-business processes
Business process management
Business task management
Enabling platform interoperability
Enabling application-to-application processes
Application-to-application (A2A) integration is the message- and standards-based integration of intra-company processes by seamlessly connecting SAP and non-SAP applications. A2A includes integration of all applications within your corporate enterprise.
Many companies have individual, point-to-point integration, using whatever technology was available at the time when the integration was implemented. They often need to combine a patchwork of integration solutions. Companies also need to create centralized knowledge and management of integration, and they need to reduce high maintenance costs that are caused by a grown and not adaptable infrastructure.
The main capabilities of A2A processes within SAP NetWeaver include: Provide one platform to manage design, configuration, and execution of business processes. Use shared collaboration knowledge based on open standards. Allow integration of SAP applications and 3rd party components.
A2A integration involves configuring your system landscape, designing your integration scenarios, configuration of the scenarios, handling messages, and monitoring. The Integration Builder with SAP NetWeaver Exchange Infrastructure enables you to design and configure your A2A requirements. We will use the following graphic to discuss the primary technical components included in A2A.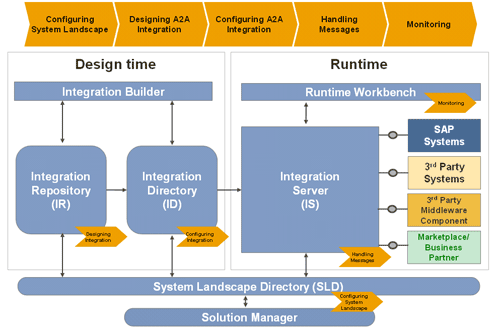 SAP NetWeaver Exchange Infrastructure
Configuring the system landscape
Before you can configure the exchange of messages between your various internal applications, each of those applications must first be defined. This is done as part of the configuration of your system landscape. The System Landscape Directory (SLD) is a SAP NetWeaver component that enables you to define your complete system landscape in one central directory. Of course, it takes into account both SAP and non-SAP systems. The System Landscape Directory contains two kinds of contents: the component information and the landscape description. The landscape description provides an exact picture of installed landscape elements including the connections between the systems. The content of the landscape description is created during the landscape implementation and automatically maintained through the whole software lifecycle.
The component information describes the building blocks of solutions and their possible combinations and dependencies. It describes the world of installable landscape elements. The various types of dependencies between building blocks play an important role in landscape implementation, change management and solution validation. The content of the component information is delivered by SAP and can be updated.
The System Landscape Directory is an implementation of the Distributed Management Task Force's (DMTF) Web-Based Enterprise Management (WBEM) initiative. WBEM is a set of management and Internet standard technologies developed to unify the management of enterprise computing environments. Part of WBEM is the Common Information Model (CIM), a data model and conceptual view of the environment that unifies and extends existing instrumentation and management standards using object-oriented constructs and design. The implementation of System Landscape Directory makes use of these standards so that third-party products can benefit from System Landscape Directory as well as components of the mySAP Business Suite, in an open and standardized way.
Designing A2A integration
In the previous graphic, you see the Integration Builder and the Integration Repository. The Integration Repository is where you model each of your integration scenarios. You define your scenario description, interfaces, interface mappings, message mappings, and data types in the Integration Repository. SAP provides process integration content for this repository. One example of content is mappings and data types for SAP's Supplier Relationship Management application. You can easily import both SAP and non-SAP content. Your existing integration knowledge can be reused by the import of existing XSD, XSLT, and WSDL documents.
Configuring A2A integration
The Integration Directory of the Integration Builder is where configuration settings are done. The configuration settings adapt a particular scenario to your system landscape. Examples of actions that happen in the configuration phase include the definition of sending and receiving systems, collaboration profiles for security settings, flexible routing rules based on message payload, and central configuration of technical connectivity (adapter usage).
Handling Messages
The Integration Server handles the message processing at runtime. Messages are processed on the message pipeline based on SAP's robust and highly scalable SAP NetWeaver Application Server. This enables high volume processing on scalable application servers. It manages event driven message processing. The Integration Server receives a message, decrypts the message, performs routing, mapping, transformation, performs channel determination, encrypts the message, and sends the message to the appropriate receiver.
Monitoring
Our central monitoring environment enables message monitoring, end-to-end monitoring, performance monitoring, fast message search using TREX search engine. Additionally, for companies using Solution Manager to manage their implementation projects and monitoring, Solution Manager can be used as the central monitoring tool for the entire landscape. It can be used to assist with service level monitoring and reporting.
Further reading for enabling application to application processes: http://www.sap.com/solutions/netweaver/components/xi/index.epx
http://service.sap.com/netweaver
Select System Landscape Directory in the Key Capabilities area. (Alternatively, go to http://service.sap.com/sld). Select Integration Broker in the Key Capabilities area. (Alternatively, go to http://service.sap.com/xi).
Orb, Joachim and Jens Stumpe. SAP Exchange Infrastructure. SAP Press, 2005.
Enabling business-to-business processes Industry business messaging standards in use today are developed by consortia of companies primarily from within specific industries. Their main goal is to develop open standards and processes that enable trading partners within and across industries to exchange standardized business messages within an e-business environment. Some of these standards include, for example, RosettaNet for the high tech industry, CIDX for the chemical industry, PIDX for the petroleum industry, and so on. SAP NetWeaver supports these industry verticals within the technology offering by providing them with business packages. These business packages contain the collaboration knowledge as defined by the industry standard and also the technical B2B adapters that are needed to do the actual transport, routing, and packaging of these industry standard messages.
Companies need out-of-the-box support for specific industry verticals. By providing the business packages for the different industry verticals, customers can quickly get connect to their different business partners, vendors, and suppliers by using the processes and methodology defined by the industry vertical. Companies also need to handle different versions of the standard interfaces centrally. They also require the ability to manage trading partners centrally, maintaining collaboration profiles and agreements as defined by the industry vertical standard. Additionally, companies may have smaller business partners who need support in order to exchange XML documents using industry standards.
The enabling business-to-business processes IT scenario describes how, based on standards and the exchange of messages, you can integrate cross-company processes. In doing so, you connect various applications (both SAP and non-SAP) and orchestrate the process flow between them. Using SAP NetWeaver, you can centrally design, configure and execute business-to-business (B2B) processes both within and beyond your company. SAP NetWeaver provides functions to enable you to create and manage collaboration profiles and agreements between business partners. It supports B2B industry standards, such as RosettaNet Implementation Framework (RNIF) or CIDX. You use the SAP Partner Connectivity Kit (PCK) to exchange XML documents between smaller business partners or subsidiaries.
The technical components for B2B build on the A2A components discussed earlier. You still use the Integration Builder (including the Integration Repository and Integration Directory), the SLD, and the Integration Server. You still have the major steps of configuring your system landscape, designing your integration scenarios, configuration of the scenarios, handling messages, and monitoring. However, in B2B, you also have to install the business package and configure the B2B integration.
The installation of the business package includes importing the SAP provided pre-defined business packages that are available for the different industry verticals like the RosettaNet or CIDX business package.
The configuration of B2B includes collaboration agreements and profiles. Collaboration agreements include the type of adapter that should be used, and the security settings (signatures, authentication). The collaboration profile contains all the technical options that are available to communication parties for exchanging messages.
If you want to use the B2B scenario to enable your smaller business partners to exchange XML messages, use the Partner Connectivity Kit (PCK). Your small business partners can install the Partner Connectivity Kit and configure B2B integration with your company. The PCK can be installed in a subsidiary or in the smaller partner's enterprise. The configuration includes configuring collaboration agreements, profiles, message mappings, and configuring the relevant technical adapter.
For more information on our industry standards support, see http://service.sap.com/xi, then select Industry Standards Support.
Business process management
Business Process Management integrates processes within and across systems and enables model-driven process flexibility. With Business Process Management, we focus on the process models that define processes and can be used to drive the execution of the process. This includes central orchestration, loosely coupling diverse systems.
In most companies, the business owner and the IT expert do not speak the same language. They each have different tools they use to describe the process, and these tools are normally not linked together. There also is no navigation from the business model to the technical configuration. Oftentimes there is no common process repository, and there are missing controls across application boundaries.
Business Process Management seeks to address these issues through business process models, service infrastructure, and process integration. We will use the following graphic to discuss the delivered components for Business Process Management.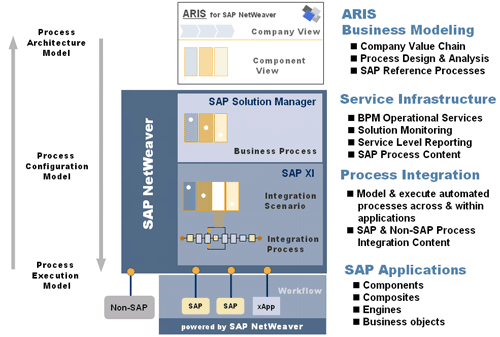 Business Process Management
For business modeling, you can use ARIS for SAP NetWeaver, which provides functions for modeling, designing, analyzing and documenting processes.
In October 2003 SAP and IDS Scheer announced a strategic co-development to integrate IDS Scheer's ARIS Process Platform with SAP NetWeaver, with the goal to create a comprehensive business process management solution (BPM) aligning technology with business processes. The product will support the entire process lifecycle leading to an extended BPM solution allowing the customer to optimize business processes from modeling to monitoring: design, model, configure, execute, monitor. ARIS for SAP NetWeaver, available as product from SAP or IDS Scheer, marks the first milestone on the way to an extended BPM solution.
ARIS for SAP NetWeaver provides centralized administration of process information in a multilingual system tool. You can use this knowledge for project documentation, global system implementations, end-user training, and optimization projects. ARIS for SAP NetWeaver provides modeling capabilities to cater for the process architecture model of business scenarios, business processes and process steps. A value chain diagram describes the end-to-end company process map. In a business scoping phase you continuously improve the business blueprint by selecting all relevant business scenarios and application components involved.
The SAP Solution Manager provides you with the relevant SAP reference models. You can create an implementation project using ARIS for SAP NetWeaver and then synchronize it using the SAP Solution Manager. This enables you, for example, to make SAP reference models available in ARIS for SAP NetWeaver, and adapt and enhance them as required. Finally, you can make the implementation project available again in the SAP Solution Manager, where you can then configure the processes and adapt them to your specific system landscape. The SAP Solution Manager also provides you with an extensive range of functions for monitoring your solutions.
For integrating external or legacy systems, you can define integration scenarios and integration processes in SAP NetWeaver. We provide patterns to help you get started using integration scenarios.
Using SAP Business Workflow, you can automate processes embedded in SAP applications. You can even combine embedded and unbounded processes.
Note: You can download demos of BPM processes and ARIS by going to http://service.sap.com/bpms and selecting IDS Scheer partnership.
Business task management
Business task management provides business and technical users with event-driven work items, alerts, business context and guided procedures to effectively react upon process exceptions and tasks. Business task management specializes in the human interaction. It can be described as the location where business process management requires human interaction.
Business tasks are the activities generated either by the company's underlying business processes or by the users themselves as reminders for their own benefit or in order to delegate work to colleagues. The sooner your users complete the tasks, the quicker the processes run. The easier it is for users, departments and companies to generate and track the tasks, the higher the quality of the output from the processes and the higher the transparency of processes within a company. Tasks in SAP NetWeaver span the range from collaboration tasks generated manually in response to exceptions through work items generated from automated business processes.
Tasks in SAP NetWeaver are typically links to activities or transactions rendered by the mySAP Business Suites or form-based tasks, such as in Manager Self Services using interactive forms based on Adobe software, for the occasional user.
Business task management will be discussed in more detail in our next article in this series.
Enabling platform interoperability
In the past decade, companies made large-scale IT investments in best-of-breed products. As a result, environments are heterogeneous because the products come from different vendors. Extensions of the existing infrastructure are difficult to realize. However, collaboration across company boundaries becomes more and more important.
Interoperability is the ability of two or more systems or components to exchange information and to use the information that has been exchanged.
Enabling platform interoperability includes leveraging the existing IT investments and the existing skills of your people. It includes organizational infrastructure, including cross-company processes in heterogeneous environments and seamless operation of different technologies used across the company.
This scenario focuses on:
Portal interoperability (SAP NetWeaver Portal)
Messaging interoperability (SAP NetWeaver Exchange Infrastructure)
Web services interoperability (SAP NetWeaver Exchange Infrastructure and SAP NetWeaver Application Server)
System management and infrastructure interoperability (Life Cycle Management)
Development support (.NET interoperability)
The main processes include the enablement to combine and allow co-existence of different technologies and products within your SAP NetWeaver landscape and the ability to configure and administer connectivity and interoperability on various levels and layers. Also included is the requirement to define communication and message channels on which information exchange is implemented. The final process is to extend and complement your SAP NetWeaver landscape with other third-party vendor functional, operational, and administrative products.
Portal Interoperability
Portal interoperability includes the ability to leverage two portals to combine content between SAP NetWeaver Portal and a non-SAP portal technology. The portal delivers pre-built business packages for SAP applications in a unified user interface. The companies need to leverage pre-built, out-of-the-box and relevant content from different portal solutions. This helps to avoid custom development costs and maintenance problems. In some cases, it makes sense to run two portals side-by-side in a coexistence pattern, delivering specific content to different groups of users. In other cases, one portal may already be implemented and up-and-running as the leading portal. One of the portals needs to take the role of the leading portal. Regardless of the strategy, several areas need to be ensured: single sign on, user management, appropriate granularity of access in combination with central concepts for navigation and look and feel.
Messaging – Enterprise application interoperability
Messaging interoperability describes the integration of SAP NetWeaver and Microsoft BizTalk server. Also included is integration between SAP NetWeaver and the IBM WebSphere Business Integration (WBI). Using SAP NetWeaver you can keep the benefits of the functionality based on the other products, but enhance it using the SAP NetWeaver features. The SAP NetWeaver platform enables you to work seamlessly with other common messaging infrastructures (IBM and Microsoft) to leverage current investments and add value with SAP NetWeaver Process Integration. Messaging is a proven technology to interconnect between systems based on different technologies, leveraging point-to-point and mediated brokering communications. SAP NetWeaver supports such standards, such as the Java Message Service (JMS). SAP NetWeaver can use a SOAP connection to connect to the Microsoft BizTalk server as well as to IBM WBI.
Enterprise/ Web services interoperability
Enterprise and Web services interoperability shows you how you can develop services based on Web service standards, and how you can apply these services. Web services and the respective support in application server technologies are prerequisite to ensure interoperability for providing and consuming Web service enabled interfaces across different application platforms.
System management and infrastructure interoperability
In a large and complex IT landscape, you must have a system management solution in place. This variant of interoperability introduces you to integrating the SAP NetWeaver with the Microsoft Windows Operational System and IBM's Tivoli system management portfolio. To leverage and integrate the SAP applications in the IT system landscapes including solutions from third party vendors, SAP NetWeaver has combined these assets to achieve optimization, availability, security, and provisioning for your entire SAP and IT environment. You can combine the SAP NetWeaver's capabilities with market-leading system management tools in the areas of storage and archiving, identity and access management, monitoring, provisioning, scheduling, and others.
Development support
The interoperability of development support offers development tools for alternative development platforms, namely Microsoft .NET so that customers and partners can build content and solutions for SAP NetWeaver.
This describes the SAP NetWeaver Portal Development Kit (PDK) for .NET which is a key element for interoperability between SAP NetWeaver and .NET. This connector consists of an add-in for Microsoft Visual Studio 2003 and a runtime service that handles communication between the .NET platform and the SAP NetWeaver portal platform. Using the PDK, you can design portal components, use standard SAP user interface controls, and use SAP portal services such as system landscape and user management on your .NET platform in a manner that is simple and transparent to the end user.
Summary
In this article we have provided an overview of all components included in the IT Practice, End-to-End Process Integration. The practice uses many technical components within SAP NetWeaver Process Integration. The IT scenarios include application-to-application integration, business to business process integration, business process management, business task management, and enabling platform interoperability. SAP NetWeaver Exchange Infrastructure is a core technical component in this practice. It supports A2A, B2B, and BPM business processes. Additionally, it provides message interoperability.
For more information on any IT Scenario, see http://help.sap.com. Select Documentation, SAP NetWeaver, select your language, then "IT Scenarios at a Glance".
Don't miss the other parts in this series!
Part 1: Using IT practices and IT scenarios to understand SAP NetWeaver -- introduction
Part 2: Enterprise services architecture (ESA)
Part 4: User productivity enablement