SuccessFactors Workforce Analytics a great tool - if you have the data
SuccessFactors Workforce Analytics is a robust tool that can help companies identify needs and trends – but it requires enough data to make it work.
One of the most robust products in the SuccessFactors HCM suite, SuccessFactors Workforce Analytics is a comprehensive...
Continue Reading This Article
Enjoy this article as well as all of our content, including E-Guides, news, tips and more.
and vendor-agnostic workforce analytics solution featuring over 2,000 predefined Human Capital Management (HCM) metrics and key performance indicators (KPIs). It also includes strategic reporting, charts and graphs, predictive analytics and benchmarking analytics capabilities. In 2013, SuccessFactors released the WFA-compatible Headlines software, a mobile application available for tablet devices that provides managers with real-time, targeted analytics in easy-to-understand language.
SuccessFactors Workforce Analytics (WFA) is geared toward managers, HR professionals and executives who want to be able to better understand their businesses and predict future trends. Companies of all sizes and industries can gain benefits from using WFA, although companies that have already invested in SAP Business Intelligence and use it for HR analytics and reporting may not receive as much benefit as those that have no HR analytics capabilities.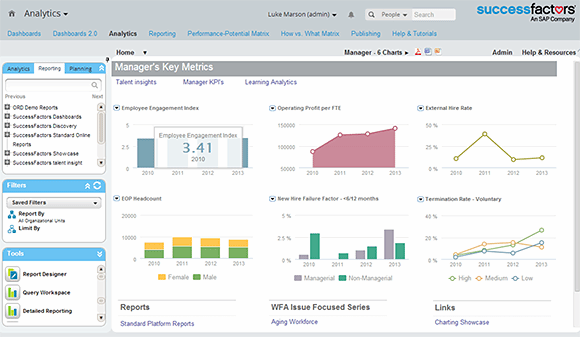 The strengths of WFA lay in its vendor-agnostic approach, its breadth and range of predefined content, and its predictive analytics capabilities – all of which are also key differentiators compared to similar software on the market. Although not as strong as the aforementioned features, the ad-hoc reporting functionality and standard reports for individual SuccessFactors modules provide comprehensive reporting capabilities.
The weaknesses of WFA lie within parts of its interface. Although the charts and graphs leverage Flash-based rendering, some of the menu and navigation options are not as optimally designed. SuccessFactors plans to address this on its long-term roadmap, and some of the reporting functionality has been enhanced in recent releases.
Brief History of WFA
Originally called Infohrm, WFA was created by Australian-based workforce analytics and software vendor Inform Business Impact, which was founded in 1982 and acquired by SuccessFactors in 2010. Infohrm was one of the first cloud-based HR analytics offerings brought to market, and was used by hundreds of customers at the point of acquisition by SuccessFactors. SuccessFactors' Workforce Planning (WFP) solution – often used in conjunction with WFA – was also part of the Inform Business Impact acquisition.
Key Features and Functionality
WFA provides a comprehensive selection of analytical capabilities, including dashboards, scorecards, reports, KPIs, analytics, matrices, predictive models, benchmarks and mobile functionality. A number of these features come pre-configured, while WFA offers users the ability to configure their own. Metric Packs add additional domain-specific analytics to Workforce Analytics. For example, the Compensation Planning Metric Pack adds a range of analytics that cover different areas of the compensation planning process. Other Metric Packs include those for core workforce and mobility/workforce planning, absence management, employee relations, health and safety, finance management, and more.. Within WFA, data can be filtered, drilled through and segmented, as well as sliced and diced for further analysis. It can also be measured using scatterplots, data highlighting and significance tests.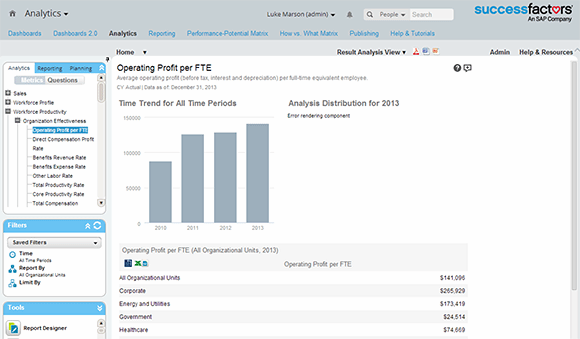 The Query Workspace allows WFA users to create custom queries of varying complexity, measures and dimensions. These can be used to export a number of formats or to build custom reports in the Report Designer. Custom reports can be designed as one-off reports or scheduled on a periodic basis.
One interesting feature is the benchmarks, which offer anonymously aggregated data from multiple WFA customer tenants to help provide preference points when measuring analytical data and setting targets. SuccessFactors uses clients' raw data -- a minimum of eight clients for generating an adequate sample -- to create the benchmarks and uses standard formulas to ensure that data is viewed in a like-for-like way.
Two matrices are available in WFA, the Performance vs. Potential grid and a Competency vs. Objectives grid. Both are used primarily with performance management, goal management, career development and succession planning data.
Latest Release
Releases are made on a quarterly basis and the current release of WFA is the May 2014 (1405) release. The May 2015 release features a number of new enhancements. A recent tile-based dashboard framework has been introduced, which allows administrators to build their own analytics tiles (including drill-down capabilities and filtering options for end-users), , as well as mix and match tiles into dashboards, run tiles in the homepage and run tiles on an Apple iPad.
SuccessFactors has also given administrators something to cheer about. Previously, administration options were scattered across three different options in Admin Tools, but based on this release, they have been bought together into one option (called "Manage Dashboards"). Additional enhancements have also been made to the Ad-Hoc Report Builder.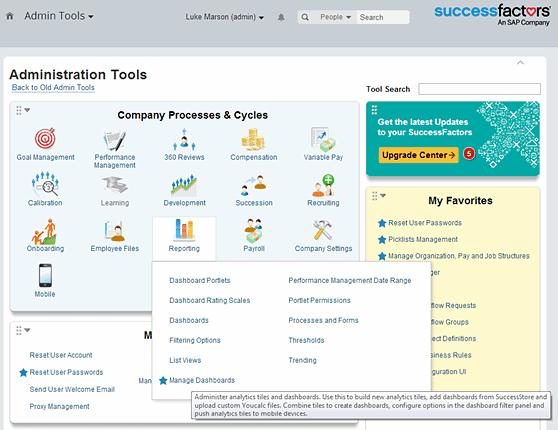 Recommendations
HR professionals who want to measure KPIs for various HR and talent management metrics can gain significant benefits from using WFA. Its standard analytics capabilities enable users to measure cross-domain metrics, such as how performance relates to training initiatives and the cost of enterprise learning. However, in order to take advantage of the range of features that WFA offers, customers should consider how much data they have available to use. In addition, customers must ensure that they have a clear analytics strategy and change management required to utilize a comprehensive analytics solution and ensure that it is optimally implemented.
About the author:
Luke Marson is a principal consultant and director of cloud HCM and related technologies at an IT consulting firm, where he focuses on SuccessFactors Employee Central and extensibility and integration technologies. He speaks and writes about SAP HCM and SuccessFactors extensively, and co-authored the SAP Press title SuccessFactors with SAP ERP HCM as well as authored the SAPexperts Special Report SAP and SuccessFactors – An Overview. Marson is also an SAP Mentor.