Six SuccessFactors integration technologies you need to know
If you're planning a SuccessFactors implementation, learning about integration tools and their best uses should be high on your to-do list. Here's what you need to know.
Data and process integration is necessary in any technology landscape, particularly in a landscape that requires...
Continue Reading This Article
Enjoy this article as well as all of our content, including E-Guides, news, tips and more.
employee data for processes in different systems. Nobody likes to manually enter the same data more than once, and the inefficiency of doing so has a negative productivity impact. Replication of employee master data to your payroll system, time and attendance system, benefits system, user provisioning system, and so on enables downstream processes to run without the effort of entering data multiple times.
Fortunately, integration technologies for SuccessFactors abound. Here's a look at six and the challenges they are meant to tackle.
1. SAP packaged integrations
SAP offers customers packaged integrations that provide the foundation to quickly configure integration between SuccessFactors and other systems, including both SAP ERP and third-party systems. While these cover a large percentage of scenarios -- such as replicating organizational data to SAP ERP for employee master data to Benefitfocus -- packaged integrations don't cover every integration scenario every customer has.
2. Application programming interfaces
SAP has done an impressive job of building out its OData API, which enables web services-based Create, Read, Update and Delete access to the SuccessFactors system using the open OData protocol. Data can easily be accessed or created by any application that supports the OData protocol.
OData API is gradually replacing much of the functionality provided in the SuccessFactors API (SFAPI), which is a SOAP-based API. However, the Compound Employee API that is part of the SFAPI is a very useful API for extracting employee data for replication into other systems. It uses SQL-like statements to enable delta or full extracts of employee data.
Typically, one or both of these APIs will be used in 90% of integrations in an implementation (both packaged integrations and custom-built integrations), even when the target system doesn't accept web services-based integration. Most middleware platforms can extract data via API and then output a comma-separated values (CSV) file for the target system to collect. Although the OData is extremely robust, for one-way replication of data from SAP SuccessFactors, it is recommended to use the Compound Employee API.
3. Adapters
The Integration Center is definitely a valuable tool for both customers and consultants to easily and quickly build flat-file integrations.
SAP has released adapters (add-ons that enable middleware to communicate with different applications) for both SAP Process Integration (SAP PI) and SAP HANA Cloud Platform, integration services (previously called SAP HANA Cloud Integration) that enable integrations to be built on those platforms with significant ease. Adapters are provided on both platforms for both the SFAPI and the SuccessFactors OData API. The adapters provide simple setup of the connection, session handling, delta calls, and selection of API entities to build process flows and mappings.
If your organization plans to build custom integrations on either of these middleware platforms, you should use one of the adapters with the appropriate API.
4. Integration Center
The Integration Center in SuccessFactors enables business and non-technical users to build CSV-based integrations in an intuitive and easy-to-use user interface. The CSV output of the Integration Center is placed on the SuccessFactors Secure File Transfer Protocol (SFTP) server, to be picked up by the target system.
Integration Center features a host of capabilities to enable users to build out the integration files. Users can:
Select fields from different objects
Add filters
Perform field transformations and calculations
Add value lookup tables
Configure headers and footers for output files
Schedule the output of files and monitor the status of the jobs
Add encryption to output files
Export integration templates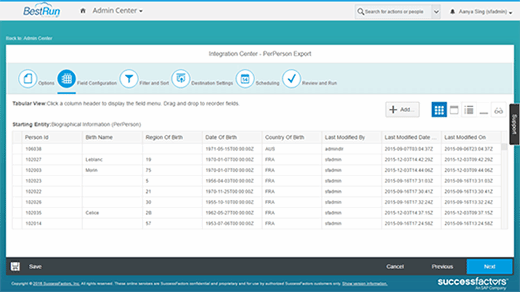 In Q3 2016, it will enable export of integration definitions to be imported into HANA Cloud Platform, integration services. This enables business users to build out middleware integrations that technical users can then implement, thus making sure business requirements known by the user are translated into the configured middleware.
The Integration Center is definitely a valuable tool for both customers and consultants to easily and quickly build flat-file integrations -- and, soon, middleware-based integrations on HANA Cloud Platform, integration services -- that can also be monitored.
5. SAP Data Services
SAP Data Services (DS) can be used to replicate data from SuccessFactors into HANA or into SAP Business Warehouse to be used with SAP Business Intelligence or SAP BusinessObjects. This is particularly useful for analytical scenarios because DS is designed to work with data warehouses and provides a single platform for integration, data quality management, profiling, transformation, connectivity and management of the replication process between the systems.
6. Reporting
Although rather rudimentary, reporting is still a viable option for some customers. Typically, reporting is used when a small file needs to be readable by humans. Often, this contains data that is aggregated or formatted. It is often used for target systems that require data in a specific way, a full data set each time, and/or the target vendor manually inputs the data into the system on its side. Either ad-hoc reporting or Online Report Designer can be used for this in SAP SuccessFactors.
Like with Integration Center output files, these reports can be placed on the SuccessFactors SFTP server to be picked up by the target system. Typically, it is not recommended to use reporting for integration unless there are no other practical options available.
Ultimately, the integration technologies you choose for your SuccessFactors needs will depend on your organization, systems and landscape, processes, goals, and challenges. Being able to access the right type of tools to help you succeed is important and SuccessFactors provides a wealth of tools to help you on your journey.