Problem solve
Get help with specific problems with your technologies, process and projects.
SAP NetWeaver training using IT practices and scenarios
Get the scoop on IT practices and IT scenarios -- what they are, and how you can use them to understand SAP NetWeaver. This is the first article in a four-part series from SAP.
This is the first installment in our series of articles entitled, "Using IT Practices and IT Scenarios to understand SAP NetWeaver". In this article we focus on IT practices and IT scenarios – what they are, and how you can use them to understand SAP NetWeaver.

Many people have been introduced to SAP NetWeaver via the now-familiar "fridge" diagram (so called because, in...
Continue Reading This Article
Enjoy this article as well as all of our content, including E-Guides, news, tips and more.
its earlier versions, it had rounded corners that made it resemble an old-fashioned refrigerator). Here's the image: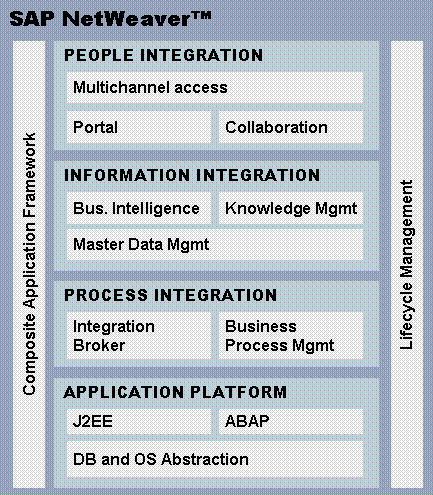 The NetWeaver "fridge"
This graphic does a good job of presenting NetWeaver as a collection of components that meet different needs up and down the integration stack. But SAP NetWeaver is more than just a collection of components; it is an open technology platform which offers a comprehensive set of technologies that are natively integrated to support the critical capabilities that IT organizations need. It is by focusing on those capabilities that we arrive at IT scenarios and IT practices. Together, they change the question from "What is SAP NetWeaver?" to "What can I do with SAP NetWeaver?".
IT practices identify how you can use SAP NetWeaver to solve specific business problems by deploying integrated IT scenarios in a way that does not disrupt your existing operations. IT practices look at the overall SAP NetWeaver platform in vertical slices that focus on key business issues, rather than on isolated technology components. These include goals familiar to almost any IT organization: the need to combine different integration technologies, to develop composite applications leveraging existing system investments, or to build new business processes in a flexible way.
Each practice can be broken into one or multiple IT scenarios, providing organizations with a process-oriented approach to making best use of SAP NetWeaver. By implementing IT scenarios, customers can adopt core functionality of SAP NetWeaver in incremental phases. The aim of IT scenarios is to help customers, partners and ISVs to install and operate SAP NetWeaver, to run business applications (custom-built and packaged applications), or to implement a defined IT concept (such as evolving a company's system landscape into a services-based architecture). Focusing on the flow of activities rather than on the nature of the involved components, IT scenarios are meaningful groupings of processes typically performed by one department to address specific challenges.
The best way to see these IT practices and IT scenarios is with the SAP NetWeaver Technology Map:

The SAP NetWeaver Technology Map
The diagram shows each of the IT practices on the left and for each practice, its associated IT scenarios. We will be providing additional articles that detail the capabilities of each IT scenario. As we delve into these scenarios, you will see that each of them may have more than one Scenario Variant, which are sub-classifications of the described capability. Furthermore, each scenario is associated with one or more usage types. Usage types describe how installations of SAP NetWeaver are used, and which capabilities each offers to the overall IT landscape. By providing installation and basic configuration support for SAP NetWeaver systems, usage types provide the groundwork to run IT and business scenarios. Usage types make system landscape planning easier by determining how capabilities provided by SAP NetWeaver can be deployed and activated in a SAP NetWeaver system. In addition, configuration will be simplified by offering configuration templates for usage types and IT scenarios. Usage types are introduced with SAP NetWeaver 2004s.
Let's look a little more closely at each of the IT practices and their associated scenarios.
User Productivity Enablement
User Productivity Enablement is about enabling users through portals, collaborative tools, knowledge management, and mobile and voice access. This practice allows for improving productivity and speeding business processes through:
Role based and proactive delivery of timely and actionable information.

Improved decision making and collaboration across organizational boundaries.

Leveraging of existing IT information resources and development skills.

Incremental rollout that avoids disruption and maximizes ROI.


The IT Practice User Productivity Enablement includes the following IT Scenarios:
Running an Enterprise Portal

Enabling User Collaboration

Business Task Management

Mobilizing Business Processes

Enterprise Knowledge Management

User Productivity Enablement leverages the usage types SAP NetWeaver Portal, SAP NetWeaver Mobile Infrastructure, and the Knowledge Management and Collaboration capabilities of the SAP NetWeaver Portal.

This incremental approach to deploying portals and knowledge workplaces avoids disruption of existing business processes and extends the values of existing systems while improving the quality and timeliness of information access and impact of cross-organizational collaboration.

Data Unification
Data Unification is about delivering a single version of the truth – that is, ensuring that all applications have a unified and harmonized view of the crucial Master Data upon which all of an organization's transactions depend. This allows you to:
Share a common definition of your customer, product, supplier, etc. both inside and between enterprises.
Streamline supply chain initiatives, global data synchronization, and spend analysis with in time data.
Improve the accuracy and insights of your business intelligence with real- time information updates.
Gain agility in adapting processes to changing business needs through a common data foundation.
Enable interoperability with SAP and non-SAP systems via open, XML-based standards.

The IT Practice Data Unification includes the IT Scenarios:
Master Data Harmonization
Master Data Consolidation
Central Master Data Management
Enterprise Data Warehousing

Data Unification runs in the usage type SAP NetWeaver Master Data Management. Unified Master Data is a powerful enabler that allows for greater flexibility, productivity, and differentiation among companies that adopt this practice.

Business Information Management
The IT practice Business Information Management is used to turn information into intelligence; it allows enterprises to leverage embedded, relevant, and actionable information, including:
Analytics for CRM, SCM, HCM, CPM, SRM, and for most industries

Planning and simulation, reporting and analysis; alerts

Enterprise data warehousing, and knowledge management

Armed with this intelligence, organizations can improve the quality of decision making and accountability, expose and exploit new opportunities, and increase productivity while providing additional flexibility for differentiation.

The IT practice Business Information Management includes the IT scenarios:
Enterprise Reporting, Query, and Analysis

Business Planning and Analytical Services

Enterprise Data Warehousing


This practice runs in the usage types SAP NetWeaver Business Intelligence, SAP NetWeaver Portal, SAP NetWeaver Exchange Infrastructure, NetWeaver Application Server, and TRex search capability.

End-to-End Process Integration
End-to-End Process Integration is the practice of process automation with systems and people. Automating previously labor-intensive processes, while still allowing for human interaction when exceptions occur, delivers incredible value to organizations. This practice offers:
Unified modeling approach from process design to process execution

Pre-integrated process templates, pre-integrated into SAP applications

Support for A2A and B2B scenarios, RFID integration

Enterprise repository capturing all scenarios, processes, down to enterprise services and "technical" web services

Coexistence with you messaging layers

Gradual consolidation and retirement of other process integration technologies in the data center (middleware consolidation)

The practice includes the following IT scenarios:
Enabling Application-to-Application Processes
Enabling Business-to-Business Processes
Business Process Management
Enabling Platform Interoperability
Business Task Management

Using End-to-End Process Integration, companies can realize dramatic ROI by automating expensive manual processes and leveraging the benefits of unified business process management, creating an agile and responsive IT organization.

Custom Development
SAP NetWeaver enables IT organizations to react in a timely fashion to new business requirements. This rapid response represents a valuable business strategy, implemented via custom applications with service-orientation. Enterprises become more agile in making business decisions and in competing both strategically and tactically.

Custom Development gives you the means to construct dynamic applications and composites in a model-driven paradigm; furthermore, it lets you:
Focus your custom development on a model-driven paradigm for maximum efficiency and flexibility
Leverage information assets in your core systems
Base your applications on a service-oriented enterprise services architecture
Build composite applications that cover end-to-end processes
Run your applications on a uniquely robust platform
Employ a unified set of role-based tools

Custom Development includes the following IT scenarios:
Developing, Configuring, and Adapting Applications
Enabling Platform Interoperability

And leverages the usage types SAP NetWeaver Application Server, SAP NetWeaver Composite Application Framework, and the SAP NetWeaver Development Studio.

Unified Life-Cycle Management

The IT practice Unified Life-Cycle Management enables IT organizations to automate application management processes, ensure quality, provide flexibility for continuous business improvement, and hence to optimize the delivery of IT services. It is about bringing the same kind of intelligent management that SAP brought to the business, to the data center itself.

Unified Life-Cycle Management helps you manage applications to ensure no disruption to business, and lets you:
Proactively minimize potential risk factors

Improve the transparency and consistency of the solution

Increase reliability and improves the performance of quality systems

Leverage a central point of access to all application management tasks

Address the entire solution (SAP and third-party systems)

Reduce TCO

Unified Life-Cycle Management includes the IT scenarios:
Software Life-Cycle Management
SAP NetWeaver Operations

Unified Life-Cycle Management runs in the usage types SAP Solution Manager and SAP NetWeaver Application Server, and allows you to improve reliability, availability, and performance, reduce TCO of your solutions, and align IT with the business.

Application Governance and Security
Organizations today are keenly aware of the need to provide effective security, protect their intellectual property and information assets, and to authenticate users in the least disruptive way possible. Application Governance and Security helps companies achieve these goals. This practice is about ensuring quality of service and security while protecting corporate value, helping the organization to:
Protect the organization's information assets while optimizing the efficiency of its IT infrastructure

Place controls that are least obtrusive to users and business processes

Work more closely with customers, suppliers, and partners without compromising security

Support open standards such as SAML, JAAS

The practice includes the IT scenarios:
Authentication and Single Sign-On

Integrated User and Access Management

By applying advanced security techniques to users and business processes, the enterprise can work more closely with its suppliers, customers, and other partners while maintaining appropriate security.

Consolidation
For companies that embrace the vision of deploying a consolidated technology platform based on a services based architecture, an incremental approach to system consolidation avoids the risks of a "big bang" upgrade while allowing an IT organization to develop the skills and processes necessary to manage this important transition. Reducing the complexity of the IT environment is crucial to realizing the TCO that companies need to compete in today's (and tomorrow's) competitive environment.

The strategy of reducing IT cost through software and hardware consolidation is possible because NetWeaver is the first platform that consolidates so many technologies. This practice offers:
Increased IT responsiveness and coordination

Recurring cost savings

Consolidated shared-services for risk avoidance

The ability to leverage investments in other technologies through open-standards

Reduced number of software suppliers

The practice includes the following IT scenarios:
Enabling Platform Interoperability

SAP NetWeaver Operations

Master Data Consolidation

Enterprise Knowledge Management

The practice embraces the twin approaches of software consolidation and hardware consolidation, and leverages the ongoing efforts of SAP to reduce TCO for our customers.

Enterprise Service Architecture – Design & Deploy
Many companies have heard and embraced the vision of an industrial strength Service Oriented Architecture – the Enterprise Services Architecture from SAP. Service orientation offers interoperability out of the box based on open standards, and allows companies to deliver IT services in discrete, manageable chunks with strong governance, reusability, and flexible re-compositing.

With Enterprise Service Architecture, you can:
Merge SAP's enterprise application content with the open composition platform SAP
Use NetWeaver to enable flexible business processes by SAP, partners and customers
Service-enable the applications and link the applications using web services
Re-use existing application functionality for the task of automating enterprise-scale business scenarios
Leverage a single infrastructure for uniform service definition, implementation and usage based on web services standards
Automate processes to convert transactions to Web services

The IT practice Enterprise Service Architecture uses the IT scenario

Enabling Enterprise Services
And allows companies to build the architecture of tomorrow while leveraging the applications and technology that they already own.

Summary
In this article we have seen an introduction to the concept of IT practices – what they are, how they help companies realize the agile, service oriented architecture to carry them forward, and what are the constituent scenarios that make up the various practices. In further articles, we will delve deeply into the individual scenarios, describing the capabilities in detail, and explaining the benefits and processes that each one involves.

For more information on any IT Scenario, see http://help.sap.com. Select Documentation, SAP NetWeaver, select your language, then "IT Scenarios at a Glance."

Don't miss the other parts in this series!
Part 2: Enterprise services architecture (ESA)
Part 3: End-to-end process integration
Part 4: User productivity enablement

Dig Deeper on SAP NetWeaver