Sergey Nivens - Fotolia
SAP IoT products: How do they work with ERP and big data?
SAP's list of IoT products is growing, but knowing what they do and how they fit with ERP and analytics is challenging. This overview will help bring clarity.
SAP has been making a series of product announcements, developing thought-provoking marketing materials and gaining prominence at Internet of Things (IoT) conferences. With its deep presence in the manufacturing sector, which is an early beneficiary of IoT or industrial Internet of Things (IIoT), it's unsurprising that SAP would have IoT products to support its customers. But SAP users need help understanding what the many SAP IoT products do and how they integrate with an existing portfolio.
To understand IoT products, first you need to understand the IoT. Simply put, the IoT deals with devices and device services; various middleware products; IoT-oriented data analytics; and business applications that can use the data. IoT applications should be considered for equipment that is on-premises or remote, or for "digitalized" products. Thus, IoT products need to address assets that are at rest in facilities or in motion. Figure 1 shows SAP's IoT-specific offerings.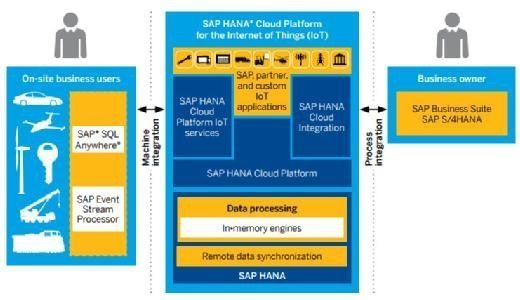 SAP offers several products for the IoT market, including SAP IQ, SQL Anywhere, Event Stream Processor (SAP ESP), Afaria, HANA Enterprise Cloud and Netweaver. All of them work with other SAP enterprise and analytics products. Let's look at each of these areas.
Device layer and services
The IoT requires software and services wrapped around the devices (sensors, mobile devices, GPS, RFID) as well as connected machines, often called machine to machine (M2M). First, software has to be able to connect to any device (device integration). At this lowest level, SAP does expect to connect to the devices of many partners. Sensor and RFID vendors generally have interoperable device connectivity. SAP can take over connecting the device integration layer with a middleware layer that can send data to relevant subscribers. Data from devices can be stored at a local level, moved into the cloud or moved into business applications. Such SAP products as SQL Anywhere can connect to this data. Layered on top will be a complex event processor (CEP); SAP's is the aforementioned Event Stream Processor (SAP ESP).
The CEP is what's essential and most important for the IoT today, whether you acquire products from SAP or other advanced providers. For SAP, information from any source -- RFID data, various temporal data streams such as traffic, weather, crowd and social data, as well as events from traditional data systems -- flows into SAP ESP. The challenge with CEPs is that they are customer- and use-case specific. CEP providers have also built up a portfolio of analytics around their products. CEP got its start in the financial services industry, so manufacturing and the supply chain are newer domains.
SAP users should demand support for their particular applications from a standard CEP and analytics portfolio. Otherwise, they will have to build their own -- which is what they have to do today. The time is better spent understanding how to use CEPs and the new data rather than getting stuck in the depth of the technology.
Organizations for which mobile devices are a key part of their IoT projects should look to SAP's SQL Anywhere MobiLink for integration and the former Sybase platform, Afaria, for mobile device management.
Into the plant and ERP
SAP manufacturing users employ such SAP products as Materials Management and Plant Maintenance (PM), as well as some that work at the manufacturing execution system layer, including production data collection and manufacturing integration and intelligence that directs and monitors equipment. Many manufacturers have some of these tools bundled with their SAP ERP system. SAP also offers enterprise asset management software and an asset tracking network called Asset Network Solutions to provide asset visibility across the value chain.
SAP's support for manufacturers is hardly new, so where does the IoT come into play? It's about the concept of blending some of this asset data with data in the Internet. For on-premises equipment management, for example, the Internet can connect equipment outside of the enterprise. A third-party maintenance company can monitor equipment performance and do needed repairs. The predictive maintenance analytics in SAP PM can play a greater role here. SAP has shown some impressive demos of equipment manufacturers monitoring their equipment remotely.
Manufacturers of equipment containing digital components can use IoT connections to upgrade its software remotely. SQL Anywhere can play a role as the edge server, allowing connectivity from equipment and devices to subscribing users who work outside the enterprise. Today this model is flourishing among manufacturers that supply large industrial equipment for plants, mining, construction, agriculture and so on.
What about products on the move? Data from the manufacturing process, such as bills of materials, serial numbers and lot or batch identification on product labels, may now be part of the data that accompanies the thing. For industrial and electronic products, this device data can be embedded within the product. For packaged products derived from process manufacturing (chemicals, pharmaceuticals and food) an RFID device or a sensor may accompany the container or be attached to the package. Data from these sources, again, probably will be initiated through an SAP partner's device-services layer and passed on to SAP ESP.
For manufacturers, use cases are significant. They can help you understand how events during production or during use at the customer site might affect long-term quality, or evaluate better distribution practices to ensure product safety. A key concept in the IoT is sharing data: A manufacturer can share data with customers so they can learn more about product care, chains of custody and fair practices to support regulatory compliance. Because many customers have a plethora of systems standards and integration methods, B2B integration will need to be supported by an open SAP environment. As SAP works further on its cloud products, integration should get easier.
Big data and analytics
When users look at data sources, they imagine a huge variety of additional ways to understand the world. All this data blends up in the cloud, but for SAP, it's all related to the vendor's push for its HANA in-memory database. This brings us to the topic of bigger data.
Device services and big data are the one-two punch in IoT. Big data is not just about mammoth data storage, search and analytics but new types of data that legacy ERP users may not have today. It has been the domain of non-manufacturing applications in fields such as transportation, weather and marketing. Data streams from sensors measuring temperature or vibration require not just conversion from analog to digital data, but also context data (for example, time, date and location). Social media and weather patterns are common data streams that are being collected and analyzed. Much of this data will come from other non-SAP application sources that will need to integrate with SAP, particularly in logistics, defense, construction and agriculture, where SAP ERP is not that prevalent.
From an analytics perspective, the IoT needs to be thought of as either monitoring complex short-term events or capturing longer-term analytics for trending and reporting. Examples include exploring data to discover new types of product or markets, big research (think genome), customer trends and weather patterns and their effect on diseases. Over time, mining this data will be the real value of the IoT for most companies.
Big data applications can sit on top of an existing ERP system or side by side, and users of SAP ERP can integrate with them through HANA. Analytics can be near real time, and SAP ESP is designed to handle it. Many SAP software products have some analytics built in, and some users employ one of the many business intelligence (BI) analytics tools from SAP and other vendors.
But SAP is pushing a HANA approach for IoT analytics, and there may be an argument for this if your version of SAP ERP or BI can't handle the new streams of data. Many companies have built up years of analytics that work well for them. So it is worth thinking about whether existing analytics can accommodate these new sources and create meaning from them. In the non-SAP world, the answer generally has been no. IoT applications are designed to accommodate big data and blend it with traditional data sources. And because organizations often segment discovery and analytics from day-to-day transaction activities, it often makes sense to have a side-by-side strategy.
Putting it all together
SAP manufacturing users are in the best position to leverage SAP ESP and HANA because they already have applications that can become smarter. But it will still require the system architecture to accommodate both on-premises and remote or mobile information. Figure 2 shows examples of SAP software configurations for IoT in mobile and on-premises environments.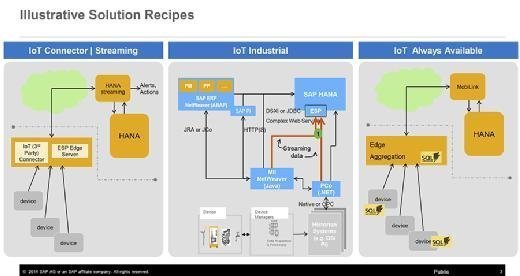 SAP has attempted to bundle IoT applications, but it still has a ways to go. Competitors that have rich tool sets and libraries of prebuilt use cases and analytics have a technical jump on SAP, but SAP's user base will likely consider SAP anytime they go looking for products. The HANA offerings are very much a work in progress and many installations are custom projects. This means HANA, and in particular SAP's HANA Cloud Platform for IoT, which does bundle some tools and services, is only for those companies with an appetite for developing applications and not those seeking turnkey IoT portfolios.
With so much competition for the industrial IoT from digital manufacturing software providers, the ever-growing equipment providers who now consider themselves software companies, SAP must run fast to fill the void in its IoT libraries. Its continued move into the small to midsize business market, which requires well-developed use-case libraries, will be a catalyst to expand its product portfolios.