reborn55 - Fotolia
SAP ERP vs. Oracle ERP: Which system is best for you?
Although SAP and Oracle have more competition from other ERP vendors, they're still leading choices, especially for large enterprises. Here's information to help choose between them.
When researching potential new ERP systems, SAP and Oracle are probably two of the most common options that you...
Continue Reading This Article
Enjoy this article as well as all of our content, including E-Guides, news, tips and more.
will come across. This is partially due to the two vendors' market share, high adoption rates among blue chip and Fortune 1000 companies, and their established presence in the industry.
SAP and Oracle are certainly not the only two options available to potential buyers of enterprise software, but they are often the most considered and evaluated systems, especially among large organizations looking for maximum scalability and breadth of functionality. Yet, while the two have similarities, they also have many differences.
The most recent study from Panorama Consulting Solutions LLC outlined those differences. We surveyed nearly 500 organizations across the globe that had recently implemented leading ERP systems for "Clash of the Titans 2017." The study outlined some interesting findings for those wanting to differentiate between the two behemoths.
When looking at SAP ERP vs. Oracle ERP, it's important to note the commonalities first.
Both have very similar average implementation durations, with companies reporting an average duration of approximately two years (23 months for SAP and 25 months for Oracle).
Project costs are comparable, with companies that have implemented SAP ERP or Oracle ERP reporting an

average total cost of ownership of just over $2 million.
Both are investing heavily in cloud software.
The number of companies that experience material operational disruptions at the time of go-live are similar, with just under half experiencing a challenge along the lines of not being able to ship product or close the books (44% for SAP and 42% for Oracle).
These similarities suggest a draw in many categories, but the differences are notable, as well. Below are several areas where SAP and Oracle differ significantly.
SAP ERP vs. Oracle ERP market share
SAP has retained the No. 1 slot for market share for each of the last eight years that Panorama has conducted this annual research. For most of that time, Oracle was a close No. 2. However, Oracle slipped to No. 3 behind Microsoft Dynamics in the last study (13% market share, compared to SAP's 19% and Microsoft's 16%), suggesting that it may be losing ground to smaller and more nimble competitors, while SAP seems to be holding its own.
Note that these market share numbers include all of SAP's and Oracle's products, with the exception of NetSuite, as it had not yet been included in Oracle's market share figures. Including NetSuite in future market share calculations could reverse this trend for Oracle.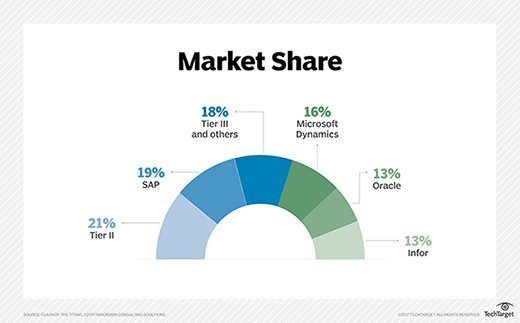 SAP ERP vs. Oracle ERP in terms of cloud adoption
Speaking of NetSuite, both SAP and Oracle are investing heavily in cloud software products.
SAP leads Oracle in the percentage of customers that are deploying cloud or software as a service (SaaS) software, although Oracle is investing heavily in migrating best practices from E-Business Suite, JD Edwards, PeopleSoft and Siebel into what will soon be its core ERP offering: Oracle Cloud. In addition, Oracle's hefty investment in acquiring NetSuite speaks volumes about the company's commitment to its cloud and SaaS product strategy.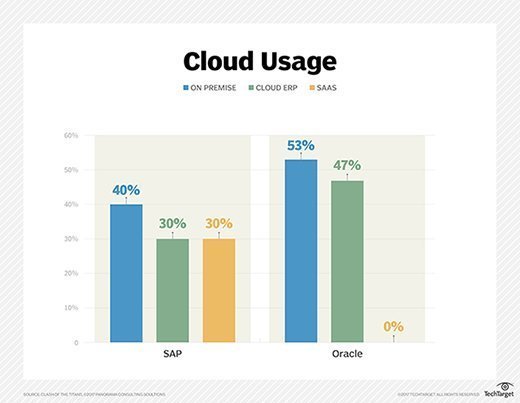 SAP ERP vs. Oracle ERP in terms of implementation cost and duration
While implementation cost and duration are very similar between the two vendors, overall variability for the average actual total cost of ownership is much higher for SAP (38% higher than expected costs) than it is for Oracle (2% higher than expected costs).
Similarly, the average SAP customer's time overrun is twice that of Oracle, with the SAP customer taking 9% longer to implement than planned, compared to 4% for Oracle.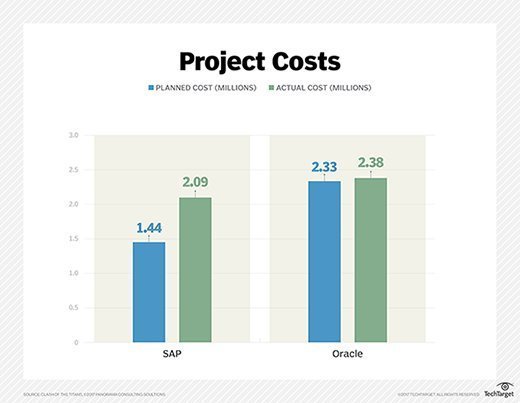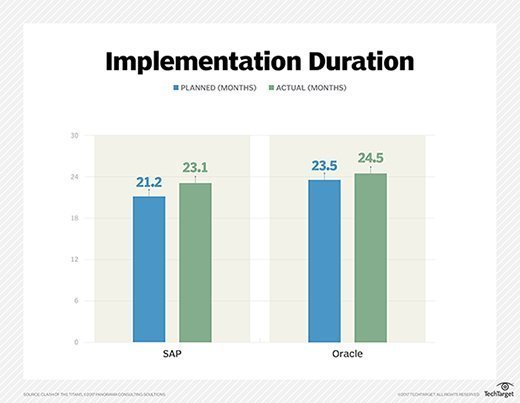 A comparison of customization vs. flexibility
It is important for potential buyers to understand the off-the-shelf functionality available, along with the potential ability to change that functionality, if needed.
Companies that implement SAP ERP are less likely to customize their software than Oracle customers, with 23% of SAP customers reporting no changes to source code, compared to only 10% of Oracle customers.
This could suggest one of two conflicting viewpoints: Either SAP better meets the needs of its customers out of the box, or Oracle is more flexible, making it easier and less risky to make changes to its software. Whatever the root cause of this contrast, it is important for potential buyers to understand the off-the-shelf functionality available, along with the potential ability to change that functionality, if needed.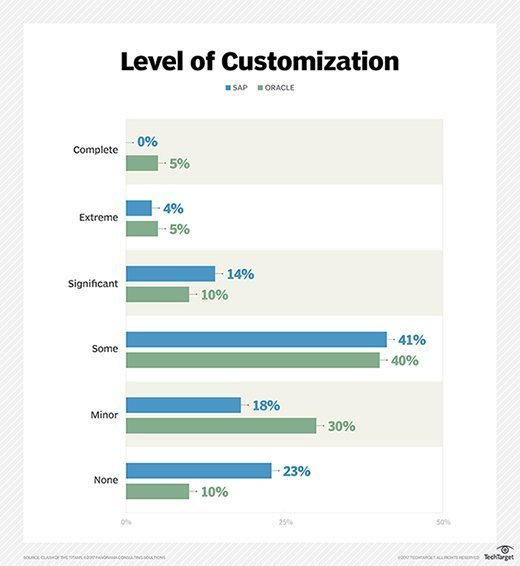 Benefits and functionality realized with SAP ERP vs. Oracle ERP
Benefits and functionality statistics provide two conflicting differences between these two systems.
When it comes to functionality achieved relative to what was expected, Oracle wins the battle, with 86% of their customers realizing at least half of the functionality that they were sold (compared to just 44% for SAP). When you look at tangible benefits realized, however, the opposite is true: SAP leads with 34% of customers realizing at least half of the expected measurable business benefits, compared to just 21% of Oracle customers.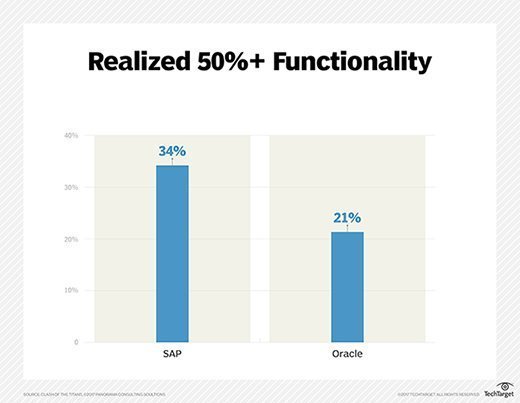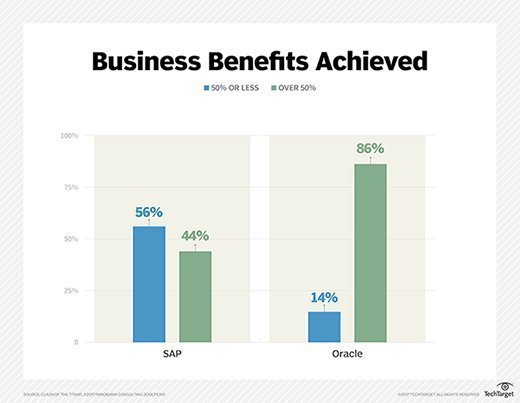 So when it comes to SAP ERP vs. Oracle ERP, which system should you choose? That answer will depend on the needs of your company, but the comparisons above can help you chose the right path.