SAP Design Studio: Advanced tools for dashboarding pros
SAP Design Studio is said to be the more advanced successor to the BEx Web Application Designer. Tammy Powlas takes a look at the realities.
SAP Business Objects Design Studio is an application used to build professionally authored BI dashboards. It was...
Continue Reading This Article
Enjoy this article as well as all of our content, including E-Guides, news, tips and more.
one of the first SAP Business Intelligence (BI) applications built with a mobile-first mentality. SAP BusinessObjects Design Studio is used to create SAP BusinessObjects (formerly Xcelsius) Dashboards and is a more sophisticated successor to Business Explorer (BEx) Web Application Designer used to create Xcelsius dashboards. Eventually the plan from SAP is to merge dashboard features from SAP BusinessObjects 4.x as well.
Some of its most interesting features in the initial release include being able to use a WYSIWYG editor during the design process, pixel-perfect formatting and the ability to deploy dashboards across large enterprises.
Current version
Dashboard Designer 1.3 is the current version on the market, and it includes data universe support for Microsoft and Sybase databases and Software Development Kit (SDK) support for software like graphomate's dashboard add-ons aimed at helping businesses visualize data for better decision making.
SAP BusinessObjects Design Studio was introduced at the Sapphire Now user conference in Madrid in November 2012. Since then, it has had two major releases. The third release, 1.3, was distributed just before Sapphire Now 2014.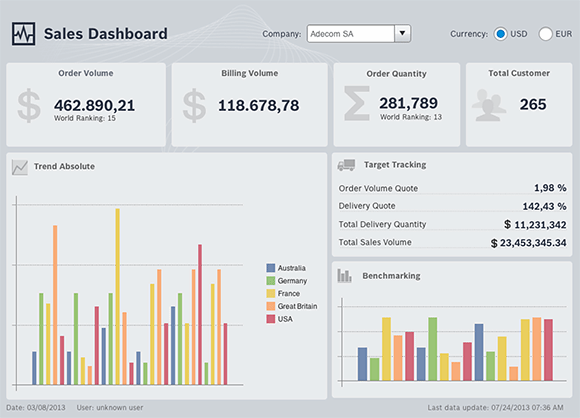 Who it is intended for
SAP targets Design Studio for the IT professional to build professionally authored dashboards. It is for the power user as well. It is for large-scale enterprise wide dashboards. Design Studio is not a self-service tool for the business analyst. SAP is positioning Lumira for the self-service BI audience.
Strengths and weaknesses
The major strengths of SAP Design Studio include its ability to deploy enterprise-wide dashboards and an extensible SDK, that it works well with Cascading Style Sheets (CSS); and its interoperability with the other analysis products such as SAP BusinessObjects Analysis, Edition for Office, and SAP BusinessObjects Analysis, Edition for OLAP. It provides the path to mobility for the SAP BusinessObjects Analysis, Edition for Office, and SAP BusinessObjects Analysis, Edition for OLAP products. Design Studio can deploy real-time dashboards using SAP HANA as a data source and the subsequent 1.3 version has a native HANA deployment option, according to SAP. Additionally, the 1.3 release supports planning features, which was the top requested feature from the SAP Idea Place.
SAP Design Studio supports a majority of the features in SAP Business Information Warehouse (SAP BW). It has an edit-initial view feature that allows adding elements to your dashboard without returning to the "semantic layer" for further modeling. It integrates well with the SAP Mobile BI applications.
SAP has not yet closed some of the gaps between Design Studio and some features currently available in the BEx Web Application Designer and Xcelsius, one of SAP's earlier dashboarding software applications. BEx Web Application Designer has been available since around 1998, supporting dashboards for BW data sources, whereas Xcelsius is the dashboarding application that came from the 2008 BusinessObjects acquisition. Broadcasting and report-to-report interfaces are missing features and Design Studio doesn't yet have all the components of XCelsius. Design Studio previously only supported iOS devices; SAP announced that Design Studio 1.3 will support Android within the coming week.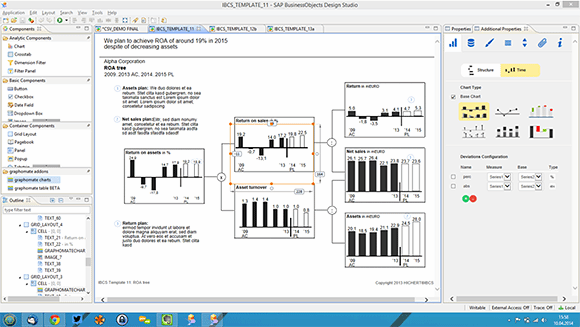 How Design Studio is different
Design Studio is a product that works as a client design time application, on the SAP BI Platform, on the SAP BW platform and coming soon natively on HANA. It has a familiar Eclipse-like interface. Eclipse is an integrated development environment used to develop other software tools. It is HTML5-ready, which means it can be displayed on any browser.
A top feature is the ability to support scripting, which the other SAP dashboard tools do not support. If you don't know scripting you can take advantage of the scripting wizard using control-space feature. The SCN Community space for Design Studio offers scripting samples.
Design Studio works well with JavaScript and provides a structure for designing enterprisewide solutions within a governance model.
Recommendations
Before implementation or purchase you should check if you don't already have a license for Design Studio. If you have a license for Dashboards, chances are you have a license for Design Studio as well. This SAP video includes more information about pricing for Design Studio.
If you are just getting started with Design Studio, a number of resources are available. There are SAP's free BI tutorials, as well as free Design Tutorials on the SAP Community Network (SCN). You might want to also consider paying for some of the lessons available at SAP's training and certification portal, although some of those lessons can also be accessed for free through the SAP Learning Hub (this SCN article explains how.)
Additionally, it helps to know about CSS, or at least how to search for them. I like seeing the effects of what I am trying to do first in Notepad ++ and then applying the CSS in Design Studio.
Also you should have a JavaScript book handy during the design process, given that knowing some of the functions and parameters can be helpful when designing an application.
If you want to start with self-service dashboards, then have your power users/accountants start with BusinessObjects Analysis for Office. You can go right into Design Studio with a nice-looking application with a single click.
Here are a few helpful recommendations from DSAG, the German SAP user group: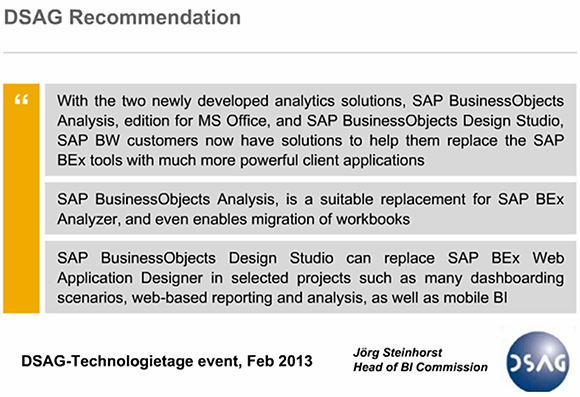 This is one of the few times I've heard of a user group endorsing a product. If you haven't yet looked at Design Studio, I recommend starting with building a proof of concepts first. Also if you have never worked with Eclipse as an integrated development environment, follow the SAP Help to install the sample SDK components, as Eclipse is used to package the product. It takes some tenacity but it is worth it in the long run.
About the author:
Tammy Powlas is a certified public accountant, project management professional, and SAP-certified in 7.0 SAP BW, SEM, FI and CO. She has over 15 years of SAP experience. She is also an SAP Mentor. She currently works as a senior business analyst at Fairfax Water, a utility company in Northern Virginia.
Next Steps
BI expert reviews SAP Lumira
How to get the most ROI out of dashboards
We're not quite at the apex of what BI can do, says SAP exec
Dig Deeper on SAP business intelligence