James Thew - Fotolia
SAP Crystal Reports for Enterprise offers more power for SAP BI users
Despite a few weaknesses, Crystal Reports for Enterprise gives SAP BI users a few more tools over standard Crystal Reports -- including more speed -- writes Jamie Oswald.
The release of SAP BusinessObjects Business Intelligence platform 4.0 (BI4) in 2011 brought with it a brand new...
Continue Reading This Article
Enjoy this article as well as all of our content, including E-Guides, news, tips and more.
version of Crystal Reports: Crystal Reports for Enterprise. Meant to look and feel more like the updated version of Web Intelligence (Webi), not only is Crystal Reports for Enterprise (CRE) aesthetically different from standard Crystal Reports, it also offers a wide list of new capabilities.
History
Prior to the BI4 release, the standard version of SAP Crystal Reports had been part of the BusinessObjects portfolio since being acquired in 2003, but it was not fully integrated with the rest of the SAP BI portfolio. Much of the Crystal Reports server architecture made its way into the BusinessObjects platform, but the client tools hadn't converged at all. Crystal Reports was for enterprise reporting, and Webi was for self-service analysis.
The story of the BI4 release of BusinessObjects was about integration -- integration with SAP and integration between tools -- so it made sense to integrate Crystal Reports' strengths with the rest of the stack. To avoid drastically impacting the existing Crystal Reports customer base (not all of whom use the SAP BI Platform), SAP created a new tool called Crystal Reports for Enterprise for developers who wanted to fully leverage platform features like semantic layer Universes, 64-bit runtime architecture, and a new common "ribbon"-like interface in the suite.
The current version is Crystal Reports for Enterprise 4.1. More information on this release and how it differs from the 4.0 version can be found on this SAP help page.
Who it is intended for
While Crystal Reports for Enterprise-generated reports are consumable by any business user, the report creation process still belongs to developers. Because of its tight integration with the semantic layer central to SAP BusinessObjects -- otherwise known as the BusinessObjects Universe -- the developer does not need nearly the SQL expertise of a classic Crystal Reports developer, but a developer mindset is still required.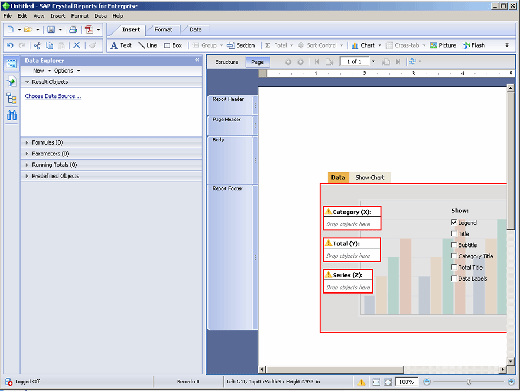 Strengths and weaknesses
So what are the greatest strengths of Crystal Reports for Enterprise?
Common user interface with other BI tools: CRE uses the same charting library as most of the other tools in the SAP BI suite, it has an interface that makes switching between CRE and Webi simpler, and it includes capabilities to move data between products (e.g., Explorer and Analytics).
64-bit server-side processing: While the client is still native to 32 bit, Crystal Reports for Enterprise runs more powerfully on the server.
Integration: CRE is built from the ground up to work in the BI4-world.
Formula editor: The Crystal Reports Formula Expert has always been extremely powerful -- marrying it up with the SAP BOBJ Universe is a big deal.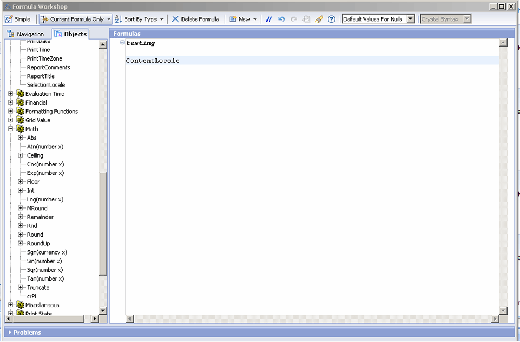 Where does Crystal Reports for Enterprise fail to deliver? Mostly in that it lacks some of the bells and whistles found in the standard edition of Crystal Reports.
Data access: This gets better with every release, but it isn't as robust as the original.
Compatibility: CRE was born to run in the BI4 platform and nowhere else.
Software development kit (SDK): There is an SDK that shares a lot of functionality with the new Webi SDK, but it isn't as mature as the classic Crystal Reports version.
A look at the competition
As with Crystal Reports, Crystal Reports for Enterprise gets its biggest competition from within the SAP Business Intelligence portfolio.
CRE has a couple of strengths over classic Crystal Reports. The first is its 64-bit runtime environment, which allows for more powerful processing. The second is its ability to correctly consume the new BI4 Universe. Likewise, CRE is close to Webi, but it offers some key differences, particularly in variable/formula construction (the Crystal Reports formula experience has always been more like a script editor, whereas Webi operates more like an Excel function) and in the fact that it is row-based vs. block based.
A discussion over what CRE competes with isn't really a compelling discussion; this tool is definitely meant for existing SAP Business Intelligence users.
Recommendations
As this tool is meant for the enterprise already utilizing the SAP Business Intelligence platform, we recommend using CRE to push your existing Crystal Reports to the next level. Find your slow-running reports and put 64-bits behind them, or make your Webi developers try something new to get your organization's feet wet with Crystal Reports for Enterprise.
About the author:
Jamie Oswald is a business intelligence and SAP BusinessObjects expert for Mercy, a national healthcare network of 32 hospitals and 300 outpatient facilities, based in Chesterfield, Mo. He is also an SAP Mentor.
Dig Deeper on SAP business intelligence