Manage
Learn to apply best practices and optimize your operations.
Integrating SAP xMII with Guided Procedure
Want to make a powerful composite app? Try these steps to integrate xMII with Guided Procedure.
In my last blog, I discussed how SAP xMII can be integrated with CAF Core and how to leverage the data modeling and local persistency feature offered by CAF Core. In this weblog, I'll explain how xMII services and UI can be integrated with Guided Procedure and thus help us to develop an effective manufacturing work process management composite.
SAP Guided Procedures is the process layer of SAP's Composite Application Framework (CAF) and part of SAP NetWeaver. It is a business process management and modeling framework using which processes and workflows for composite applications can be easily developed. Using Guided Procedure Web services from external systems, RFC/BAPI from backend ECC or user interfaces like Web Dynpro, Visual Composer or a simple Web page can be integrated in a process flow. For more information on Guided Procedure, please check the following documents:
You can also refer SAP CAF Tutorial Center or SAP Library - CAF Guided Procedure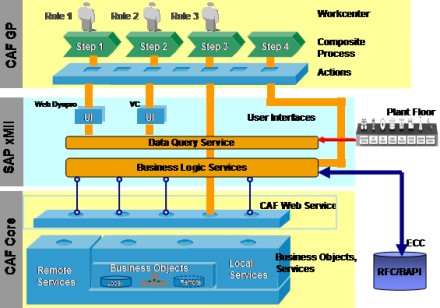 As explained in the above diagram, xMII can pull data from plant floor systems as well as backend ECC system using data queries and business logic services, persist them in the CAF core layer and generate the visualizations and reports using the display templates and query templates. But these are pieces of the of the whole story the enterprise needs today. Unless a process is provided data access and visualization are just half of what is needed. CAF Guided Procedure can provide the process modeling and integrate the pieces of information in a flow chain involving all the stakeholders.
Let's see how a manufacturing business process can be modeled by Guided Procedure levering the power of xMII. Guided Procedure has the building blocks called callable objects which can be user interfaces like Web pages, Web Cynpro components, Visual Composer iViews or services like Web service, CAF core service or RFC call. The data pulled by xMII from backend ECC system using the JCO action block and from plant floor systems using the data queries can be exposed as BLS Web services and visualizatio,n i.e. applets of charts and graphs can be integrated into Web Dynpro callable objects.
Creating a Web service from xMII BLS transaction :
The BLS transactions can be exposed as a Web service to be used in GP. Create a BLS transaction in xMII Logic Editor with the input and output parameters. Please note do not give any input parmeter of the transaction of type Xml as the WSDL generated from a BLS transaction with input of type XML is invalid due to a limitation in xMII currently.
Creating GP callable object from xMII BLS transaction :
Create a new GP callable object of type Web Service and click next after specifying a name and description.



In the next screen, enter the xMII BLS Web service WSDL URL and press Enter or click on Go button. The WSDL for the BLS transaction can be obtained by the following URL pattern: http://<server>:<port>/Lighthammer/WSDLGen/<BLSTransactionName>
It'll display the Web service operation and the input and output parameters.



In the next screens, it will display the details of input and output parameters' structures and datatypes and cardinality. Finally, click on Finish and the callable object will be created. Use this callable object in you GP process to execute a xMII BLS transaction.
Integrating xMII charts and graphics with Web Dynpro Java callable object :
xMII charts and visualizations can also be exposed in GP by integrating them with other types of callable objects like Web Dynpro Java callable object. Any xMII display templates can be accessed by the following URL pattern:
http://<server>:<port>/Lighthammer/ChartServlet?Width=<width pixel>&Height=<height pixel>&QueryTemplate=<query template name>&DisplayTemplate=<display template name>&Content- Type=image/gif&IllumLoginName=<login-name>&IllumLoginPassword=<login-password>&Param.1=<param 1 for query template>
For more details on how to integrate xMII visualizations in Web Dynpro Java please refer to this document. To know how to implement Web Dynpro Java callable object in GP refer this document. Also xMII Web/irpt pages can be integrated with GP as Web page callable objects.
The GP process actions can be assigned to different users, roles or user groups and can be configured to be automatically appear in their UWL or notification in mail inbox. For more information on how to present the GP process to the end-users please refer to this blog.
Thus SAP xMII can be effectively integrated with CAF GP to model manufacturing process composite applications.
Dipankar Saha is working for IBM India as an Advisory System Analyst on composite application development using CAF, GP, xMII, Visual Composer and Web Dynpro.
---
This content is reposted from the SAP Developer Network.
Copyright 2007, SAP Developer Network
SAP Developer Network (SDN) is an active online community where ABAP, Java, .NET, and other cutting-edge technologies converge to form a resource and collaboration channel for SAP developers, consultants, integrators, and business analysts. SDN hosts a technical library, expert blogs, exclusive downloads and code samples, an extensive eLearning catalog, and active, moderated discussion forums. SDN membership is free.
Want to read more from this author? Click here to read Dipankar Saha's Weblog. Click here to read more about SAP xApps on SDN.
---