Ivelin Radkov - Fotolia
In-house SAP support vs. outsourcing SAP support: Which wins?
Is it best to maintain an in-house SAP support team or should you outsource support service to a specialized vendor? Here's what you need to know about each side's pluses and minuses.
Today's CIOs are charged with doing more with less. Compounding the issue of a limited budget, most face an ever-increasing...
Continue Reading This Article
Enjoy this article as well as all of our content, including E-Guides, news, tips and more.
pressure to cut costs and improve response time in -- among other things -- providing SAP support services, and yet they must still find a way to stay on top of the newer SAP technologies. Some tackle this by investing in training and maintaining an in-house SAP-focused team, an obvious budget burden. Yet for companies that use SAP as their primary business application or ERP system, an in-house team of functional and technical consultants and analysts might be the best way to ensure any SAP-specific issue is immediately attended to since team members can closely work with business users to model and deliver solutions in the SAP systems.
On the other hand, for some CIOs and their companies, turning to specialized vendors for SAP support makes the most sense, along with maintaining only a skeletal in-house support team. In this model, a specialized SAP support vendor -- high-profile examples include Tata and Infosys -- works remotely to provide SAP support work.
Each model has its upsides and downsides, and, ultimately, a perfect solution to all of the company's SAP support needs does not likely exist. However, knowing the factors to consider and then making informed business decisions on SAP support can significantly help in cutting costs without compromising on the quality of the SAP services delivery. Below you'll see the pros and cons of maintaining an in-house SAP support team and how it stacks up against outsourcing SAP support services.
Costs and overhead
A comprehensive in-house SAP-focused team. Maintaining an in-house team of SAP consultants generally costs more than outsourcing.
Outsourcing SAP support to a specialized vendor -- supported by a small in-house team. A specialized vendor for SAP services takes advantage of economies of scale, wherein a single SAP consultant handles multiple clients' support tickets.
Training budgets
In-house. Training requires an investment of time and money -- two very precious resources. In this model, training is typically limited to just a few team members, which saves time and money. SAP certification is optional for them.
Outsourced. A specialized vendor trains many consultants, who are then presented as solution and subject matter experts to potential SAP clients. SAP certification of a consultant is often a must-have.
Knowledge of company's business processes
In-house. In comparison to outsourced support, the in-house team generally has a better understanding of the business and its unique processes, including its terminology.
Outsourced. Business users have to communicate details about business processes and how those affect the SAP system, but because the outsourced team is separate from the company there may still be gaps in understanding.
Knowledge of the newest SAP features and functionality
In-house. The company may not need the newest features as long as the existing system -- or workaround -- is meeting the business needs, which obviates the need for training.
Outsourced. The company can take advantage of expertise, but is spared spending the time and money training its in-house team on the latest technology, since the specialized support vendor stays up to date with the latest technologies as a way to attract and keep clients.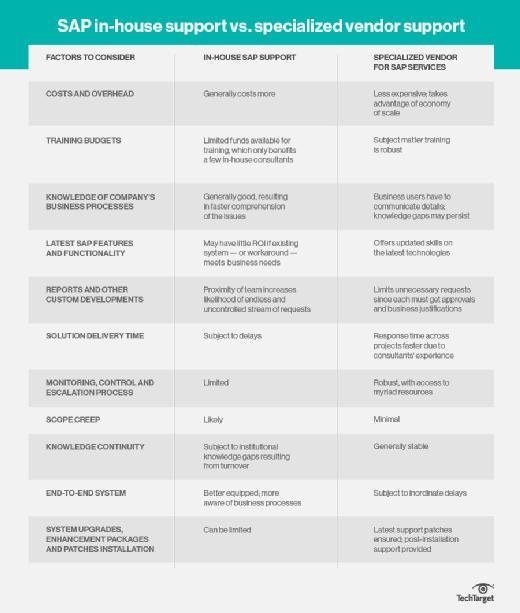 Reports and other custom developments
In-house. Because the in-house team is so accessible, its members are at risk of receiving an endless and uncontrolled stream of requests to create new custom-developed reports and enhancements to meet business needs.
Outsourced. Each new report or development request that business users want to submit must get internal approvals and business justification before initiating the outsourced team's services.
Solution delivery time
In-house. Proposing and delivering the desired solution may be delayed for a variety of reasons, including competing workload priorities and the need to do research to suggest a best-fit solution.
Outsourced. Consultants often offer experience gained from various projects and industries that have faced the same business needs; hence, they are able to offer a comprehensive solution that also takes the integration aspect of a solution into account.
Monitoring, control and escalation process
In-house. Many in-house teams are limited to the knowledge that they already have, and in turn may not have enough expertise to meet business users' needs. Furthermore, there is no process for escalating support tickets so they can be addressed by people with more technical know-how.
Outsourced. Outside consultants can tap into a vast network of SAP resources and knowledge bases to provide an optimum solution. In addition, a consultant's performance review rests on the number of support tickets successfully and promptly closed.
Scope creep
In-house. Due to the proximity and availability of the internal team, business users may not work as hard to communicate complete business needs, and they may feel free to ask for more processes than previously agreed-upon.
Outsourced. SAP consultants must evaluate the scope of work and estimate the time, effort, and additional resources required to complete the task so as to calculate the cost of delivering the solution. In addition, they will ensure that the business user comprehensively explains and documents all requirements, the business scenarios to be tested and delivered, and the expected outcomes of the designed solution. These steps ensure minimal scope creep. As an added safeguard from a company's perspective, consultants' performances are then measured on how cost estimates compares with actual costs.
Knowledge continuity
In-house. In-house team members may leave the company or be transferred to other business functions, thus creating an expertise and knowledge gap.
Outsourced. The specialized vendor generally has a stable roster of in-house and freelance consultants with the appropriate expertise to provide solutions to support tickets.
End-to-end solution
In-house. An in-house team is better equipped to provide an end-to-end solution because members are more aware of business processes.
Outsourced. A specialist may have to pass the support ticket to another specialist or may even require the client to create a new support ticket to address a specific business scenario. This often results in inordinate delays. Such a situation generally arises when either the customer does not provide comprehensive details of the problem, or when a consultant concludes that due to the integrated nature of the problem more than one consultant or a consultant of another SAP domain needs to be engaged.
System upgrades, enhancement packages and patches installation
In-house. An in-house team will typically only undertake this occasionally on a need basis.
Outsourced. A specialized vendor ensures installation of the latest support patches and provides post-installation support and services.
As evidenced above, there are many factors to consider when deciding the outsourcing vs. in-house question. In the end, only you and your leadership can understand the weight to give each factor -- and whether to bring support in-house or whether to outsource it.