Problem solve
Get help with specific problems with your technologies, process and projects.
How to staff a successful mobile SAP project
Sometimes when you're deploying a mobile project in SAP, such as in SAP xApp Mobile Time and Travel 2.0, success is all in the staffing. This SDN post by Karsten Strothmann offers some tips for how to select personnel.
In order to turn your mobile project into a success, you should keep in mind that mobile projects are a little more complex than traditional IT projects. This is because a broad range of technologies are used in a typical mobile project and you need to have somebody in your team with know-how on all of them. This does not have to be (and most likely won't be) the same person, but you should be able to cover a broad range of technologies ranging from SAP back-end systems requiring ABAP and/or business process knowledge to mobile clients, for which some Java experience might be very beneficial. This post will offer some tips for how to successfully staff your project.
The image below gives you a first impression of the system landscape in a Mobile Infrastructure-based project; as you can see, for a mobile project you need know -how for client, middleware and back-end.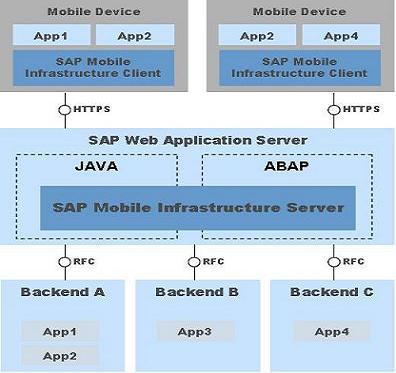 The information given is based on SAP xApp Mobile Time and Travel 2.0 and SAP xApp Mobile Asset Management 3.0. Most of it is valid for other Mobile Infrastructure-based applications as well.
Experience has shown that the following roles need to be covered by members of your project team:
Application consultant needs to have the relevant back-end knowledge for the specific solution that is supposed to be implemented in your project
Mobile consultant should know about Mobile Infrastructure configuration, mobile application installation and should be experienced in technical blueprinting
Technical consultant should have know how regarding Web Application Server installation and administration
Development consultant is required to know about enhancements to the mobile application front-end and/or about back-end enhancements
Project manager is needed like in any other project
So now that we have had a quick look at the different roles that you need to fill with your team members, let's see what the detailed skill set required to fill these roles looks like:
Mobile consultant
Web Application Server
Mobile Infrastructure
General networking knowledge
Security (e.g. SSL)
RFC
Job scheduling
SAP role concept
Technical consultant
Web Application Server 6.40
General networking knowledge
Security (e.g. SSL)
RFCs
Job scheduling
SAP role concept
Back-end development consultant
BAPI / RFCs
ABAP / BADIs
Mobile Infrastructure
Back-end application knowledge (e.g. CATS for xMTT)
Front-end development consultant
BAPI / RFCs
Java
Java Server Pages (JSP)
Device knowledge (Prep, rollout, security, drivers, etc)
Mobile Development Toolkit (MDK)
HTTP/HTTPS
Mobile infrastructure
If you are looking for more detailed information, information kits are available for most mobile applications that help you with planning your projects.
Karsten Strothmann is a regional group specialist for SAP Mobile Business Solutions.
---
This content is reposted from the SAP Developer Network.
Copyright 2006, SAP Developer Network
SAP Developer Network (SDN) is an active online community where ABAP, Java, .NET, and other cutting-edge technologies converge to form a resource and collaboration channel for SAP developers, consultants, integrators, and business analysts. SDN hosts a technical library, expert blogs, exclusive downloads and code samples, an extensive eLearning catalog, and active, moderated discussion forums. SDN membership is free.
Want to read more from this author? Click here to read Karsten Strothmann's weblog. Click here to read more about the Business Solutions on SDN.
---
Dig Deeper on SAP development and programming languages