carloscastilla - Fotolia
How to integrate Employee Central and talent management apps
Employee Central and talent management apps intersect at numerous points. Here's what you need to consider when undergoing an implementation.
SuccessFactors' HCM suite offers many inter-module integration points and -- as one would expect -- Employee Central...
Continue Reading This Article
Enjoy this article as well as all of our content, including E-Guides, news, tips and more.
has integration points with many parts of the talent management suite. There are numerous touch points between Employee Central and the talent management applications that you and your implementation partner will need to consider when implementing Employee Central or the suite of talent management applications. Let's look at each of these touch points.
Employee Profile and talent processes. One feature that lets you use the SuccessFactors HCM suite of talent applications without Employee Central is the Employee Profile, a mini-master of employee data that each talent application reads. When you use Employee Central, the Employee Profile is synchronized in real time from employee data in Employee Central, as Figure 1 shows.

Recruiting. Recruiting integrates naturally with core HR, as Figure 2 shows. If you use Position Management in Employee Central, position data is pulled into a newly created requisition in Recruiting Management. Requisitions also can be launched in the Position Org Chart, as well as the Succession Org Chart. Job Classification data also is pulled into Recruiting from Employee Central.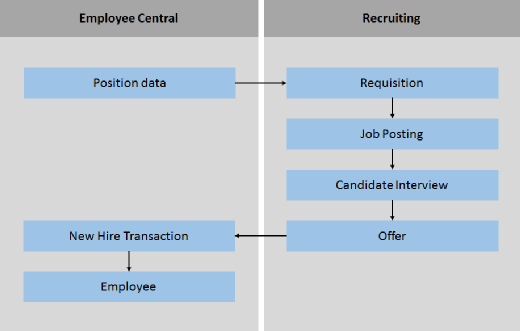 Once an employee is given an offer in Recruiting Management, processing would continue in the Manage Pending Hires transaction in Employee Central. During implementation, a mapping template is created to define the data fields that will flow from Recruiting Management into the New Hire transaction in Employee Central.
Onboarding. Typically, when you use SuccessFactors Recruiting and SuccessFactors Onboarding, the new hire is done from Onboarding. Usually the candidate data flows from Recruiting to Onboarding as pre-hire data and then to Employee Central as hire data once the paperwork and pre-hire processes are completed in Onboarding. Figure 3 illustrates the data flow. After an employee has completed all paper work in Onboarding, he will be available to hire in the Manage Pending Hires transaction in Employee Central.

Similarly to the Recruiting integration, employees who have completed the pre-hire processes in Onboarding are ready to hire in Employee Central in the Manage Pending Hires transaction. As with the new hire process, when you use Recruiting and Employee Central, Onboarding feeds data into the New Hire transaction in Employee Central so that all previously collected data from both recruiting and Onboarding pre-populates the equivalent fields.
Compensation and Variable Pay. Like most talent applications, SuccessFactors Compensation reads employee data from the Employee Profile. However, it reads job information directly from the Job Information portlet and salary data directly from the Pay Components in the Compensation Information portlet (both portlets are located in the Employment Information screen). Figure 4 illustrates the data flow.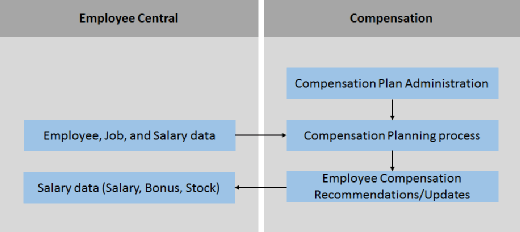 Data is pulled into Compensation so the employee can be evaluated for merit and stock options against the defined budget. Once the process is completed and approved, the resulting merit and stock options data is sent back to the Compensation Information portlet where the respective Pay Components are updated.
The only major difference for Variable Pay is that employee history data is used to help determine the bonus allocation, as Figure 5 shows.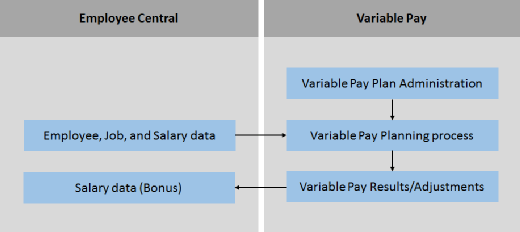 Succession . When you use Employee Central and Position Management, Succession leverages position data from Position Management. This data enables the Succession Org Chart to be rendered, as well as supporting options for creating or managing positions and launching requisitions in SuccessFactors Recruiting, as Figure 6 shows.

Reporting, Workforce Analytics and Workforce Planning. Employee data is read in real time from Employee Central to be used in the Reporting, Workforce Analytics and Workforce Planning applications. This enables real-time reporting and analytics, as well as strategic workforce planning. Figure 7 illustrates the data flow.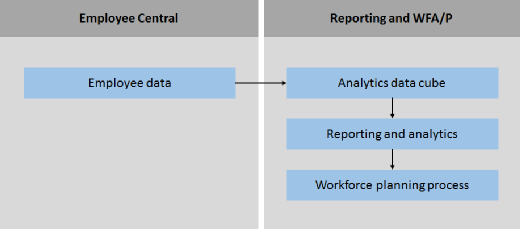 Job Profile Builder. Job Profile Builder lets you build job profiles for both jobs and positions. These job profiles can then be used in other talent processes, particularly performance, succession planning and recruiting. Job Profile Builder can read the Job Classification and Position data from Employee Central to create the foundations for the Job Profiles and Position Job Profiles, as Figure 8 shows.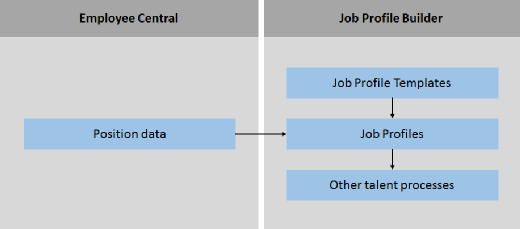 Although integration is not perfect in every , it is constantly improving and increasing both the flexibility and depth of data flows. Bringing together so many moving parts is a challenge for any vendor with any data model and SuccessFactors is proving that it is possible.