tiero - Fotolia
Employee Central ensures global regulatory compliance
Non-compliance with regulations creates legal and financial risks for companies. An expert suggests that Employee Central can help mitigate that risk.
Global regulatory compliance is a critical responsibility of human resources, whether it is within a global organization operating across different continents or within an organization that operates in one territory. When working with local labor regulations, tax laws, working time directives, union agreements, or otherwise, HR must ensure that its organization is fully compliant within each country in which it operates.
Organizations using SuccessFactors Employee Central can be assured that their systems are kept compliance-ready in 71 countries globally, and they have the ability to configure their system during implementation to cover any other country in the world. This global and local functionality is unmatched by any other SaaS-based core HR system available in the market.
Let's first look at the definition of localization; then I will outline ways in which companies can stay compliant when they use Employee Central for their core HR needs.
What is localization?
For some vendors, localization is simply adding a few country-specific fields and translating the user interface. However, SAP takes a holistic view of localization, taking it a step further than many of its competitors. To put it simply, localization is the ability for a system to support global standards and provide country-specific functionality, fields, validations, logic, selection options, reports, and salary and taxation changes so that every country in a global organization can be adequately managed and remain 100% compliant with local laws and regulations.
How localization helps
Non-compliance creates many legal and financial risks for organizations, as well as for company officers, executives and anyone who is responsible for ensuring a company is compliant with a country's regulations. Additionally, some countries have work councils or data privacy requirements with strict regulations that must be met before a system can go live.
To provide some context, in 2014 more than 1,300 legal changes were made to HR, payroll, and time and attendance laws in the countries that Employee Central supports. To mitigate this, SAP provides out-of-the-box localizations for 71 countries in Employee Central -- although more countries are added periodically.
Localization means that SAP provides standard reports, validations, fields and picklists for each of these 71 countries. Within Employee Central Payroll, which currently supports 30 countries out of the box, SAP also provides tax, social insurance and salary law changes. This also includes specific regions, such as Hong Kong in China or the four nations in the UK. In addition, SAP will push new legal changes into the Employee Central system either in a quarterly release or on an ad-hoc basis when urgent legal changes are made. Legal changes can be reviewed in the Upgrade Center and in quarterly release documentation provided by SuccessFactors.
Examples of localizations in Employee Central include country-specific national ID formats and data-input validation for such items as the National Insurance Number in the U.K., or the U.S. Social Security number. Job-classification and street address format are also among the local data types supported.
Other functionality
As mentioned above, the Upgrade Center in SuccessFactors provides the ability to review and implement new legal changes for both Employee Central and Employee Central Payroll. An example of a new legal change for New Zealand can be seen in the screenshot below: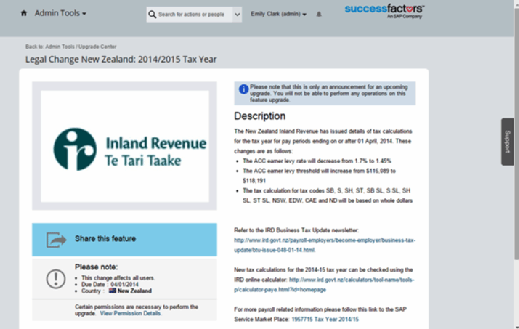 Employee Central integrates with SAP Identity Management (IDM) to enable security-based compliance. An integration with SAP Global, Risk, and Compliance (GRC) is planned. The OData API in SuccessFactors enables security and permissions integration to be built with other systems, such as SAP GRC or a third-party identity management application. This further enables security compliance.
So how does SAP do this?
SAP employs more than 200 people who influence and track changes to local laws across the countries that SAP supports in Employee Central. They manage the changes in each country and work with Globalization Services Product Management and Product Development to ensure that the changes are integrated into the product in sufficient time for customers to implement the changes and remain compliant.
Few vendors can claim the level of global expertise that SAP has, and SAP has ensured that this experience has been leveraged with Employee Central. Many vendors claim to have global functionality, but with deep localizations for more than 70 countries, easy application of legislative changes, and continued localized enhancements there really is no competition for Employee Central for global organizations looking to move their core HR to the cloud. I highly recommend that global customers do a deep dive and ask tough questions around global regulatory compliance to ensure that their vendor's claims are solid and can truly enable them to remain compliant across their organization.