EAI primer for SAP XI and middleware technologies
Are you confused about enterprise application integration technology as it pertains to SAP? This blog post from SAP Developer Network will set you straight, offering an in-depth explanation of the history of the technology and what it can do.
I began working on SAP ABAP but I'm now groping with XI and learning the tricks of this trade. This is my first blog posted in SDN. This blog will give an overview of Enterprise Application Integration (EAI), which can be useful for anyone starting on XI (or any other middleware technologies).
Enterprise Application Integration:
In earlier days, companies bought software solutions like SAP, PeopleSoft, Oracle ERP, IDEdwards, Siebel etc. and those software solutions would work very well individually but create silos of information. In many cases, each individual system produced excessive information. When common information changed, we updated the information in each system manually and the process became difficult to handle. Ultimately some of the data across the system became inconsistent. When people noticed those resulting inconsistence in data and double entry data, they decided to look into ways to integrate the systems. From that EAI (Enterprise Application Integration) was developed.
EAI allows the flow of information across the different systems. By connecting the different processes, software and hardware of more enterprises can become one enterprise system. The main motto of Enterprise Application Integration is to condense the efforts needed for designing and coding. And it allows reuse of configurations or codes for the new system. It reduces the maintenance costs and difficulties of the custemers.
The main objectives of EAI:
Automate of different Business Processes
Streamline information flows across various enterprise systems
Simplify maintenance in the enterprises
Provide efficient, flexible and scalable architecture
Provide reusable (adapters, models, etc.) and secured frameworks
Reduce maintenance costs for interfaces
In EAI there are two logical integration architectures, direct point-to-point connections and middleware-based integration.
Point-to-point integration

EAI developers follow point-to-point integration because they find it easy to understand and it can implement quickly for few systems to integrate. One example of point-to-point integration is if an application makes direct database connection calls to another application's database tables. Initially, when we integrate two application systems, the point-to-point integration is right choice. When we integrate additional applications, we get a situation shown in below figure.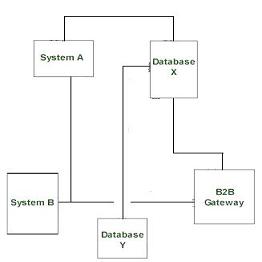 In this, each application is tightly coupled with the other applications through point-to-point connection. If we change one application, it may break the other integrated applications. If we have five applications to be integrated with each other, we will need ten different integration points as shown in the figure below. And each additional application becomes more difficult to integrate and maintain.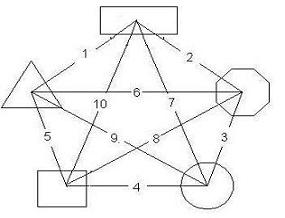 To avoid those problems, we required an intermediate layer to isolate the changes in one application from the other applications.

Middleware-based integration
Middleware provides interfaces with all integrated applications passing messages to each other and each interface defines a business process provided by the application. The below figure shows the service-oriented architecture using middleware.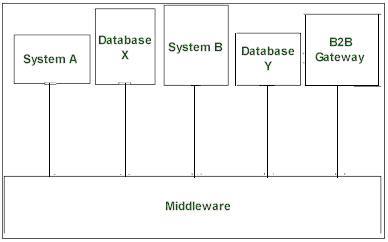 Service-oriented architecture adds and replace applications without affecting the other applications. If we have ten applications to integrate we will have just ten integration points. It supports a larger number of integrated applications and less maintenance. Middleware can perform complex operations from application to application.
The additional complexity is in setting up the middleware and converting the existing application to use the middleware API.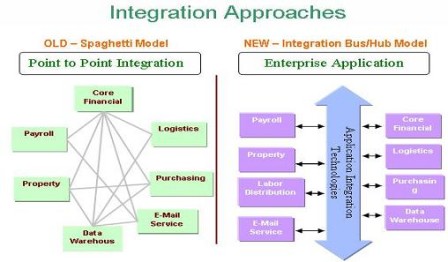 Major EAI solution providers:
SAP
WebMethods
TIBCO
IBM
Vitria
SeeBeyond
Microsoft
EAI can integrate legacy / mainframe, client-server, Web, e-commerce, ERP / CRM / HRMS, custom applications, etc. Various functionalities of EAI are messaging, interfacing, transformation, Routing and process modeling.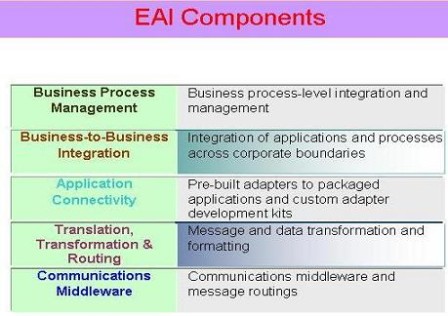 Manoj Kumar is a NetWeaver development consultant working with HCL Technologies
---
This content is reposted from the SAP Developer Network.
Copyright 2007, SAP Developer Network
SAP Developer Network (SDN) is an active online community where ABAP, Java, .NET, and other cutting-edge technologies converge to form a resource and collaboration channel for SAP developers, consultants, integrators, and business analysts. SDN hosts a technical library, expert blogs, exclusive downloads and code samples, an extensive eLearning catalog, and active, moderated discussion forums. SDN membership is free.
Want to read more from this author? Click here to read Manoj Kumar's Weblog. Click here to read more about XI on SDN.
---