Currency translation using SAP BI
Are you in need of a currency translator? Most companies nowadays are not limited to domestic sales and have to deal with many different currency types. Rasim Manavoglu shows us how to set up a currency translator with one standard currency output using the BI system.
It is very possible that you are from, or working with, a country that doesn't use the USD, Euro, Pound, etc. In this case you will need currency translation during your project implementation. This translation may be from your local currency to USD or Euro and so on. Clients like seeing figures on reports with $ or instead of local currency. In this article we will take a look at the currency translation. You will also see some hyperlinked words that will take you to the help site in SAP where you can find detailed info about currency translation.

Currency translation can be used to translate the key figures with currency fields that exist in the source system in different currencies into a standard currency in the BI system. Currency translation can be done in different levels depending on you, your requirements and translation type. All of these levels have different advantages and disadvantages. The image below will give you a general overview about currency translation to give you a better understanding of the currency translation in BI. As you can see, currency translation can be done at the business explorer, update rules and transfer rules level, but these are not preferred. You may get better preformance in transfer or update rules using the function module whereas in query you can have more flexibility; if it is a provided variable then you may see the currency which you want. You can use variables for currency conversion in the business explorer level. You may also check the OSSnote regarding to variables in currency translation.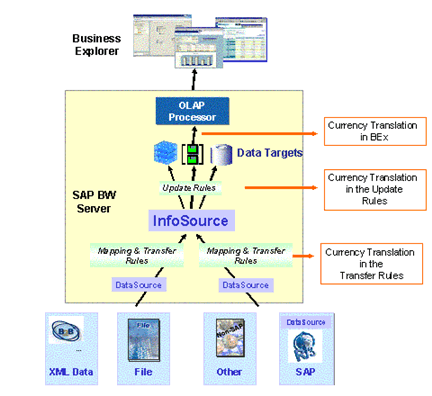 Basically, what you need for currency translation in BEx is to transfer the exchange rates from your source systems into the BI system. To be able to transfer exchange rates from the source system, you should go to the source systems (run RSA13 –source systems) in your BI system and choose the related source system which you want to transfer the exchange rate. Then right click on that source system and select transfer exchange rates and in the coming screen you should select the exchange rate type that you want to transfer and you have an option to transfer exchange rates by date. You want to transfer with the changes since after this you can simulate the transfer or update exchanges rates and transfer the exchange rates again. The transfer exchange rates again option overwrites the rates in the TCURR table so you should be careful when using that option. Those transferred exchange rates are stored in the TCURR table in your BI system. After you transfer the exchange rate then you can check the rates in that table and whether the transfer is successful or not by running the se11 or se16 transaction and entering TCURR as a table name.

One more thing you need to do is to define your own currency translation running transaction RSCUR. There, you need to create a currency translation and specify your exchange rate type (whether is dynamic or not), source currency and target currency. This should be defined at the second and third tab. Select the time reference and save the currency translation that you created. Now you have a your own currency translation and run one of the queries with a BEx of your choice to use in the currency translation. Then, click on the key figure currency translation needed and right click and select the properties. At the bottom of the properties menu select your own currency translation defined earlier. Finally, save and run the query and you will be able to see your key figure in another currency that every client likes to see.

I hope this has been informative for you.


Rasim Manavoglu has been working in Accenture for more than one year as a Technology Analyst and mainly working on SAP BI and Enterprise Portal Projects.

---
This content is reposted from the SAP Developer Network.
Copyright 2007, SAP Developer Network
SAP Developer Network (SDN) is an active online community where ABAP, Java, .NET, and other cutting-edge technologies converge to form a resource and collaboration channel for SAP developers, consultants, integrators, and business analysts. SDN hosts a technical library, expert blogs, exclusive downloads and code samples, an extensive eLearning catalog, and active, moderated discussion forums. SDN membership is free.
Want to read more from this author? Click here to read Rasim Manavoglu's Weblog. Click here to read more about Business Intelligence (BI) on the SDN.
---
Dig Deeper on SAP business intelligence