Problem solve
Get help with specific problems with your technologies, process and projects.
Best practices for user productivity enablement and SAP NetWeaver
Read best practices for user productivity enablement and about using IT practices and IT scenarios to understand SAP NetWeaver in this article from SAP. This is the fourth article in a four-part series.
This is the fourth installment in our series of articles entitled "Using IT practices and IT scenarios to understand SAP NetWeaver". In this article we focus on the IT practice user productivity enablement.
User productivity enablement is an IT practice that specifically helps organizations to improve personal and group productivity. This can be achieved through streamlined, Web-based portals, mobile devices and natural voice interfaces, enhanced collaborative tools, and an optimized knowledge management approach. This practice can also be used to extend functionality via portable devices, mobile phones, or voice recognition interfaces.
For individual users, this maximizes their ability to recognize and exploit opportunities and to address problems through targeted and timely knowledge delivered in a personalized, actionable environment. For the enterprise as a whole, it offers a means of gaining more value from institutional knowledge and existing IT systems while optimizing ad hoc and distributed work processes.
User productivity enablement has the following IT scenarios:
Running an enterprise portal
Enterprise knowledge management
Enabling user collaboration
Business task management
Mobilizing business processes
Running an enterprise portal
Running an enterprise portal provides all members of a company's value chain -- employees, customers, partners, and suppliers -- with uniform, role-based, and secure access to their day-to-day work and information resources through a Web-based portal interface. These resources include SAP applications, third-party applications, databases, data warehouses, desktop documents, Web content, and services. The portal makes it possible to search internal and external sources, and to access both structured and unstructured information from any geographical location throughout the organization.
Using the role-based user interface of SAP NetWeaver Portal, a company can use modular building blocks to dynamically structure its business processes and deliver business content tailored to the needs of specific user groups. SAP customers can speed up their portal implementation by leveraging a wide range of predefined role-specific business packages suitable for a variety of industries and user roles.
The security features integrated into the portal include authentication, single sign-on (SSO), and authorization capabilities. Business users only require a standard browser on their desktop, without the need for additional software components.
This scenario has two major components: providing uniform content access and implementing a multi-tenant portal.
Providing uniform content access
This component enables organizations to develop, configure, and operate a knowledge-based, Web-like user interface that provides their users with a consistent environment and single point of access to content they need to perform their daily tasks.
Organizations can develop, configure, and operate a knowledge-based, Web-like front end -- SAP NetWeaver Portal -- that gives users a single point of access to all types of enterprise information, including SAP applications, third-party applications, databases, data warehouses, desktop documents, and Web content and services.
Organizations can provide their employees, supply chain partners, customers, and other communities with immediate, secure, and role-based access to key information and applications across the extended enterprise. The consistent and unified display of information and applications in the portal allow users to identify and address business issues faster, more effectively, and at lower cost, resulting in measurable benefits and strategic advantages
Implementing a multi-tenant portal
Provides organizations that perform business process outsourcing (BPO) services to develop, configure, and operate an enterprise portal that serves as the main management layer of those services to end customers.
BPO service providers can manage administration, security, stability, and high availability. They can divide the portal into logical units to serve various tenants, and they can provide a user experience that makes the provider transparent.
Implementing a multi-tenant portal extends the capabilities of SAP NetWeaver Portal by enabling several customers to run independently on the same portal infrastructure hosted by a service provider. The service provider sets up logical partitions in a single portal installation so that each partition is a portal used exclusively by a different customer. A tenant refers to each logical partition on the hosting portal.
In a multi-tenant portal, each tenant comprises a set of secure portal objects that are highly customized for its respective customer. A unique URL entry point into the portal is assigned to each tenant customer. In addition, the content that is presented to business users through a tenant is customized and branded to suit the corporate identity of the customer.
Enterprise knowledge management
Oftentimes people have trouble finding the right information they need to do their jobs. There are often many related pieces of information, but it is difficult to make the connections. Collaboration and information exchange between people does not work. In many companies, structured data may only be small of the type of data needed to make decisions. Many times the required data is in unstructured forms (such as email, share drives, etc).
Enterprise knowledge management seeks to solve the dilemma of distributed unstructured information in organizations by placing it into business context. It provides a consolidation and integration of customers' Intranet platforms. This includes a technical platform to rebuild and consolidate different internal information strategies into one, easy-to-maintain framework. There is an adaptable user experience through configurable user interfaces for the easy creation and distribution of information. Search capabilities that span document repositories in your organization. Finally, it is a solution to manage documentation, training materials, and manuals.
This scenario has three major variants: content integration and management; content creation, publication and access; training materials, documentation, and manuals management.
Content Integration and Management
This provides the infrastructure for integrating repositories, defining metadata, indexing documents, creating taxonomies, and configuring user interfaces.
Content creation, publication, and access
This provides functionality for setting up an authoring environment, uploading or otherwise creating documents, publishing, classifying, approving, and sharing information, and searching for, navigating to, or being notified about information.
Training materials, documentation, and manuals management
This provides an environment to manage, create, translate, and publish documentation, training materials, and manuals. It includes managing the environment, creation through publication of training materials, and viewing all documentation and training materials.
For more information go to http://service.sap.com/netweaver and select Knowledge Management, or use http://service.sap.com/nw-km.
Enabling user collaboration
If you combine the knowledge employees have stored in their minds, with the business process context and structured and unstructured information, you get a collaborative enterprise. People are empowered to take events, combined with the right context, to solve problems.
Enabling user collaboration is designed to enable individuals, teams, and project groups to collaborate more efficiently within the context of their business processes. It makes collaboration and knowledge sharing an integral, natural part of everyday work.
It provides capabilities for efficient (online) communication and the sharing of knowledge among co-workers in teams dispersed among different locations.
Enabling user collaboration focuses on two major aspects: ad hoc collaboration and collaboration in virtual rooms.
Ad hoc collaboration
Ad hoc collaboration is designed to enable employees to quickly solve problems emerging during a business process. It presents information, communication tools, task management, telephony integration, groupware services (send email, create appointments, show availability), and real-time collaboration services (instant messages, group chat, application sharing). Online meeting metadata (meeting date, duration, participants) are saved automatically and can be completed by uploading meeting results.
Collaboration in virtual rooms
Rooms are virtual working environments where the members of teams or project groups and collaborate efficiently across time zones and between geographical locations. It allows users to share relevant information, communicate online in real-time, plan with the help of a unified calendar, and provide a single point of access to business-relevant information.
Rooms ensure that all required business applications, services and information sources are available from a single point of access depending on the room members' privileges.
Rooms also offer full integration to third-party groupware systems and real-time collaboration services.
The architecture for collaboration is depicted in the following graphic.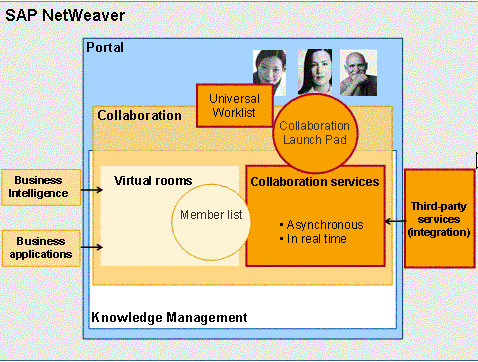 Components for enabling user collaboration
All the services are offered via the SAP NetWeaver Portal. Collaboration is closely aligned with knowledge management. Users can access the collaboration services via the collaboration launch pad. The universal worklist enables access to assigned tasks. Rooms are created and can be linked to business intelligence and business applications. They can members who can launch the collaboration services directly from the rooms.
For more information on enabling user collaboration, see http://service.sap.com/nw-collaboration.
Business task management
Business task management provides business and technical users with event-driven work items, alerts, business context and guided procedures to effectively react upon process exceptions and tasks. Business task management specializes in the human interaction. It can be described as the location where business process management requires human interaction.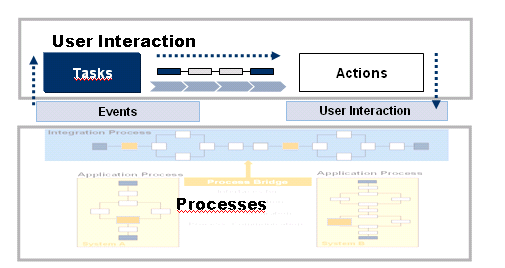 Business task management
Business tasks are the activities generated either by the company's underlying business processes or by the users themselves as reminders for their own benefit or in order to delegate work to colleagues. The sooner your users complete the tasks, the quicker the processes run. The easier it is for users, departments and companies to generate and track the tasks, the higher the quality of the output from the processes and the higher the transparency of processes within a company. Tasks in SAP NetWeaver span the range from collaboration tasks generated manually in response to exceptions through work items generated from automated business processes.
Tasks in SAP NetWeaver are typically links to activities or transactions rendered by the mySAP Business Suites or form-based tasks, such as in Manager Self Services using interactive forms based on Adobe software, for the occasional user.
Business task management includes several capabilities that fall into two major variants: central access to tasks and support for offline processes. The major capabilities include universal worklist, collaboration tasks, guided procedures, knowledge management notifications, alerts, interactive forms, and business workflow.
Central access to tasks
Central access to tasks ensures a central location for a user to execute their tasks from all systems in a uniform manner. The most common tool for this today is the universal worklist. The universal worklist is the single point of access for managing your work. It can be highly personalized by the end user and process-specific views can be customized for expert users. Collaboration tasks enable users to create their own ad hoc processes and drive collaboration. It includes various types of tasks, such as action items, approvals, request for feedback, and request for nomination. The universal worklist can also receive work items from SAP business workflows back to release 4.6C. Additionally, alerts from the alert framework also appear in the universal worklist (UWL).
Support for offline processes
Sometimes users want to create departmental processes. These could be processes that link to application systems, or processes that are completely owned by the department. It would be nice to create these processes without having to interact with corporate IT. Guided procedures enable departments to create their own processes. These processes can include access to application data, or they can be simple forms based processes that get routed and approved. Additionally, you can use interactive forms to create an offline process. So, for example, you could fill out an adobe form offline that starts a guided procedure. The procedure then sends the form to an approver and e-mails the result back to you.
For more information on business task management, see http://service.sap.com/bpms. Mobilizing business processes
Mobilizing business processes enables you to extend your existing and new business processes into the mobile world. In addition to simple productivity tools such as e-mail, SAP NetWeaver integrates mobile end users in complex back-end business processes. Mobilizing business processes focuses on running applications with an online connection and enabling mobile applications for occasional connection.
Running mobile applications with an online connection
End users with mobile devices that are always connected access the back-end system in real time. All business logic resides on the server where the user interface is generated and sent to the mobile device. This uses Web dynpro as a development environment and includes the benefits of always current information and low administration requirements for the mobile devices.
Enabling mobile applications for occasional connection
End users with mobile devices that are occasionally connected can carry out their tasks without being connected to a backend system. The required business logic and user interface are located on the device. When the mobile device connects to the backend system, it exchanges all modified data. This means the user always has access to information, and connection is only required at specific times. This does require software deployment to the device, and synchronization between the data on the device and the backend data.
For more information on mobilizing business processes, see http://service.sap.com/nw-mobile.
Summary
In this article we have provided an overview of all components included in the IT Practice, User productivity enablement. The IT scenarios include running an enterprise portal, enterprise knowledge management, enabling user collaboration, business task management, and mobilizing business processes. This practice uses the SAP NetWeaver Portal, SAP NetWeaver Application Server, and SAP NetWeaver Mobile Infrastructure.
For more information on any IT Scenario, see http://help.sap.com. Select Documentation, SAP NetWeaver, select your language, then "IT Scenarios at a Glance".
Don't miss the other parts in this series!
Part 1: Using IT practices and IT scenarios to understand SAP NetWeaver -- introduction
Part 2: Enterprise services architecture (ESA)
Part 3: End-to-end process integration

Dig Deeper on SAP NetWeaver