Problem solve
Get help with specific problems with your technologies, process and projects.
A business case for integrating SAP BI and XI, part one
In this two-part article, we present a hypothetical business case to demonstrate a need for integration of SAP Exchange Infrastructure (XI) and SAP Business Intelligence (BI). Part one presents the scenario.
This weblog is in response to several forum posts that question the necessity of integrating SAP XI and SAP BI....
Continue Reading This Article
Enjoy this article as well as all of our content, including E-Guides, news, tips and more.
In this series, we'll discuss what's really needed and whether we can surpass that. We'll also look at the benefits of such an integration.
In part one, we'll discuss the business driver and present the business case for a hypothetical organization that needs a new system to store employee data.
Most of the time when a business asks to use BI open hub architecture and extraction mechanisms instead of SAP XI, it's because of the extra costs and budget involved in using XI. We'll propose potential solution approaches for the business case that leverage SAP XI and open hub architecture and we'll look at extraction mechanisms of SAP BI that do not use SAP XI. We draw out a comparison matrix that concludes the recommended approach.
Business drivers
Let's say that with an organization mission of "Global Business Processes," all of the subsidiaries of Org A plan to replace and merge most of their back office solutions into SAP. IT landscape is the most critical factor; hence, we propose a solution approach, in the form of a Global Employee Database (GED) business case, that can help the business to reap maximum benefits.
Business case description
GED is a legacy system that the subsidiaries of Org A use for storing employee data. The IS team needs to update the data each month after it collects the changed records from the HR and payroll departments. Each subsidiary provides the delta files in either Excel or fixed width formats, which the IS team then reconciles and loads into the GED. The IS team sends these files to three external business partners on a monthly basis. First, it uses export routines for each of the business partners; then the files are password protected, zipped and sent out via email. One partner receives a text file, but the other two receive spreadsheets.
Sometimes the IS team is unable to send the files on time because of problems that might occur in data loading or data reconciliation.
The IS team also sometimes uses GED to search the employee information for internal purposes. GED is also used annually to collate diversity information from all of the businesses as of March 31st. This is to provide an overall company profile for input to the annual report. During this operation, the IS team has to manually pull the data from GED and use lookups and pivot tables to produce the info required (Crystal Reports are not working). On an ad hoc basis, business partners may request a complete dump; in this case, the IS team needs to pull up the employee data from the GED manually and send it to the business partners.
This is the current landscape in the organization: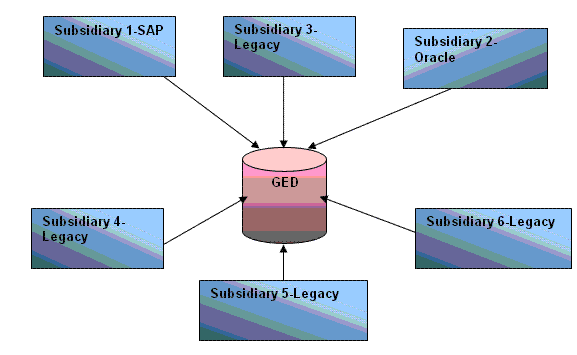 Drawbacks
Manual intervention by the IS team affects the businesses' ability to perform key activities.
The approach consumes time and effort by the IS team for collating the employee data, loading the data into the GED and sending to the business partner. It can hamper the IS team's ability to carry out critical day-to-day activities.
Manual processes are more error-prone and effort-intrinsic.
No mechanism is available to slice and dice across the data to come up with KPI'S.
The IS team is unable to monitor and track business across various subsidiaries.
After requesting the complete employee information data, business partners have to wait for the IS team to pull the large volume of data and reconcile and send it.
No automated mechanism is available to notify in the event of failure of data loading.
The process is human-dependent and prone to loss of information when a person leaves the organization.
To overcome the drawbacks, I propose a solution approach that helps the IS team to carry out their work smoothly and to make business-critical solutions.
In the next article in this series, I will discuss the solution and recommend an approach to achieve the business case presented here.
A business case for integrating SAP BI and XI, part 2
---
This content is reposted from the SAP Developer Network.
Copyright 2006, SAP Developer Network
SAP Developer Network (SDN) is an active online community where ABAP, Java, .NET, and other cutting-edge technologies converge to form a resource and collaboration channel for SAP developers, consultants, integrators, and business analysts. SDN hosts a technical library, expert blogs, exclusive downloads and code samples, an extensive eLearning catalog, and active, moderated discussion forums. SDN membership is free.
Want to read more from this author? Click here to read Sravya Talanki's weblog. Click here to read more about SAP Exchange Infrastructure (XI) on SDN.
---
Dig Deeper on SAP Business Warehouse