SAP ASE
SAP ASE (Adaptive Server Enterprise), which began as Sybase SQL Server, is the RDBMS that's designed to support transaction-heavy applications that handle large volumes of data. Digital transformation means that SAP ASE will be relied on more to run applications like S/4HANA, SAP Business Warehouse and SAP Solution Manager. Find the best SAP ASE database information and tips here.

Download this free guide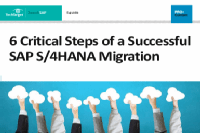 Download Now: 6 Critical Steps of a Successful S/4HANA Migration
To avoid ERP implementation failure, taking the right approach to an S/4HANA migration is a must. In this guide that we designed for you, you'll get your hands on 6 critical -- and too easily overlooked -- steps your organization can take to successfully move forward.