News
Stay informed about the latest enterprise technology news and product updates.
SAP job market: Building a future in an SAP career
In this podcast, SearchSAP.com examines the future of the SAP job market, including the best SAP products to learn to avoid a layoff.

The last few months have doubtless been trying for SAP professionals who once thought their SAP skill-sets were indispensable.But in this SAP job market, aligning oneself with the proper SAP technologies and products can mean the difference between collecting a paycheck and collecting unemployment. There are plenty of SAP job titles that continue to thrive in this recession, as well as skill-sets that keep employers happy.In part 2 of this podcast series on the SAP job market, SearchSAP.com examines the future of the SAP job market with Jon Reed and David Foote. Reed is an SAP mentor, careers expert and proprietor of the popular SAP career site JonERP.com. Foote is CEO and cofounder of Foote Partners, a Vero Beach, Fla.-based management consultancy and IT research firm well-known for its research on the IT job market.Find out what SAP skills and job titles are proving layoff-resistant, what regions and industries continue to recruit SAP talent and why certain SAP products and technologies will be particularly important for advancement.Also, check out Part 1 of SearchSAP.com's podcast series on the SAP job market, which examines currently hot SAP skills, as well as what's in less demand.

Download this free guide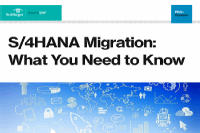 Popular Among Your Peers: S/4HANA Migration: What You Need to Know
The road to S/4HANA will be neither smooth nor straight, but it is one that SAP customers like you may have to take eventually. We designed this expert guide to help you along your journey to S/4HANA – whenever that will be. Take a deep dive into popular deployment options (cloud vs. on-premises vs. hybrid), gain insights on preparing your infrastructure for an S/4HANA migration now, and more.
0:49: What job titles will fare best in the SAP job market between now and the year's end?
4:22: Are there any differences in demand for certain SAP skills by region or industry?
6:30: What are some of the best SAP products and technologies to learn for advancement?
8:21: Why will these skills become increasingly important in the SAP world?
9:24: What's the most important thing an SAP developer, system administrator and functional person can each do to avoid a layoff?
What's the future of the SAP job market?

Download for later:

Podcast Link • Internet Explorer: Right Click > Save Target As
• Firefox: Right Click > Save Link As

Podcast highlights
Dig Deeper on SAP training and certification strategy