News
Stay informed about the latest enterprise technology news and product updates.
SAP Report Card: Some SAP pros say products cost too much
The 500 SAP professionals surveyed by SearchSAP.com consistently ranked their level of satisfaction with the cost of SAP products lower than their satisfaction with SAP's performance, scalability and reliability.
Cost consistently ranked lower in terms of satisfaction than SAP's technology in a recent survey of 500 SAP professionals...
Continue Reading This Article
Enjoy this article as well as all of our content, including E-Guides, news, tips and more.
conducted by SearchSAP.com. The exclusive survey asked participants to rank their overall satisfaction with every SAP module, ranging from scalability and reliability to cost.
Determining the value of significant software investments such as SAP is not always easy to do, and some SAP professionals commented in follow-up interviews that the real value of SAP systems is sometimes not seen until a few years after an implementation, when a company has optimized its applications and business processes.
Overall, though, respondents did seem less pleased with SAP's cost than its technology, a challenge that perhaps all software vendors face at a time when budgets are tight. Despite recent successes locking down clients as big as the Internal Revenue Service, SAP must continue to generate revenue from its installed base and convince customers that new SAP applications will generate ROI.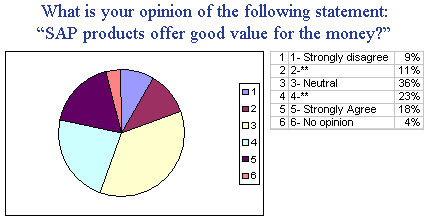 Asked to rate their satisfaction with the cost of SAP Financials, for example, on a scale between 1 and 5 (with 5 representing the highest level of satisfaction), 25% rated their satisfaction a 3, and another 25% fell below that number. An equal number, 25%, offered ratings higher than 3. In nearly all other categories, including feature set, scalability, reliability and performance, a higher percentage said they were satisfied.
When asked to rate the overall value of SAP, a greater percentage of voters, 40%, rated their satisfaction either a 4 or 5. Another 35% remained "neutral" at 3, and 20% expressed dissatisfaction.
Whether SAP is too expensive depends on who you ask. Certainly its licensing fees are less than Oracle's, but SAP users have been warned by consultants again and again that they must understand the complexity of the software, and use it to its full potential, to feel comfortable paying the asking price.
In a July 2002 report by Gartner Inc., the company received high marks, scoring a "positive" review in every major category and "strong positives" for its Financials and Human Resources apps. Pricing, though, was flagged with a "caution," the only such alert on the Gartner scorecard. It is, said Gartner analysts, a way of letting customers know they should be extra careful to weigh cost-benefit ratios.
Gartner analyst Yvonne Genovese has consistently ranked SAP's "reputation for cost and complexity" at the top of the list of challenges for the company in reports that give overall "positive" rankings. When it came to the cost challenge, she said, "users will continue to have implementation costs that typically exceed other ERP products by 10%." At Gartner's annual technology show this year, Genovese said that SAP continues to battle the perception that its software is too costly and complex for midsized companies.
Some SearchSAP.com survey respondents apparently fell into the category of considering cost in the context of sales and support. Jim Shepherd, a systems consultant based in Houston, said he is not among the 30% of respondents who are looking more seriously this year than last at SAP competitors. Indeed, Shepherd's team is currently replacing Oracle Financials with an SAP solution. Still, Shepherd reflected the opinion of other survey respondents when he said, "For the cost of the software, better support is needed."
Enterprise systems manager Greg Walters e-mailed from Australia that he believes shops can get their money's worth from SAP, although the government agency for which he works is checking out a business warehouse solution from a competitor, primarily because of cost.
Walters' advice to potential customers is to determine needs clearly before entering a relationship with SAP, and, he said: "Ask Dad for a bigger allowance."
FOR MORE INFORMATION:
Other stories from the SAP report card:
Dig Deeper on Buying SAP ERP software