News
Stay informed about the latest enterprise technology news and product updates.
SAP Report Card: Users give products high marks, see interoperability challenges
SearchSAP.com surveyed 500 SAP professionals for their opinions on every aspect of the German software giant, from technology to pricing. SAP technology scored high marks.
An exclusive survey of 500 SearchSAP.com readers revealed high levels of satisfaction with the performance and...
Continue Reading This Article
Enjoy this article as well as all of our content, including E-Guides, news, tips and more.
reliability of SAP products, a desire for improved documentation and support, and a general belief that the ERP stalwart will be able to meet new integration demands.
Despite the high marks SAP technology yielded in several categories, such as scalability and reliability, nearly 30% of SAP professionals who volunteered their opinions said they were more serious about considering SAP competitors this year.
The SearchSAP.com survey solicited SAP professionals whose titles include project planner, senior manager, consultant and director of technical services. Respondents were surveyed on customer satisfaction issues ranging from pre-sales support to integration and upgrades. The results of the survey served as the basis for the SAP Report Card, presented at SearchSAP.com's recent user conference, a three-day invitation-only event held in Chicago last month.
Nearly 90% of SAP survey respondents reported that they are already using R/3 Version 4x. More users, 91.6%, are currently running SAP Financial and Accounting than any other R/3 functionality. Materials Management ranked second in popularity, with 84.2% running that application, and 82.6% of respondents reported that they are using Controlling, making it the third most popular.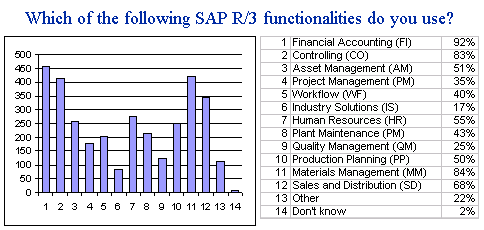 In every category of application, including human resources, supply chain management, customer relationship management, portals and supplier relationship management, survey respondents repeatedly rated their levels of satisfaction as above average.
Asked whether they agreed that SAP delivered a good value for the money, 35.6% remained "neutral," and 40% said they agreed, or strongly agreed. Of the remaining respondents who answered the cost versus value survey question, 19% were less than satisfied.
"Overall, I give SAP pretty good grades," said survey respondent Bill Morton, vice president of strategic accounts for Edison, N.J.-based Intelligroup Inc., a systems integration company. "Some people will tell you they are expensive. That's probably the biggest complaint I hear."
"Within their installed base," Morton said, "SAP is a favored product, and I think the last quarter earnings show that.'' Morton also consults on competing ERP vendor projects, he said, but "when it comes to multinational and multi-currency, nobody can touch SAP."
"If you are a multinational and you want one ERP system globally, then you've got one choice," Morton said.
The days of extravagant whiz-bang ERP rollouts are gone, and SAP must infiltrate its installed base to combat best-of-breed competitors, analysts and users agree. So far, the company is apparently managing to do that, Morton said, generating 60% to 70% of its revenue from an installed base.
Still, some SearchSAP.com survey respondents offered reasons why they may examine special application solutions from competitors in coming months.
On the subject of documentation, respondents rated SAP a 2.92 on a scale of 1 to 5, with 5 representing the highest level of satisfaction. User education was also highlighted by the respondents as an area that needed more attention from SAP, achieving only a slightly higher grade of 3.01.
Survey participants gave SAP a mark of 3.29 for pre-sale support, and 3.25 in the category of crisis support.
Survey participant Greg Walters, manager of enterprise systems at an Australian government agency, reported that the agency is currently considering an alternative to SAP's business warehouse (BW) "due to the cost of SAP BW."
Walters reflected the opinion of many SAP professionals who were interviewed for the SAP Report Card when he expressed optimism tinged with frustration, saying: "SAP is a global company going places at a rate faster than you want. But if you hang onto them, you will get the system you want."
SAP user Tim Kaiser, a project manager at Romeoville, Ill.-based Ulta Inc., is another customer who is the sort that industry analysts say SAP must keep happy in the coming years. He's currently questioning his loyalties after a negative upgrade experience.
"One year ago we upgraded to 4.6C,'' Kaiser wrote in an e-mail to SearchSAP.com. "Mainly we wanted to take advantage of the better BI connectors. The R/3 content change was minimal; the look and feel changed quite a bit. Future upgrades will need to provide more bang for the buck. We have not seen enough ROI for the 4.6C upgrade."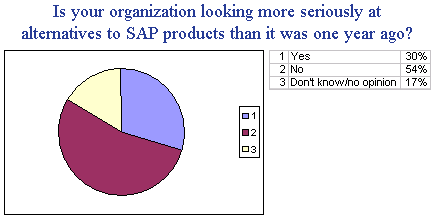 SAP's Bill Wohl, vice president of public relations, responded to SearchSAP.com's survey results on several fronts, though he warned that a snapshot of 500 SAP professionals taken at random cannot provide a picture that accurately reflects SAP's enormous customer base of more than 18,000. For example, he said, opinions on SAP support tend to vary widely depending on where a user sits in an organization. Those in the trenches may never be satisfied, while their CTOs may have chosen a plan that doesn't provide the level of service that company may need, Wohl said.
It may have been just a couple of years ago that SAP still suffered from the image that its solutions were too complex or weighty, but analyst Joshua Greenbaum, principal at Daly City, Calif.-based Enterprise Applications Consulting, said the company has rid itself of that burden. The challenge now is for SAP to make its strategies and technology well understood, he said.
"The fact is that SAP has to keep going back to the market and redefining what these products are," said Greenbaum, referring to SAP's newest technology offerings, including xApps, which SAP says represents its commitment to an open architecture.
"Because they have, in the past, changed their minds a number of times" on the message they intend to send to the market, Greenbaum said, acknowledging SAP's perceived weakness in explaining new technology to the market.
"Their move toward open architecture is a real commitment," Greenbaum said. "It's not, in any way, just hype. The problem that SAP faces, as well as its competitors, is trying to support the heterogeneous environments of their users.
"If xApps are implemented according to theory, they will be applications that install quickly and easily. And provide a lot of value. And do for customers what Web services have been promising to do for quite some time. It's a tall order. But it's not impossible."
FOR MORE INFORMATION:
Learn more on the state of SAP in this SearchSAP.com Featured Topic
At the SearchSAP.com Conference, we presented the full SAP Report Card results. View the presentation
Dig Deeper on SAP trends, strategy and ERP market share