Tomasz Zajda - Fotolia
S/4HANA-Azure partnership to benefit SAP cloud applications
SAP and Microsoft partner on running SAP S/4HANA on the Azure cloud: Microsoft deploys S/4HANA on Azure to run finances and SAP puts cloud applications on Azure.
SAP and Microsoft are taking their relationship to the next level in the cloud.
Continue Reading This Article
Enjoy this article as well as all of our content, including E-Guides, news, tips and more.
The two computing titans, who have been longtime partners, recently announced a number of initiatives that deepen the relationship, including enabling SAP cloud applications to run on Microsoft Azure.
The companies will also deploy each other's cloud applications internally and will co-engineer and go to market together with cloud applications and managed cloud services, according to a joint press release.
Specifically, SAP's private managed cloud service SAP HANA Enterprise Cloud (HEC) is available on Microsoft Azure, which allows customers to run SAP S/4HANA on Azure's managed cloud.
Both Microsoft and SAP will run SAP S/4HANA on Azure for internal operations. Microsoft is transforming its legacy SAP financial systems and will implement S/4HANA Finance on Azure. Microsoft also plans to connect S/4HANA to Azure AI and analytics services.
We're extending a partnership that has a long history and taking it to the next level with an eye towards those joint customers as they move those mission-critical SAP systems to the cloud.

Julia WhiteMicrosoft corporate vice president, Azure
SAP is migrating more than a dozen "business-critical systems" to Azure, according to the press release. That includes S/4HANA, which supports Concur, the SAP travel and expense cloud application. SAP Ariba is also currently running on Azure.
The partnership is important now because joint SAP and Microsoft customers are moving mission-critical systems to the cloud, according to Julia White, Microsoft corporate vice president at Azure.
"We're extending a partnership that has a long history and taking it to the next level with an eye towards those joint customers as they move those mission-critical SAP systems to the cloud," White said. "They need to have the confidence and a trusted approach, so it's about us coming together with a partnership that's all about both co-engineering and making sure that we have incredible integrated solutions, as well as going to market together and engaging with our customers together for deploying all the way down to having joint support for those SAP cloud applications."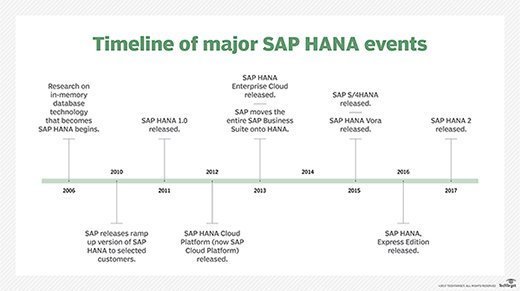 The customers should benefit
The partnership makes sense to Holger Mueller, principal analyst and vice president of Constellation Research, who said in a blog post that the main question may be what took the parties so long, with Azure capable of running HEC since at least 2016, but customers should be happy to see the companies "drinking their own champagne."
SAP can now expend fewer capital resources on HEC as Azure can now relieve that load, and perhaps put more money into R&D for S/4HANA, Mueller said.
"If all goes well it means customers will have to pay less for running S/4HANA, while it is being operated by a vendor who does infrastructure management (IaaS) for a living, compared to SAP who is certainly in the SaaS and PaaS [space], but less and less (if at all) in the IaaS space," Mueller said.
However, Mueller noted that the partnership needs to "pick up steam, show customer traction, value and customer success."
But SAP needs to help them make choices
Jon Reed, co-founder of Diginomica.com, also believes that the partnership could be good for SAP customers, but does not see the announcement as "earthshaking news."
"It's more of a logical extension of SAP's multi-cloud strategy and their ongoing partnership with Microsoft," Reed said. "It's good news for SAP customers in that it's one more sign post on the road to multi-cloud and deployment choice. For Microsoft it's obviously another validation that Azure has enterprise clout and you can't really do enterprise multi-cloud without offering Azure deployments."
It's ultimately up to the customer to determine whether Microsoft Azure, AWS or Google is the right hosting option for the S/4HANA private cloud or other SAP cloud applications, Reed said.
SAP needs to figure out how much responsibility it has in helping customers make these choices, for example, determining which cloud providers have more strength in machine learning or optimizing data center locations.
"I think that's an ongoing question and SAP has been thinking about it also," Reed said. "What customers need here is somewhat uncharted territory, and I think that SAP needs to provide more documentation and cross-checks for customers on multi-cloud features and options."
Customer trust and confidence are the keys
Running SAP cloud applications on Azure and Microsoft S/4HANA internally is one thing that will help customers choose to deploy on the Azure cloud, according to White, and these experiences will help customers understand how to run the systems.
"Our joint partnership with the co-engineering, the go-to-market, the support is a big differentiator in terms of customer support and trust, but to also know that we are running it first party they know that there's real engineering experience on both sides is about confidence, about trust, about ensuring that it's a secure system," White said. "It also has the halo effect of helping our combined engineering efforts as well, as we are doing it ourselves both on the SAP and Microsoft side, that we learn and see and are able to improve the products because of that."
To highlight this issue of customer trust, the companies identified The Coca-Cola Company, Columbia Sportswear Company and Coats and Costco Wholesale Corp. as customers that have deployed SAP cloud applications on Azure.
"It really was those types of clients -- and ourselves -- that really were a motivator to bring this partnership together in a greater way," White said. "It was that level of company and mission-critical systems that was a catalyst for us to do something different here."