Argus - Fotolia
SAP Tennis Analytics serves up real-time statistics for WTA
SAP Tennis Analytics uses SAP Leonardo machine learning and SAP Predictive Analytics to deliver tennis insights. The NHL puts its entire league history into HANA Enterprise Cloud.
Tennis fans should benefit from real-time statistics served up by SAP Leonardo.
SAP and the Women's Tennis Association (WTA) have partnered in developing SAP Tennis Analytics, an online portal that provides real-time statistics and analysis to tennis media during tournaments, according to SAP. at the BNP Paribas WTA Finals Singapore, the SAP Tennis Analytics portal will be available to WTA-credentialed media prior to the 2018 tour.
SAP Tennis Analytics uses SAP Leonardo machine learning and SAP Predictive Analytics to analyze and derive insights from real-time statistics during tournaments and historical data. This includes live side-by-side player, tournament and career comparisons during matches, according to the company. The portal also includes an alerts feature that notifies a user about any outliers in a benchmarked player's data and provides access to statistics with context or data that has meaningful insights.
Developing the SAP Tennis Analytics portal was "a very daunting task," WTA President Micky Lawler said in a statement.
"It was very important to SAP and the WTA to be able to launch the next phase of technology integration and to provide media this service to help facilitate their job," Lawler said. "We want to give them live insights and to take the tennis storytelling to new heights and new dimensions."
Broadcaster and former WTA professional Lindsay Davenport said she looks forward to getting the real-time statistics and analysis from the portal.
"What I love about this technology is the real-time nature, especially as a broadcaster. When calling a match, you might see some stats, and you might say, 'Oh, they are serving at 40% today. That seems low,'" Davenport said in a statement. "But to have an alert tell us that's the lowest this player has served all year, they've just hit their 14th ace, [and] that's the most aces they've hit -- that's invaluable, because you don't have a lot of time to think about what you're going to say on live TV."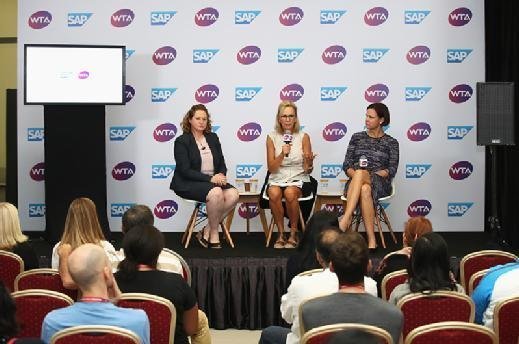 SAP and the WTA have partnered on developing tennis analytics applications for five years, and SAP has gathered feedback from tennis media and the tennis community in developing the SAP Tennis Analytics portal, according to the company. SAP developed an SAP Tennis Analytics application for coaches, and the new portal was designed specifically for tennis media covering WTA tournaments.
The software helps enhance stories before, during and after matches, and it serves as a comprehensive database housing key and informative WTA stats gathered over the course of 20 years.
"We're trying to give media the context of what we are looking at," Jenni Lewis, SAP's head of tennis technology, said in a statement. "Instead of seeing a stat in isolation, then trying to work out, 'What does that mean? How do I draw out more information from that?' we are trying to allow the computer to help you do that."
SAP HANA helps NHL fans delve into hockey history
Hockey fans are now able to dig even deeper into the NHL's 100-year history, with a big assist from SAP HANA.
The NHL has teamed with SAP to present every statistic in league history on NHL.com, culminating several years of collaboration, according to SAP. The completion of the statistics digitization project follows the release of the history of league playoff statistics in April.
The stats are stored and processed in an SAP HANA database running on SAP HANA Enterprise Cloud, the company said. This provides the processing power to sort through 2.2 quadrillion possible statistical combinations and 15 million player and game data points. Some of the statistics that fans can explore include the following:
box scores and game logs for every game in NHL history from 1917 through the present -- a total of 55,461 regular-season and 4,292 playoff games;
complete and detailed game-by-game statistics for each of the 7,623 players who have competed in the NHL since 1917;
complete team rosters, records and results for every NHL team in each season since 1917; and
advanced filtering that allows fans to do their own queries and searches to compare player and team performances within a single season or measure players and teams from different eras.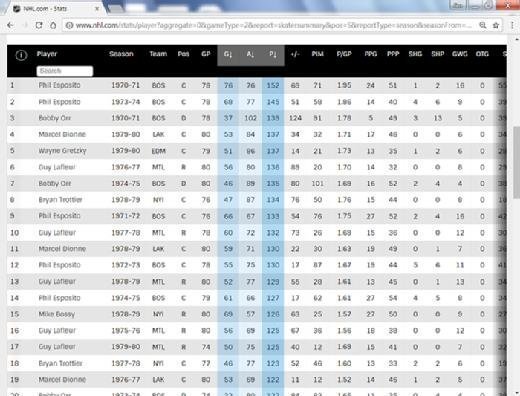 Additionally, in partnership with EliteProspects.com, fans can access on a daily basis the statistics for every player on an NHL team's reserve list who is playing in minor or international leagues other than the NHL.
"For fans and media alike, this expansive statistical treasure trove of previously untapped information and data is a tremendous resource with which to explore the league's 100 years of history, and tell compelling and engaging stories about our game," Steve McArdle, the NHL's chief administrative officer and executive vice president, said in a statement. "Today's launch is the culmination of a six-year project, and brings our statistical history to life in an interactive and innovative way."