Argus - Fotolia
New push for SAP Leonardo might be more about packaging than technology
CEO Bill McDermott called SAP Leonardo the 'most important move since HANA,' but some customers question the company's messages around the platform.
SAP Leonardo, the treasure trove of next-generation technologies, is now the focus of the vendor's marketing efforts, but questions remain as to what SAP Leonardo actually is and how businesses can take advantage of it.
The value of Leonardo's next-gen tech to SAP's future was reinforced by CEO Bill McDermott, who called it "the biggest move our company has made since HANA" during the opening keynote of this week's Sapphire Now 2017 conference in Orlando, Fla.
As outlined by SAP Leonardo President Mala Anand, the constituent parts of SAP Leonardo are clear enough. It consists of artificial intelligence, machine learning, big data, analytics, internet of things (IoT) and blockchain, all of which can be embedded in applications to create new data-driven intelligent systems.
"These new data-driven systems of intelligence enable us to reap unprecedented value from data, unlock new business models and allow us to completely reimagine business processes across supply chain, customer interactions, workforce experience and much more," Anand said.
Although the nature of the next-gen tech that makes up SAP Leonardo is clear, the vendor has had less success in delivering a clear message as to what Leonardo is as a whole. Hasso Plattner, SAP's co-founder and chairman of the supervisory board, referred to Leonardo as a "bounding box," a mathematical term for a box that defines the physical shape of a group of objects.
"[SAP Leonardo is] a box around a set of tools to build a system, which then, with machine learning algorithms, finds insights and builds algorithms that we can attach to actions or analytics," Plattner said. "So, it's mainly a set of tools that we can use to build a machine learning system, which produces software."
Some SAP customers are completely all-in on the next-gen tech, if not Leonardo itself, while others are a long way off from actually implementing Leonardo applications.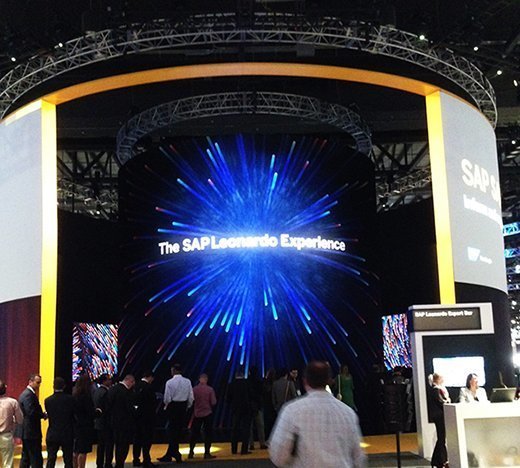 SAP Leonardo in everything but name
Emplay, an SAP partner based in Dublin, Calif., is using analytics and big data technology for its Sales GPS application that helps salespeople with step-by-step personalized recommendations for real-time insights about sales prospects and accounts. Running on SAP's HANA in-memory database, Sales GPS processes data from a variety of sources, including business applications like customer relationship management, HR and customer service, as well as unstructured data from sources like LinkedIn, making it a virtual poster child for this new kind of data-driven business, according to founder and CEO Sanchita Sur.
SAP has a rose garden, a sunflower garden, a jasmine garden, and it's just bringing it together in a bouquet they're calling Leonardo.

Sanchita SurCEO, Emplay
Sales GPS uses many SAP Leonardo elements, but it's not a Leonardo system per se, Sur said.
"I think SAP has a rose garden, a sunflower garden, a jasmine garden, and it's just bringing it together in a bouquet they're calling Leonardo," Sur said. "We are using analytics, we are using machine learning, we are using workflow from SAP and the HANA database, we're using all the components of the Leonardo stack, except for the IoT stack; we're just not calling it Leonardo."
SAP needs to clarify its messaging around Leonardo if it wants to overtake Microsoft and IBM Watson in this space, Sur said.
"IBM Watson has definitely taken a lead, followed by Microsoft, and they have messaged it beautifully," she said. "SAP is slowly catching up and is building that stack very quickly, but I still feel there's a little bit of sharper messaging that needs to be done, drawing parallels with these two that have taken the lead and saying they're at par or better."
Digital beef jerky not likely in the future
The concepts and next-gen tech are intriguing to Jackie Hartman, vice president of IT for Jack Link's Beef Jerky, based in Minong, Wis., but the company is not likely to find a use case for them anytime soon.
Jack Link's Beef Jerky, one of the world's largest providers of meat and protein snacks, has a hybrid SAP environment that includes SAP ECC and SAP HANA Enterprise Cloud for applications that include trade promotion management and supply chain optimization. However, Leonardo is little more than an intriguing idea.
"I think as more stories are being told about those kinds of capabilities, we're definitely paying attention to them. But because we are a product-driven organization, we put our capital in product innovation and will probably be on the slower side to adopt some of those capabilities and functions," Hartman said. "However, as an IT leader, I certainly pay attention to them and try to imagine how they might be used in our organization. One, because my business partners will likely start asking about them, and two, it's part of our responsibility that when we do see that the business is starting to mature in such a way that we can start making those recommendations. But, in the immediate term, we don't have a critical path in that direction."
Hartman said she also believes SAP needs to do a much better job of explaining what Leonardo is and how companies can benefit from it.
"I would not be able to clearly articulate how we would take advantage of it, or how Jack Link's would benefit from it," she said. "I've certainly seen a lot of media around it, but I don't have a clear storyline on what it would mean to Jack Link's."
Next Steps
Learn more about SAP's next-gen tech innovation hub.
The SAP digital transformation starts with a better UI.
SAP Build helps developers in creating an attractive and easy-to-use UI design.