Argus - Fotolia
Next-gen technologies displayed at SAP Innovation Center
The new SAP Next-Gen program and innovation center opened with a look at SAP's vision for next-gen technologies, including machine learning, blockchain, IoT, VR and 3D printing.
SAP displayed next-gen technologies with the launch of the SAP Next-Gen program at the company's new offices in...
Continue Reading This Article
Enjoy this article as well as all of our content, including E-Guides, news, tips and more.
the Hudson Yards development in New York.
The SAP Next-Gen program and the innovation center are the outgrowth of SAP's relationships with universities as a source of talent and innovation, according to Ann Rosenberg, SAP vice president and head of SAP Next-Gen Labs.
"A couple of years ago SAP decided that you don't just go to universities to recruit talent, you go for crowdsourcing, to do research, to work with the minds of young people," Rosenberg said. "Universities are becoming a kind of consultancies for companies because the way they use technologies, and all the next-gen technologies we've seen today -- blockchain, machine learning, IoT, virtual reality, 3D printing -- are really been built or defined by universities or by a startup out of a university. So the ideas start there and the way they work with technology is a different way than older generations, and this is something that companies have begun to recognize in a big way."
The SAP Next-Gen program won't be limited to New York City, Rosenberg said, and will offer a variety of programs like incubator tours and startup matchmaking services in tech "innovation belts" like Silicon Valley.
"There are so many tech communities around the world and when you engage there you get incredible knowledge," Rosenberg said. "We also do dedicated boot camps within SAP disruptive technologies, so if you are in a financial service you can find out what you can do with blockchain or machine learning. That's where we get academia, startups, thought leaders from SAP to come and speak."
The SAP Next-Gen program is free and open to all SAP customers, although there are also paid membership packages.
"All SAP customers are members of the club; it's become like an open innovation community that we're building up for SAP customers," Rosenberg said. "There are different packages, one is free and there are other packages that have a cost depending on the number of services, boot camps or incubator tours that you want to be a part of."
The SAP Next-Gen program is affiliated with more than 3,100 educational institutions in 110 countries and includes more than 100 SAP innovation and development centers, according to Rosenberg.
New York is the new tech innovation destination
One of the organizations that intends to use the SAP innovation center is IoT Central, a New York City-based community of IoT professionals and enthusiasts, according to founder Mitchell Golner.
The location is ideal for creating the kinds of innovations that IoT enables, Golner said, as it's home to a variety of industries like retail, financial services, telecommunications and media.
"New York City is a magnet for creativity, and IoT has the potential to impact any vertical that you can think of," Golner said. "It takes a myriad of technologies to implement an IoT solution."
This idea of New York City as a tech hub was echoed by Julie Samuels, the executive director of Tech:NYC, a nonprofit member organization that represents a variety of New York tech interests.
"We explain why New York is the best place for tech and [the SAP innovation center] is an amazing meeting place where you can have what I think of as accidental collisions that make New York so great," Samuels said. "You can bump into people here who are building a thing that's similar to what you're doing -- or is different -- and can talk about it and find out if you can help each other or know someone in common."
Tech:NYC brings its member companies -- everyone from giants like SAP, Google and Facebook to small startups -- together with policymakers to understand tech issues, Samuels said. They are brainstorming with SAP on how to best use the innovation hub space.
"We represent all kinds of industries and the only thing in common is that tech is involved, which is no surprise as every company is becoming a tech company and all kinds of companies use SAP software or have apps or need access to other types of technology," she said. "We have companies from all these verticals that really care about technology and are building technology, but it could be finance, real estate, fashion and media that's all happening here in New York. That's the kind of thing that we can bring together in this space."
Machine learning and blockchain demonstrated
Some of the next-gen technologies were demonstrated in the innovation center, including an SAP HANA-based application that uses data from the European Space Agency (ESA) and machine learning to forecast natural disasters. The application simulated a tropical storm hitting the coast of Japan and analysts can use the data to drill down to specific areas that may be affected by the storm, said Axel Baumgartl, SAP head of asset and methodologies.
Once analysts are aware of what areas will be affected by the storm, they can inform the public about what actions they need to take.
"I can send out information to the people in the region to inform them about the nearest evacuation center," Baumgartl said. "Everything is built on the platform and I think this is a great opportunity to use ESA data and make it accessible to everyone."
Thomas Klingbeil, software developer at the SAP Innovation Center Potsdam demonstrated how blockchain is used in a real-estate application.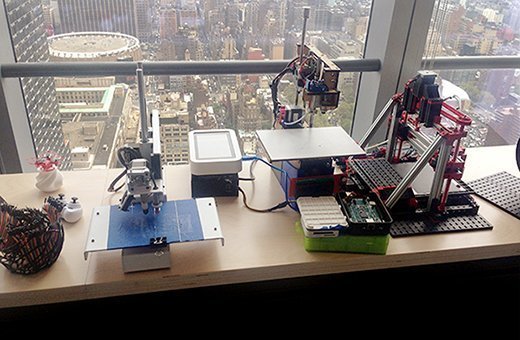 "Usually when people talk about blockchain they think of money and bitcoin, but blockchain can be used for real-estate and employing smart contracts where it can tackle the issue of handing over physical assets to gain access to a building," Klingbeil said.
Blockchain allows property to be accessed by a fingerprint, iris scan or ID card rather than a physical key allowing for more secure property transfers or when accessing leased buildings.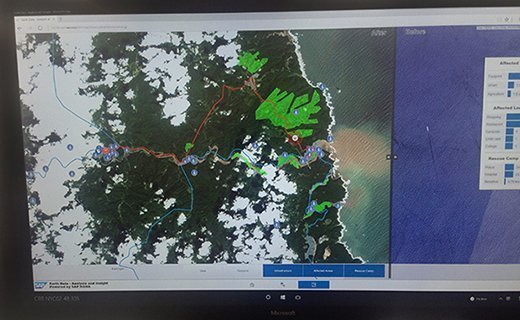 "The house knows when the information about the transfer is added to the blockchain and all of the individual door locks have knowledge about who is able to gain access or not," Klingbeil said. "This all can be configured by using smart contracts to determine if keys can be duplicated and other persons granted access or how long the access token is valid. You could have a lease that's active for a month and then you wouldn't have access anymore because the house already knows from the smart contract in the blockchain how long the lease lasts."