reborn55 - Fotolia
SAP commits more resources to SMB ERP portfolio
SAP continues to invest in its three SMB ERP platforms: SAP Business One, SAP Business ByDesign and SAP Anywhere. Here are some ways to know which is right for you.
SAP has had something of a checkered history in providing options for small and medium-sized businesses, but it...
Continue Reading This Article
Enjoy this article as well as all of our content, including E-Guides, news, tips and more.
appears the company is making a firm commitment to get the SMB ERP market right.
The vendor demonstrated this commitment at its SAP SMB Innovation Summit 2017 held recently in Ft. Lauderdale, Fla. The summit concentrated on the three main SAP SMB ERP products: SAP Business One, SAP Business ByDesign and SAP Anywhere.
All three offer functions and deployment options that suit every SMB ERP organizational size and line-of-business need, according to Rainer Zinow, senior vice president of SAP Business ByDesign.
SAP is building out all three SMB ERP platforms to use and extend, and most of this will be done in the cloud, according to Zinow. SAP Business ByDesign and SAP Anywhere are native cloud software-as-a-service (SaaS) applications, and the vendor is pushing a partner-hosted SAP Business One (B1) Cloud for SMBs.
There are a couple of deployment models for SAP B1 Cloud, Zinow said. A company can run it wholesale as an infrastructure as a service from SAP or a partner, or have SAP host the infrastructure and have the partner manage the applications. SAP B1 is aimed at small businesses with generally under 350 employees.
SAP Business ByDesign (BBD) is a fully functional ERP offered as a public cloud option and aimed at companies with between 350 and 1,500 employees, Zinow said. Both BBD and B1 are designed to appeal to organizations that want to run a two-tiered ERP.
"SAP BBD, like SAP B1, is an alternative for the two-tier scenarios, so headquarters uses SAP Business Suite, for example, and either B1 or BBD at the subsidiary," Zinow said. "SAP S/4HANA is also an option if the company says, 'I want to use exactly the same solution at the headquarters level and at the subsidiary level.'"
B1 and BBD: Have it your way
The differences between B1 and BBD essentially boil down to how companies want to deploy the ERP platform, Zinow explained.
"If you look at it just from the architecture, B1 is built off a .NET stack, and a lot of people feel very comfortable with that way, especially when it comes to extensions," he said. "BBD, by contrast, is a clean-cut, multi-tenancy SaaS architecture [that's] born in the cloud and not available on premises."
SAP BBD customers typically want to have a platform they can't outgrow, so they have much higher requirements for things like process automation.
"A BBD customer might have a web shop as their primary front end and want everything to the printing of the invoice and the shipment of the goods to be fully automated without any human manual intervention," Zinow said. "The B1 customers usually say, 'Business process means I talk to a colleague, and then we get it done.'"
SAP Anywhere is a platform for small businesses that want an integrated system for several back-office functions. It's SaaS that's currently available in North America and China, where it was developed. SAP and partners are developing applications and microservices specifically for industry segments. One of these is an application dedicated to pet stores, Zinow said.
"These shops needed e-commerce integration -- they want to be visible in eBay, they want to sell through Amazon, but be in control of their own destiny when it comes to their IT solution. So, that's the mission of SAP Anywhere," he said.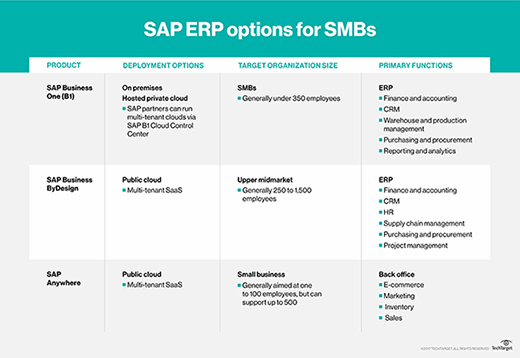 Doubling down on the cloud
SAP is clearly attempting to emphasize the cloud and is encouraging its partners to double down in that area, according to Ray Boggs, vice president of SMB research at IDC.
"SAP continues to be sensitive to those partners that want to continue with a traditional licensing approach, but this view will be increasingly challenged by the growing role of the cloud, especially in appealing to new SMB customers," Boggs said.
Boggs said the partner network will be instrumental in adding value for specific industry verticals to the SMB ERP platforms -- particularly SAP B1. It's also critical for SAP to coalesce the products under one leadership structure.
"Basically, having [SAP SMB president] Barry Padgett in charge of the three major SMB ERP products brings a new focus to things like product development, market positioning [and] channel engagement, and that will definitely help SAP move forward," he said.
Putting confusion to rest
SAP has largely put to rest any lingering confusion between B1 and BBD, according to Jon Reed, co-founder and principal analyst at Diginomica.
"B1 has been in the cloud for a long time also via hosted partners, and I don't take cloud B1 too seriously," Reed said. "It's a good option for SMBs who want a hosted solution, but who aren't evolved or large enough to care about a real SaaS solution or platform."
SAP appears to be ramping up BBD as a direct response to Oracle's acquisition of the NetSuite cloud SMB ERP platform, and as a way to offer a two-tier strategy more aggressively, Reed continued.
"Technically, this doesn't present a conflict with the S/4HANA public cloud offering because S/4HANA is targeted towards larger customers, and also isn't as mature in functionality as BBD," he said. "However, SAP has been known to sell S/4HANA cloud in the past upon request -- even to very small customers -- which has created some confusion. If I was a customer looking at BBD, I'd have to weigh the maturity of BBD against the overall investment in S/4HANA going forward. This doesn't mean I wouldn't proceed with BBD, but I'd certainly be asking SAP those questions."
SAP BBD may finally come into its own with more committed focus from SAP, Reed said.
"Strangely enough, after several near-death experiences, I think SAP BBD is as solid in SAP's product line as it ever has been now," Reed said. "I think folks understand its mid-SMB and subsidiary focus, and SAP has done a better -- though not perfect -- job of explaining how all its SMB products fit together. But we'll have to re-evaluate this every year based on the growth and investment in S/4HANA cloud."
Dig Deeper on SAP selection and implementation