Argus - Fotolia
New SAP framework marries geospatial data with HANA business data
The new SAP Geographic Enablement Framework extends the integration of geospatial data from GIS into HANA applications. Also, SAP releases a new version of SAP Business One.
The marriage of SAP HANA business data and Esri mapping information became more solid with the release of SAP Geographical Enablement Framework. Esri is a geospatial data company based in Redlands, Calif.
Recent releases of SAP HANA have included features that integrated Esri geospatial data into HANA applications, and the SAP Geographic Enablement Framework extends this integration as a standalone product, according to Karsten Hauschild, SAP solution manager.
The framework helps organizations to enrich business applications with geospatial data from geographic information systems (GIS) like Esri ArcGIS, Hauschild said. This can help drive applications that go beyond the simple map-related software found on consumer mobile devices.
"If you look at what's going on now, these map-driven user experiences are enabled on these mobile devices with built-in GPS, but that's only on the consumer side, and they are satisfied by locating places or checking directions," Hauschild said. "But business requirements in things like utilities, gas and mining, [and] public services go far beyond these simple use cases. The Geographical Enablement Framework is all about connecting the SAP back end, the business application from the business suite or S/4HANA to and with GIS systems, and especially with Esri."
Having one database, HANA, to run business applications and a GIS like Esri's ArcGIS can lead companies to include location information in business applications in innovative ways, Hauschild explained.
Drawing geospatial data from turbines
One example is from EDF Renewable Energy, a San Diego-based wind and solar energy company. EDF built a business intelligence and data warehouse platform that combines transactional data from SAP ERP Central Component with Esri geospatial data and sensor data from equipment such as wind turbines. Combining all these assets in one platform produces better business decisions and makes it easier to operate more efficiently, according to Matt Zenus, SAP's vice president of public strategy.
For example, the sensor data can alert the company when a wind turbine is not performing, and employees can look at current conditions at the location to determine if the turbine is out of the norm. Because the operational data is integrated, workers can view the maintenance history of the turbine to determine the best course of action.
"Because it's integrated with the business information, they can also calculate the financial aspects of the underperforming turbine," Zenus said. "You can imagine that this represents lots of data -- in the hundreds of millions of sensor records and growing on a monthly basis -- but by taking this consolidated approach, they can reduce the time to pull data from all these different sources from weeks to literally minutes, reduce the reporting times from minutes to seconds and reduce the database size considerably, as well."
Companies developing spatially enabled applications can use the SAP Geographical Enablement Framework for the following:
Integration and bidirectional navigation between SAP applications and Esri ArcGIS and other geographic information systems. For example, developers can use application programming interfaces published by the geographic information systems to get geospatial data for business applications, and GIS users can access SAP business data from within GIS tools.
Embedding responsive map user interfaces in business applications to display business and spatial data simultaneously.
Visualizing, filtering and searching for business objects on a map within a spatially enabled application -- for example, functional location, equipment, notifications or work orders.
SAP HANA is also certified with the Open Geospatial Consortium, which publishes open standards that enable organizations to use spatial data from any third-party spatial platform that adheres to the standards. SAP HANA also supports the synchronous and asynchronous importing of data from any spatial reference system or coordinate reference system.
"The certification is important because it means that other applications -- whether they're homegrown or third party -- that adhere to that standard can seamlessly interoperate with HANA in terms of recognizing our spatial data types, as well as processing, loading, consuming or viewing the data," Zenus said. "The import of spatial and coordinate reference systems is critical because we work with global companies, and it's very common for them to use different spatial reference systems depending on where they are in the world for more precision."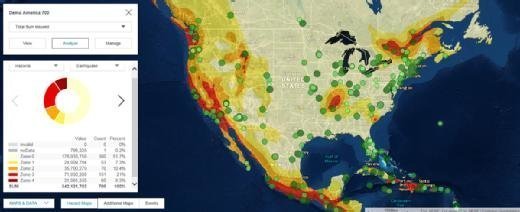 Geospatial is also now included within SAP BusinessObjects Cloud and SAP BusinessObjects Lumira applications, allowing data to be enriched with geographic information and map visualizations. For example, a company could overlay business data from SAP Digital Boardroom with detailed visual mapping information.
New version of SAP Business One
SAP announced a new edition of SAP Business One, version for SAP HANA, an ERP platform aimed at small and medium-sized businesses.
The new version introduces a project management module, which helps monitor the progress of tasks and stages, including all project-related transactions, documents and resources. Partners can now also try to reduce maintenance downtime by controlling both partner and SAP software tasks for their customers in a single stream with a remote support platform.
The latest version of Business One, version for HANA, allows users to forecast product demand and gain a basis for material resource planning. A forecasting process delivers visibility on demand history that helps prioritize opportunities and position channels to face growing demand. You can also generate intelligent forecasts based on HANA-enabled predictive analytics that you can display with rapid dashboarding functions.
Business One supports Microsoft SQL Server 2014. Business One can also be complemented by the recently announced Business One Sales mobile app, which works with and is powered by the HANA platform. It is available in on-premises and cloud versions.