Ivelin Radkov - Fotolia
SAP HANA Cloud Platform quarterbacks Super Bowl apps
SAP HANA Cloud Platform provides the technology backbone for Super Bowl Fan Energy Zone. It's a showcase for SAP but some think the marketing benefit is limited.
As up to a million football fans converge on the San Francisco Bay Area for the Super Bowl this week, SAP is powering a big part of the fun. SAP HANA Cloud Platform is the technology backbone behind the Fan Energy Zone powered by SAP and the mobile app that the Super Bowl 50 Host Committee is using to manage the event's 5,000 volunteers.
The Host Committee decided that SAP HANA Cloud Platform was the best platform to enhance the fan experience through the Fan Energy Zone and the volunteer app.
"With Super Bowl 50, we've focused on creating experiences that truly connect our fans to the excitement of Game Week," Keith Bruce, CEO of the Host Committee said in a statement. "Through our partnership with SAP, we have been able to leverage technology that not only provides a powerful solution for our operations but also gives us unique insights to provide the best experience possible for our guests and our volunteers."
SAP Fan Energy Zone delivers interactive experience
The SAP Fan Energy Zone includes games that use HANA's real-time data processing capabilities to deliver an interactive experience. This includes a QB Challenge, where players transform into a pro quarterback using a virtual reality headset; Breakaway, which allows players to compete in an interactive football game on an enhanced digital field; and Amp It Up, where players participate in dance and cheering competitions based on real-time reactions. All scores are processed by HANA in real time and players' scores are maintained on a scoreboard.
The SB50 Host Committee Volunteers app allows volunteers to manage their schedules, participate in virtual training, access local maps to help direct visitors, and communicate with other volunteers. Real-time beacon technology allows the Host Committee to adjust staffing based on location activity and demand.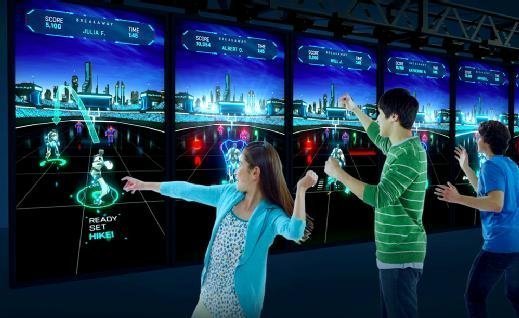 The Super Bowl apps are an opportunity to showcase HANA technology, said Sam Yen, SAP's chief design officer.
"SAP has sponsored the NFL, the San Francisco 49ers, and Levi's Stadium [the Super Bowl site in Santa Clara] for a while, so to get involved with the Super Bowl and work with the Host Committee was a great opportunity," he said. "For SAP, it's kind of like what Formula 1 is for auto manufacturers; it's an opportunity to use sports to show the cutting edge of technology and also have resonance because it's not just tech people that can appreciate it but it appeals to a broader community."
HANA was at the core of the applications, Yen said, but integrating data analytics and visualization products with modern design principles was at the forefront during development.
"While we worked with the Host Committee, we didn't want to just lead with technology but started with the design process to figure out the ultimate fan experience and took a very user-centered approach to determine what that design would look like," he said. "Then we figured out a way that we could use HANA through HANA Cloud Platform and analytics to showcase the technology."
Sports events may be a valuable but limited showcase
Holger Mueller, principal analyst and vice president at Constellation Research, agrees that events like this can provide a unique opportunity for technology companies to prove what their products can do. To do this, the event applications need to have three characteristics: high scalability to reach the huge amount of users following the event; real-time interaction, to make the games interesting; and mobility, to be where the fans are.
"For sports events, there is the whole statistics and virtual reality angle, which makes them even more challenging but also a good proving ground for both platforms and tools. It's also a showcase for building the next-generation applications for the enterprise, which are likely not as challenging as the sports event apps," he said. "So not only are sports event apps a great marketing opportunity around an attention gathering and live event, they're also a proof point that a vendor's products and platforms can scale to the extreme load level of such an event. As long as all goes smoothly."
Although an event like this can provide a unique branding opportunity for SAP, the overall impact may be somewhat limited, according to Jon Reed, analyst and co-founder of diginomica.com.
"It's good for branding but I wonder if it really helps people to understand HANA that much because it's such a consumer play," Reed said. "The average consumer may see that [the Fan Energy Zone] is 'powered by SAP HANA Cloud Platform' but I'm not sure that they really know or care that much about what HANA is. So it creates an interesting branding challenge for SAP: Should they try to brand HANA around this or should they be more concerned about just popularizing SAP to a consumer audience, saying SAP powers this cool fan zone?"
However, Reed explained that sports-related initiatives like the Super Bowl may be useful for the company to demonstrate the technology within the SAP ecosystem. "The general brand awareness building may be the biggest benefit, but a real secondary benefit is that they can pull some of this into their own shows," he said. "It looks really good on a highlight reel for Sapphire, for example. If I'm a tech manager, I might like seeing examples of SAP operating real-time data at scale even if it's not in my industry."
Next Steps
Find out how a top German soccer team takes advantage of analytics with HANA
Read how you can use HANA Cloud Platform to create cloud-friendly applications
Discover HANA Cloud Platform as a mobile development tool
Why you might need HANA Cloud Platform after all