reborn55 - Fotolia
SAP and WTA serve real-time analytics to tennis coaches
HANA powers real-time analytics tablets with courtside performance stats, and SuccessFactors adds "intelligent" self-service.
SAP and the Women's Tennis Association (WTA) are teaming up to deliver real-time analytics for coaches and players. The application is another high-profile move by SAP into the world of sports performance analytics.
SAP Tennis Analytics runs on the SAP HANA in-memory database, and provides insight to help players and coaches analyze performance and optimize strategy, according to a press release.
SAP has been working with the WTA to develop the tablet application for the last year, according to Jenni Lewis, SAP's leader for tennis coaching analytics technology. Introduced in October 2014, the software was used in test events before going live at the Bank of the West Classic tournament held at Stanford University on Aug. 3-9.
"Now, we're able to deliver real-time stats to the coaches to look at when they're sitting in the stands. And, if the players call them out for a coaching consultation, they're actually able to take the tablet out with them and show visualizations of what's happening in the match in real time," Lewis said.
For example, SAP Tennis Analytics provides side-by-side comparisons of match stats for both players -- updated every 15 seconds -- as well as scoring data that analyzes a player's service performance, success rate in closing out a game while serving and number of break points saved. It also provides tracking data that shows a player's serve direction and placement on the court, the contact point for returning a serve and the placement of rally shots.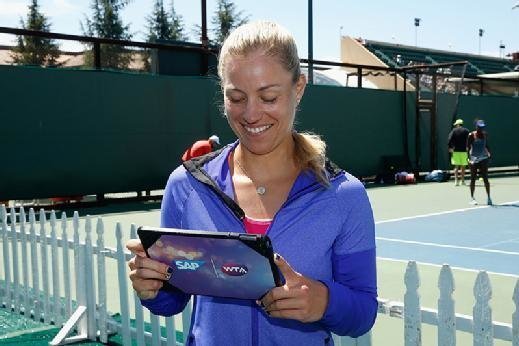 The technology takes data from the umpires scoring the match and 10 on-court cameras, and sends it to the SAP HANA cloud, where it is processed and sent to the tablet application. Information is refreshed every 10 seconds, Lewis said.
The tablets are available for each coach and player to check out during a tournament. Lewis said that the reaction has been positive so far.
"At this early stage of adoption, a lot of the coaches are keen to understand it and to show it to their players, so we're starting to see more players become interested and looking at what's available to them," Lewis said. "In the first tournament, around 70% of the players in the main draw used it in match play or used it for scouting purposes." This included Angelique Kerber, the tournament winner (pictured).
SuccessFactors aims to integrate employee self-service
In an effort to make it easier to manage changes in employee data, SAP SuccessFactors is adding new capabilities to its SuccessFactors HCM Suite. The upgrade was announced at the company's SuccessConnect conference held recently in Las Vegas.
The new capabilities are designed to quickly and easily move employees and HR staff through the process of dealing with employee changes, according to a press release. HR processes can include disconnected transactions across corporate boundaries, which often results in costs and inefficiencies when changes occur. SAP SuccessFactors HCM Suite now includes "intelligent" services, which are designed to predict the impending transactions that result from a change and automatically adjust them to the user.
"We're taking the guesswork out of self-service by evolving to software-driven intelligent services," Mike Ettling, SuccessFactors' president of HR line of business, said in the press release. "Relying on software-driven intelligence to remove complexity from typical HR transactions, employees are empowered to do more on their own, reducing expenses in shared services and business process outsourcing."
Intelligent agents, which are managed in a new event center in SuccessFactors HCM Suite, allow transactions from common workforce events that cross multiple systems or software modules to be consolidated into a single event. For example, a workforce change triggered by the SAP SuccessFactors Employee Central application can cascade to other modules, such as SAP SuccessFactors Learning or SAP SuccessFactors Performance and Goals.
The new capabilities include 16 predefined workforce changes, including new hire, becoming a manager, leave of absence, termination, change in employee information and change in job information. SuccessFactors HCM Suite can be linked to external systems, allowing integration with third-party applications. HR administrators can also configure intelligent services based on rules and notifications in the event center.