Ivelin Radkov - Fotolia
Football club hopes to score with SAP cloud-based applications
New York City FC president Tom Glick says global soccer group needs innovations in SAP cloud-based applications to continue its growth.
Just two years ago, the organization that has now evolved into City Football Group Ltd. was based around a single professional club, the 130-year-old Manchester City FC. In short order, the organization added three more clubs -- New York City FC, Melbourne City FC and Yokohama F. Marinos -- expanding into the group of clubs that form its core today. Of course, football is known as soccer in the United States, but abroad, it's football. And globally, football is easily the world's most popular sport.
Meanwhile, there is more to City Football Group (CFG) than professional football teams. The organization is comprised of several football-oriented businesses, including academies, technical support and marketing companies. The companies provide services to other organizations and to their communities, but they also provide best practices and operational support to CFG's core professional teams.
Enter SAP cloud-based applications
With multiple teams around the world, it became increasingly clear to CFG that it needed a more comprehensive software strategy to help manage the business side of its football organizations and to improve the performance of its players, teams, coaches and even its fan experience.
"We didn't have an existing problem so much as we were a rapidly expanding group of clubs and organizations, and as we continued to expand, so did our complexity," said Tom Glick, president of New York City FC, which competes in Major League Soccer in the U.S. and Canada. "To stay in front of our growth, we needed to choose tools that would help us continue to grow at the rate we have been."
We will be writing new software with SAP to help us win and perform at our peak.

Tom Glickpresident of New York City FC
With organizations based in major geographies around the globe, investing in a consolidated, traditional on-premises data center did not seem nimble enough, so CFG's focus turned toward a variety of software as a service (SaaS), platform as a service (PaaS) and infrastructure as a service (IaaS) options to build out its growing enterprise software capabilities.
By shifting its attention to cloud-based applications, CFG was open to dozens of competing applications and platforms, but chose SAP. What tipped CFG to SAP?
"We were aware of not only SAP's core competencies with basic business functions, like how SAP HANA can help us with ERP, finance and HR, but there was more to it than that," Glick said.
"SAP has earned a reputation as a company that helps sports fans get greater insight and understanding into the games they love. And this is attractive to us because at the end of the day, we want to play winning football, we want to win trophies and optimize our performance on the pitch. And we're also looking to entertain our fans and give them more. So what we saw in SAP was an active participant and investor in pushing boundaries and growing performance in both of these places, and this was crucial to our decision to partner with SAP," he explained.
SAP got game
As it turns out, 80% of the sports and entertainment organizations in the Forbes Global 2000 are also SAP users, and SAP has 500 customers in its sports and entertainment industry segment. In the National Football League (NFL) -- that other football, where the players wear helmets and pads -- SAP HANA brings sports facts and analysis to more than 25 million fantasy football fans. In fact, during the 2014 NFL.com fantasy season, the Player Comparison Tool -- with insights from SAP -- analyzed more than 6.4 million comparisons, and Fantasy signups increased 57%.
In other sports, SAP collaborates with and provides software for ice hockey, sailing, golf, Formula 1 racing, cricket, baseball, tennis and basketball.
In the world of football, Glick said CFG was obviously aware of how SAP and the German National Team worked together last summer to develop SAP Match Insights using SAP HANA -- which helped the team analyze player data during training and win its fourth World Cup Championship.
From cloud customer to innovation partner
During the months-long sales process, Glick said CFG and SAP found a kindred spirit of innovation, leading to a multifaceted services agreement for cloud-based applications that covers software for business operations, fan engagement, player performance and team performance.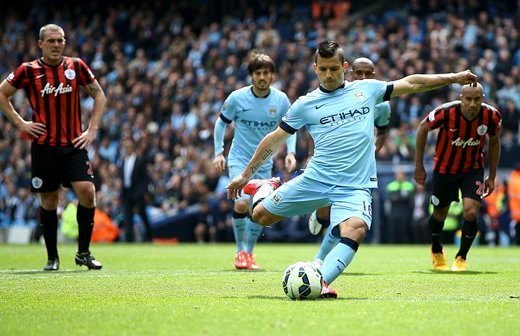 For business operations, CFG will use SAP SuccessFactors, the SAP Jam social media platform and SAP Simple Finance. In addition, CFG will tap SAP Predictive Analytics software and SAP BusinessObjects business intelligence applications to analyze and simulate data for operations, such as ticketing and merchandising, to help drive more informed business decisions.
For fan engagement, CFG will showcase an interactive digital insights wall at Etihad Stadium in Manchester, England, that will bring real-time analytics to fans attending matches. Also, SAP and CFG will collaborate to produce new applications to share football data with fans. CFG will use hybris AG, an SAP company, for commerce and customer marketing.
Looking forward, CFG will co-develop with SAP technological enhancements in talent management, football performance and human performance for future versions of SAP Sports One cloud-based applications.
Not your standard customer relationship
CFG's decision to move to SAP's cloud-based applications and platforms goes hand-in-hand with a commitment from SAP to work directly with CFG's operational and football performance experts to build new and more powerful football-focused applications in the cloud.
"This was crucial to us because there is a spirit of innovation in both organizations," Glick said. "In the technical space, in the football world, SAP will be working with us to invent new solutions to help us win on the pitch -- from injury prevention to optimizing preparation and recovery; from training sessions to getting more insight faster [into] our coaches and players' hands to know what's happened in training sessions -- and show what's happening in a game. We will be writing new software with SAP to help us win and perform at our peak."