James Thew - Fotolia
News
Stay informed about the latest enterprise technology news and product updates.
SAP and geospatial data provider Esri expand partnership
In this news roundup, SAP announces it is broadening its alliance with geospatial analytics vendor Esri and says SAP Demand Signal Management 2.0 is now generally available.
SAP is expanding the number of integrations it has with geographic information system and location analytics provider Esri, one year after it first announced it was partnering with the company.
The integrations are aimed at providing new high-performance spatial analytics, self-service mapping and collaboration that can help users make better sense of data, and underscore the increasing prevalence of geospatial data in enterprise software.
"By unlocking shared data in SAP business applications and Esri GIS [geographic information system] systems, business users will be equipped to gain a more complete picture to help make more informed and efficient decisions," SAP said in a statement.
Last year's partnership announcement included integrations between Esri and SAP BusinessObjects applications, including SAP Lumira and SAP Mobile Platform apps such as Work Manager and CRM Service Manager.
The expanded partnership includes deeper, native integrations with the SAP HANA in-memory platform that allows Esri software to execute queries natively on HANA closer to where the data resides, according to SAP.
"A GIS professional can connect to an SAP HANA system, [and they] can see any [Esri] geospatial data that's in there. They can run a spatial query on it, they may want to run a spatial query on new [incidents] of customers and aggregate them by some custom sales territory," said Steve Benner SAP alliance manager at Esri.
"It's done very, very, fast and the result is brought back into the Esri desktop, and now it can be used in maps, it can be used in some other geospatial analysis or task, and when it's done, it can all be shared throughout the entire Esri platform," Benner said.
The partnership also includes closer ties with SAP Lumira, as well as new integrations with SAP Business Suite applications and the BusinessObjects portfolio.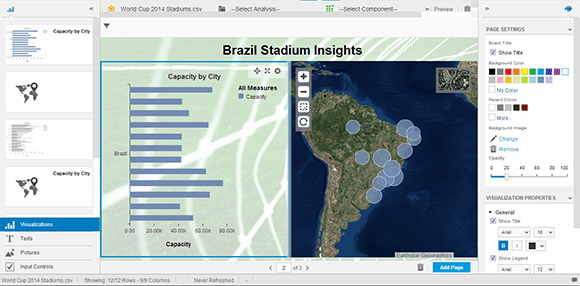 Figure 1: The screenshot shows ESRI geospatial data being used within the latest version of SAP Lumira data visualization software, which rolled out in June. A video showing the native integration can be found here.
New options for integration between BusinessObjects BI and Esri geospatial services include: Galigeo BI for Location Analytics for BusinessObjects Web Intelligence software, Integeo Map Intelligence for BusinessObjects Web Intelligence, Centigon CMaps Analytics and Esri Maps for BusinessObjects BI.
SAP Demand Signal Management 2.0
SAP has announced that SAP Demand Signal Management 2.0 is generally available. The updated application gives users the ability to capture external market research and point-of-sales data in real time and combine it with analytics to respond to demand signals faster than previously possible, according to SAP.
Read more about Demand Signal Manag ement 2.0 here.
What does cloud computing mean for organizations?
Wondering what the cloud means for your company or organization? In an upcoming report by The Economist Intelligence Unit, a division of The Economist publishing group, a group of six experts expound on the potential impact of cloud-based technologies.
They conclude, in part, that cloud-based technologies are translating to more efficient data centers, bringing new ways to share and protect personal data and blurring the lines between IT and business.
The report is sponsored by SAP. A synopsis can be found here.