News
Stay informed about the latest enterprise technology news and product updates.
SAP news: SuccessFactors rolls out new HR 'Presentations' feature
In this SAP news roundup, SuccessFactors offers help with tedious HR presentations; SAP ditches TechEd and scores a UI touchdown.
For companies that may be suffering from "death by PowerPoint," SAP's SuccessFactors is rolling out a new feature it says will save HR execs countless hours and help create more useful, dynamic talent review HR presentations.
In short, HR professionals can now use the new Presentations feature to import Microsoft PowerPoint slides into SuccessFactors, then embed the employee data from the SuccessFactors module right into the slide. They can then click on that "hot spot" to call up that information during the presentation, instead of employee data residing in a separate location outside of the slide deck. Users can also add new slides from within SuccessFactors, among other tricks.
SuccessFactors Presentations will be generally available to customers on Feb. 21.
It is part of SuccessFactors Foundation (formerly the SuccessFactors BizX Platform) and sold with all talent applications, according to the company. The tool can also be integrated with SAP's on-premises HCM and SAP Cloud HCM software. SuccessFactors is an SAP-owned company.
Here's a video that explains SAP SuccessFactors Presentations.
SAP is announcing a handful of other updates for the HCM suite for the first quarter of 2014, including a control center add-on for the SAP Payroll Processing application supported by SAP HANA. The add-on helps pinpoint errors in payroll reports in real time, without administrators having to go digging through the reports themselves, thereby reducing the end-to-end payroll process.
SAP Scouting wins with UI
SAP won the Interaction Design Association's 2014 People's Choice Award in design for its SAP Scouting software, according to the company.
The application is aimed at giving scouts, executives, coaches and trainers the ability to assess, add to and collaborate on player statistics to make better draft and player-selection choices.
The People's Choice is one of the Interaction Awards, an initiative of the Interaction Design Association, a global network of more than 50,000 members worldwide dedicated to the professional practice of interaction design. The awards were announced in Amsterdam on Feb. 8, according to SAP.
Here's a screenshot of SAP Scouting: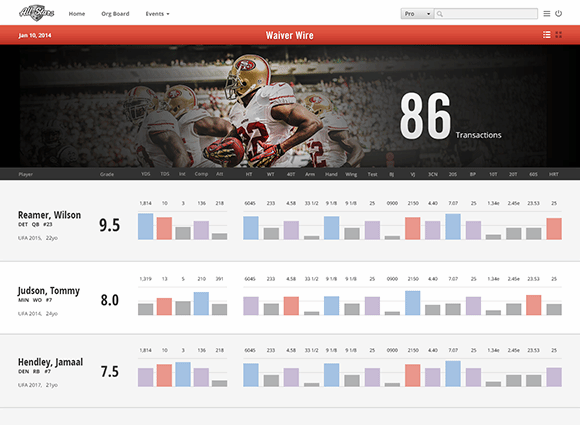 SAP announces d-code technical conferences
SAP announced it is pulling the plug on the annual TechEd conference series -- sort of. In its place is the new SAP d-code conference series, which bolsters the SAP TechEd series with additional content focused on developers and SAP technologies.
"We will feature a redesigned show floor, additional hack opportunities, additional developer-focused sessions [and keynotes], and taking our coding sessions -- such as CodeJam, Demo Jam and InnoJam -- to the next level," said Thomas Grassl, head of developer relations at SAP.
More details on the new format will be announced in the coming weeks, according to SAP.
The dates and locations for the 2014 events are as follows:
Shanghai, China: March 13 to 14
Las Vegas: Oct. 20 to 24
Berlin, Germany: Nov. 11 to 13
Bangalore, India: Q4 (date TBA)