News
Stay informed about the latest enterprise technology news and product updates.
SAP tells of a future built on in-memory, mobile, and cloud
SAP outlined its cloud strategy at the SapphireNow conference in Orlando. Are customers genuinely interested, or is it just SAP hype?
ORLANDO, Fla. – SAP today painted a vision of a future where innovation hinges on mobile devices, cloud applications and in-memory technology, and did its best to convince attendees at SapphireNow that it was the company best positioned to meet those demands.
"We're at a paradigm shift," SAP co-CEO Jim Hagemann Snabe told conference attendees.
While trying to convince customers SAP was distilling that strategy into everyday examples, especially in the areas of in-memory cloud HR applications that can be consumed on mobile devices, Hagemann Snabe also said it was looking ahead to future possibilities of where the technology could lead.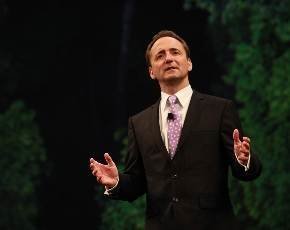 Jim Hagemann Snabe talks of the future for technology (Source: SAP)
Hagemann Snabe spoke of an "intelligent business web," a highly sophisticated in-memory based network of cloud-based applications in which businesses and customers can interact using real-time information.
One example is a prototype of an analytics application SAP is working with a Chinese shipping company that plots shipping routes based on complex calculations of weather, fuel prices, and other factors, and let customers also access that same information when making decisions.
The talk of cloud applications appealed to Sandra Previde, a senior information systems manager for the biotech firm Amgen, based in Thousand Oaks, Calif., even if the talk about an intelligent business web didn't hold much interest for her.
Previde said one of her main reasons for coming to Sapphire was to talk to representatives from Netbase, an SAP partner whose analytics application lets companies track trends and information across social media channels.
"Cloud is something we're looking at," Previde said.
Others may need more convincing, at least when it comes to the line of cloud-based HR applications that SAP is creating with SuccessFactors, a maker of software-as-a-service applications SAP recently purchased for $3.4 billion. Company officials have said it will lead to an "end-to-end offering of cloud and on-premises solutions for managing all relevant business processes."
Perhaps reflecting the division between those that prefer on-premise applications, and those looking to the cloud, Tony Pittavese, who teaches ERP administration at East Tennesee State University, said he had more questions than answers after listening to the presentation given by SuccessFactors CEO Lars Dalgaard.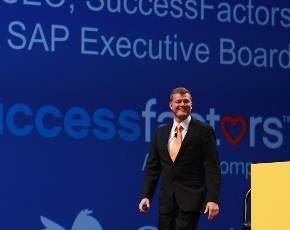 Lars Dalgaard takes the stage (Source: SAP)
"There was a lot of hyperbole," Pittavese said. "I don't know how all of that will turn out for customers."
SuccessFactors and cloud apps
While SAP announced a number of new mobile applications yesterday, and will devote tomorrow's keynote to analytics, HANA, and in-memory technology, SAP used Tuesday to announce a number of new cloud-based applications as a part of what it says is a growing emphasis on Software-as-a-Service applications.
That includes new versions of some of its most traditional, on-premise applications, such as a cloud-based version of its payroll application that will be tied to the SuccessFactors' Employee Central application. The application is scheduled to be available in 10 countries once released.
SAP also announced a new SAP Financials OnDemand application, primarily for larger corporations needing to combine their core financials with the management of order-to-cash and invoice-to-pay processes. At the same time, SAP said it is rolling out an improved version of SAP Sales OnDemand updated with selling features, as well as tools that allow for integration with the SAP Business Suite, including SAP Customer Relationship Management (CRM).
SAP also announced the general availability of SAP Social Customer Engagement OnDemand, which helps companies communicate with customers over social media channels as a part of their marketing efforts.
Despite the progress with SAP's cloud strategy, it also announced that it would be taking a different approach with Business ByDesign, with Dalgaard announcing it would be offering Business ByDesign as an entire on-demand suite as in the past, but that customers could also soon deploy segmented portions of the application.
While some may again question whether the announcement indicates it's giving up on its flagship on-demand ERP, Dalgaard simply said that some customers were looking for something less monolithic than what Business ByDemand offers.
SAP announced the upcoming availability of its NetWeaver Cloud PaaS product, but did not provide a specific date. The open-standards platform, which runs on HANA in-memory technology, will allow customers and partners to build and test cloud-based applications that extend an SAP landscape.
Dig Deeper on SAP selection and implementation