News
Stay informed about the latest enterprise technology news and product updates.
SAP BPC implementations up, as functionality, economy improve
More organizations are implementing SAP BPC with the release of SAP BusinessObjects Planning and Consolidation 7.5.
SAP's acquisition of OutlookSoft may finally be paying off.
More robust functionality in the new release of SAP BusinessObjects Planning and Consolidation, known by most SAP customers as SAP BPC, and a desire for better planning and forecasting capabilities in the aftermath of the recession have more customers implementing the software.
When SAP acquired the OutlookSoft product three years ago, it had 700 customers. That number has more than tripled in the past three years to 2,500 according to SAP. In fact, business performance software in general has bucked the recessionary trend, with total software revenues (licenses, maintenance and Software as a Service subscriptions) predicted to grow by 12.7% through 2012 -- from $2 billion to $3.2 billion, according to a report by Paul Hamerman of Forrester Research Inc.
SAP consultants interviewed said they've seen an increase in BPC implementations particularly over the last few months because it's a quick-win project. One said the only major project challenge is finding the skills necessary to implement it.
"If you're an SAP customer, it's a no-brainer," said Sam Sliman, president of Optimal Solutions Integration Inc., a Texas-based consultancy that specializes in SAP. "From the user standpoint, people love it. It's all in the Excel environment. It's very straightforward, and training costs are very, very minimal."
SAP BPC, sold in the enterprise performance management (EPM) product line, is a tool for budgeting and planning for the finance department. Finance organizations recognize the value of having a separate consolidation environment that's tightly integrated with where most of the data is coming from -- it saves them money and time, and makes them more productive, Sliman said. Organizations that lack a consolidation platform and have a complex legal entity structure spend hundreds of thousands of hours closing the books, Sliman said -- most often by exporting the data into an Excel spreadsheet.
SAP sells Microsoft and SAP versions of the product. The Microsoft version runs on only SQL Server. The NetWeaver version can be run on any database that supports NetWeaver. Most customers are integrating SAP Business Warehouse (BW) and BPC, consultants said.
SAP released the 7.5 version of BPC a few months ago. It's on the same upgrade path as ECC 6.0, and customers don't have to upgrade it separately from ERP software.
BPC 7.5 is "head and shoulders" above older releases, said Tristan Colgate, the head of planning and performance management for Bluefin Solutions, a U.K.-based SAP consultancy.
Functionality in the earlier versions wasn't all that great, he said, and the new version includes better business process workflows, previously only available in the Microsoft version. It also has a new user interface that is based on Adobe Flash, and it's very visually appealing.
One of the main draws of BPC is that it's very easy for the business to administer it, Colgate said. Tasks such as changing the planning module or granting access to users don't require in-depth IT skills.
Users can do a lot more of the work themselves as opposed to relying on IT to define requirements, build and test, Sliman said.
"A lot of that ability is in the user's hands, and it's very well received," he said.
In turn, BPC can be implemented in as little as six weeks, and it requires little development. This means quicker time to value for organizations, another key contributor to implementation increases.
Colgate recently worked on an implementation for a large U.K. energy company. The company charged Bluefin with building a prototype in SAP BPC, while the company's internal team built a planning product based on SAP BW Integrator Planning, which comes free with BW.
"It was a bit of a race, and what we found, is that BPC allows you to produce robust, end-user functionality out of the box," he said.
Plus, SAP has started rolling out so-called starter kits for BPC -- pre-packaged documents, reports, process controls and controls validation that promise 80% of the content customers need to complete a process. In October, it rolled out a starter kit for IFRS (International Financial Reporting Standards), which essentially delivers all the functionality needed for performing, validating and publishing a consolidation to comply with the IFRS. There are also starter kits for liquidity planning and capital expenditure planning.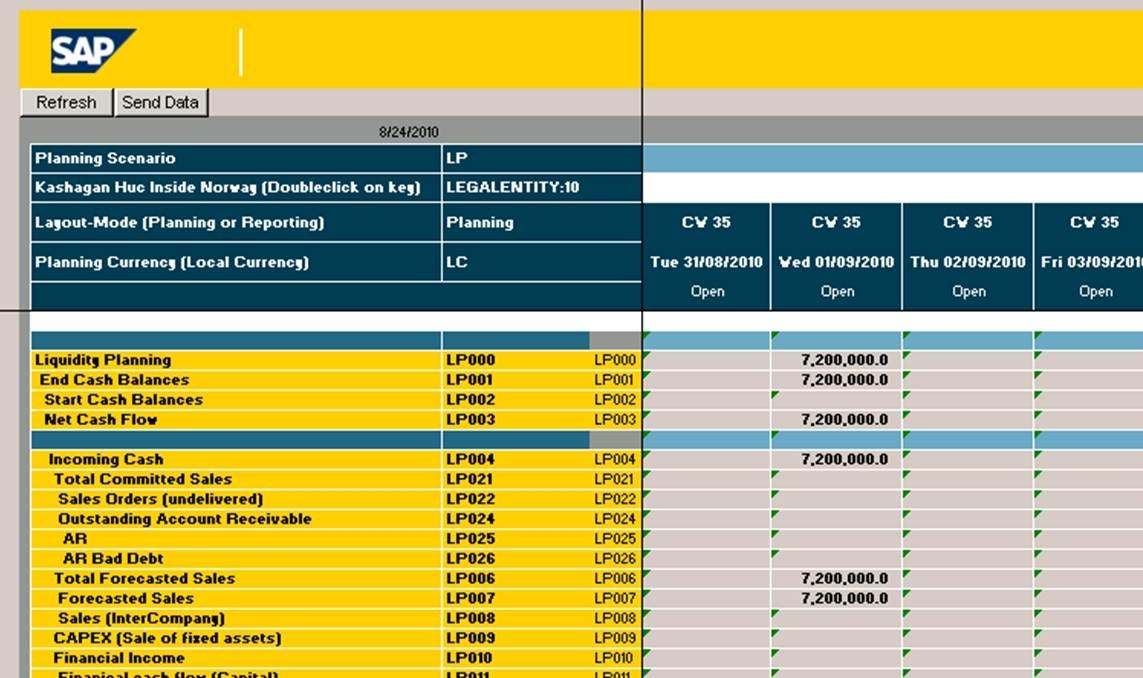 Screenshot of SAP's Liquidity Planning Starter Kit (click to enlarge)
BPC licenses include access to these starter kits.
What's in store for SAP BPC customers?
The next release of BPC will come with the release of the EPM 10 suite. Ramp-up started this year, and the new suite includes a new, harmonized user interface across all of the applications, said James Fisher, SAP's senior director of solution marketing for EPM.
SAP will also be announcing the first EPM applications running on HANA, Fisher said.
"One of the things we're looking to do is take complementary areas of performance management and build applications that leverage the HANA structure," Fisher said. "We've been doing a lot over the last two years; we're extremely confident in our ability to deliver value to customers."