News
Stay informed about the latest enterprise technology news and product updates.
SAP NetWeaver Portal roadmap includes 'Workspaces,' easier third-party integration
Is there a future for SAP NetWeaver Portal? SAP says so, but users want to see some key weaknesses addressed, including poor integration with third-party applications.
Pete Lagana started working with SAP NetWeaver Portal in 2005, when he rolled out Wyeth's employee self-service portal. It gave 30,000 employees at the pharmaceutical company the ability, among other things, to check pay stubs and change their addresses, and all in all, actually use the expensive SAP HR module Wyeth had purchased.
In the following three years, Lagana led portal rollouts for business intelligence and procurement, among other areas, and helped build Wyeth's public-facing site – Wyeth.com -- completely on NetWeaver Portal. Before he left Wyeth in 2008 to join Excellis Consulting Corp, Lagana was getting two reference calls a week from SAP customers -- most asking, "Why does SAP look so horrible? How come I can't make it look the way I want? My people aren't going to use it."
SAP's user interface is a problem the vendor has been pretty public about confronting. It embarked on projects with IBM (Alloy) and Microsoft (Duet) to enable use of SAP through the popular interfaces. Former CEO Leo Apotheker led his Sapphire keynote in 2009 by saying that SAP needed to make its software easier to use – more "fun." Also, SAP's push on agile software development is aimed partly at this goal as well, and it has built the "Elements" development environment to experiment with user interface technologies, some of which will eventually be bundled into its applications.
But in NetWeaver Portal, SAP already has a product that application professionals have long been using to make SAP's applications prettier, create single entry points to SAP and non-SAP applications, and create enterprise portals like Wyeth.com. Yet BW, Portal and NetWeaver PI -- in that order -- are the products in the NetWeaver stack that clients have the most questions about, Gartner research vice president Yvonne Genovese said.
SAP remains committed to enhancing NetWeaver Portal and is planning two major deliveries in the next 12 months, according to Guy Bavly, head of SAP's project management team for user productivity tools.
This week, the company released an add-on to Portal called "Enterprise Workspaces" in ramp-up. It's available to customers with versions of NetWeaver Portal 7.0 and higher. It aims to provide SAP users with an iGoogle- or myYahoo-type experience within SAP, allowing them to build their own pages with structured and unstructured assets -- reports, RSS feeds and so on. It applies a self-service approach within defined roles and security. Users don't always have to go to IT to make their desktop look exactly how they want.
"We want this to be a place where people can focus their workday," said Andrew Cabanski-Dunning, director of marketing at SAP, who called it a "cockpit." (Cabanski-Dunning said some of the work from Elements may end up in Portal as well.)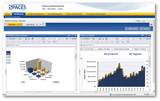 A screenshot of "Workspaces" (click to enlarge)
There's also a new release of NetWeaver Portal coming in the next year – Portal 7.3. It's expected to be in ramp-up by the end of 2010.
It aims to provide a better user experience and reduce the total cost of ownership of running Portal by, among other things, improving integration with other components of the NetWeaver stack. For example, customers will be able to run Composition Environment and Portal as a single instance, enabling cross-functionality between the two and, therefore, easier consumption of composite applications.
The new release of Portal will run on a new Java application server and is based on industry Web standards, so the consumption of third-party content will be easier, Bavly said. In turn, the navigation API allows third-party portal tools like SharePoint to consume SAP applications using Portal as the middleware.
The problems with NetWeaver Portal
Ease of integration has been lacking in earlier versions of Portal and is something customers want to see improved.
Most SAP customers already have some licenses for Portal, Lagana said. They were, for instance, bundled in as part of other deals. But customers are reluctant to invest in more. SAP needs to make it easier to consume and expose third-party products that customers already own by basing Portal on Web standards, he said.
"Make it easy to modify, and make it easy to work with," he said. "Don't make it so proprietary."
In general, smaller companies see Portal as being too complex for what they want out of a portal product, according to Martin English, an SAP consultant for CSC in Australia. His clients are quite willing to integrate existing portal tools – Jive for example – because the look and feel is very similar to wikis, and they can write their own connectors and do basic stuff.
"It's a little bit like the Solution Manager argument," English said. "They don't have the money or time to invest in all of the extra bits and pieces Portal can provide."
With "Workspaces," SAP is aiming to tackle that problem. In turn, SAP has improved the way it runs portal-to-portal integrations. The federation of content is much easier, Bavly said.
Portal also needs more intelligence or needs to provide a way of changing memory allocations without having to stop and restart the Java server, English said.
"I'm a bit old school. It's all well [and good] saying the hardware is cheap," he said. "But the Java is very memory hungry; it's difficult to make the changes on the fly."
SAP is aiming for improved scalability in the next version, Bavly said.
There are still other, simpler problems to confront. For instance, there are still some customers who worry that modifying the user interface will alter support agreements and don't understand that they won't be changing the core SAP code, Lagana said.
In all, it is mainly SAP shops that will continue to deploy NetWeaver Portal, according to Forrester vice president, principal analyst John Rymer, who expects that customers will continue using it to build alternative user experiences to native SAP experiences.
"I think that they've decided that they are going to continue to invest in it and try to make it competitive," Rymer said. "I don't expect they'll ever be leading here."
Dig Deeper on SAP NetWeaver