News
Stay informed about the latest enterprise technology news and product updates.
Tips on planning an SAP Solution Manager installation
SAP customers can get more value from their apps with an SAP Solution Manager installation. NetWeaver technician Tony De Thomasis shares tips in this column.
In 2008, there were fewer than 20 instances in my SAP landscape – a large postal and logistics company. Like many other companies, our landscape started with an R/3 system for Finance and Logistics. This landscape is now being supplemented with additional NetWeaver usage types, including BW, CRM, PI and enhancement packages. Suddenly, the landscape has exploded from 20 to 80 instances.
It would be impractical to grow the support staff workforce at the same rate as the NetWeaver instances – a large support workforce is expensive and will eventually slow down reaction time to business needs.
SAP Solution Manager was viewed as the NetWeaver enablement platform, and the technical epicentre of deploying operational excellence through innovation. In short, we looked at Solution Manager to provide benefits in the following areas:
Streamlining the NetWeaver upgrade and installation process and simplifying the installation of enhancement packs, patches and new installations.
Saving time (and headcount) by automating low-value repetitive tasks such as daily system checks and license key applications. Enabling state-of-the-art productivity tools (such as Wily Introscope, Redwood CPS, BMC AppSight, etc.) to support a complex NetWeaver landscape.
Introducing innovation through support excellence by embracing automatic alerting (to prevent errors), root cause analysis tools (to solve problems quickly) and professional IT performance reporting capabilities (for capacity and environment management).
By observing the following steps, you can build a professional SAP Solution Manager picture that makes sense to your organization. Please remember, the best Solution Manager outcome you can have is one that drives down costs based on your specific pain points.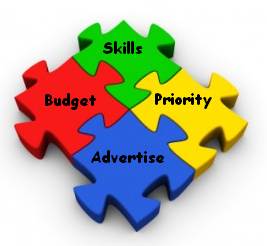 Budget
Before you start unlocking functionality and driving down costs, you will need an initial investment in Solution Manager technology.
The initial Solution Manager deployment will need proper infrastructure and installation effort -- no different from what you would do for a BW or PI installation. Please be aware that the Solution Manager system is a dual-stack installation with heavy BI and EP-Core utilization. The sizing of the Solution Manager system is important and so is the need for a nonproduction Solution Manager instance where you can test the application of maintenance.
Please treat this investment as a down payment on innovation. When your account matures, you will enjoy the dividends of ongoing reduced costs and industry best-practice processes.
As per the diagram, you will be in the red until the new functionality begins to flow.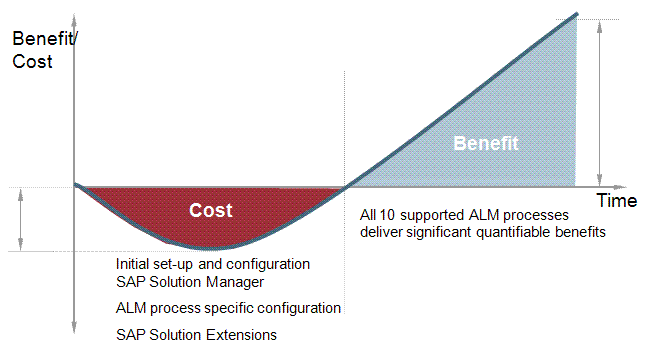 click to enlarge image
Skills
My first Solution Manager training course was in 2002. In those days, training was bundled as part of a self-installation Solution Manager starter pack. Since then, the functionality and ease of use of Solution Manager has improved considerably. These days, Solution Manager is beginning to leverage the great functionality of CRM 7.01, BW 7.01 and EP7.01.
In order to exploit the best features of Solution Manager, it is critical that you prepare yourself. You certainly would not install a CRM 7.01 system without the best technical skills – so why risk a bad Solution Manager outcome because of a lack of knowledge? Get your best technician skilled up – this will give you the best chance of success.
The best introduction you can have to Solution Manager is utilizing the many hours of RKT tuition in the SAP Service Marketplace.
Priority
With IT budgets under intense scrutiny, any new investment in non-mission-critical IT pursuits needs to deliver near-immediate payback. When delivering Solution Manager functionality, it is best to prioritise the processes that really deliver the highest value in the shortest time. This way, you will create demand for additional Solution Manager processes, which further help the support organization optimize IT operations.
It will take around five to 10 new Solution Manager processes to be deployed successfully before you can demonstrate concrete savings. This is why it is critical to prioritize and deploy functionality in incremental chunks.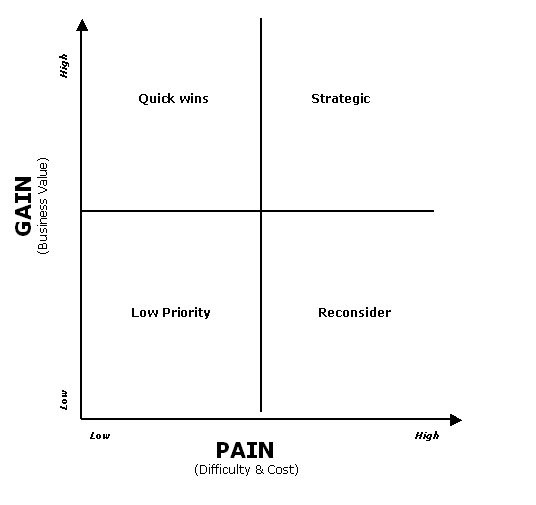 click to enlarge image
The prioritization should be done based on the pain points of your organization. For instance, if you have regular unplanned Production System outages, you should first deploy Alerting and Monitoring. If you are in the process of upgrading, you should first deploy Earlywatch Alerts and Solution Reporting. Remember, the best approach is to slice up and deliver the new functionality "your way."
As per the diagram, a prioritised Solution Manager functionality deployment map based on quick wins will guarantee a quick ROI. Having functionality from each of the four quadrants ensures a continuous roadmap of innovation and cost saving.
Advertise
The most important advice I can give you is to advertise your achievements widely. Some things I have done to generate excitement about Solution Manager:
Get your .Net people using CA Wily.
Connect Solution Manager alerting to the corporate trouble ticketing system using SNMP Traps.
Get your Business Objects people using Redwood CPS.
Send IT performance monitoring reports
Distribute service level reports far and wide.
Talk about your Solution Manager deployment at a user group.
Write a weblog about your achievements.
Speak about Solution Manager at SAP TechEd and Mastering SAP Technologies.
Present achievements to senior management.
Share knowledge on SDN.
Use your chance meetings at the water fountain to your advantage.
A well-known figure in the SAP community, Tony de Thomasis has more than 20 years of SAP-related experience. He was responsible for the installation of the first SAP R/2 system in Australia and has worked for some of the country's largest companies. He has presented at SAP TechEd as an SAP mentor, and recently deployed SAP Solution Manager for Australia Post as an initiative to reduce support costs, and promote proactive monitoring across a complex landscape.
Dig Deeper on SAP development and programming languages