News
Stay informed about the latest enterprise technology news and product updates.
SAP TechEd Demo Jam 2009: Winners use beer keg in demo
SAP TechEd '09's "Demo Jam" was met with an enthusiastic response from conference attendees. Get full coverage, photos and attendee feedback from SAP TechEd's Demo Jam.
One of the more electrifying events of SAP TechEd this week was the SAP TechEd Demo Jam 2009. SAP customers, partners and employees enter the contest with proposals of demos of new technologies or applications. In an "American-Idol" fashion, each of the seven finalists this year took to the stage at TechEd Tuesday night and for six minutes each gave an eager crowd a taste of a new app that could make their lives just a little easier.

And it was in fact the crowd who picked the winner of the event. The votes were based on applause and cheers, which narrowed the finalists down to three, and then to the winner, who carried home the SAP TechEd Demo Jam 2009 trophy.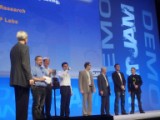 The contest boiled down to three finalists, including "SAP -- No Hands,", "Project Yowie," and "Sensor Monitoring for Smart Energy Saving."
Winner: "SAP -- No Hands"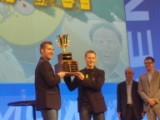 Sebastian Steinhauer and Tobias Queck of SAP Labs took home the Demo Jam trophy Tuesday night at SAP TechEd 2009 Phoenix.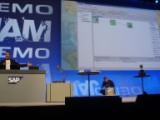 In their demo titled "SAP -- No Hands," Steinhauer and Queck showed how to connect physical and off-the-shelf sensor devices from a shop floor back to office SAP applications. In the demo, they also showed how an abstraction layer built to be technology agnostic can be used to carry out transactions with no user intervention required. They demonstrated this by connecting the sensors to a keg of beer, which they ultimately tapped after granting themselves the appropriate permissions in the systems. They toasted foamy glasses to the audience to wild applause.
"I liked the ability to track things without having to have someone execute a transaction," said attendee Richard Boenisch of Kohler Company.
Vincent Ansick of the U.S. Army was impressed by the use of ale in the demo. "They're protecting the beer," he said. "That's a very important. We protect things too, including the beer."
Second Place: "Project Yowie"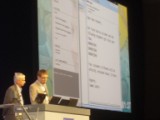 Mark Kowalkiewicz and Hans Reukert of SAP research came away in second place for their demo of "Project Yowie." The project aims at providing a link between business productivity software and enterprise systems, making extensive use of SAP text analytics technologies.
"This is applicable to a broad audience [more so than the iPhone demos]," said Kevin McKinney of the USDA Farm Service Agency in reaction to the demo. "Everybody uses email -- I can see how this would be useful."
Third Place: "Sensor Monitoring for Smart Energy Saving"
Coming in third place was Dan Marinescu of SAP BusinessObjects with his project, "Sensor Monitoring for Smart Energy Saving." Based on event-driven architecture, the demo allows users to build dashboards that track complex events as they happen by minimizing data latency. The demo also leveraged physical sensors to show how physical events could be automatically captured in the system.
"I'm into BusinessObjects," said John Kamendy of Proctor & Gamble in reaction to the demo. "So seeing it work with something physical was really cool."
SAP Business Objects Explorer On Demand Made Easy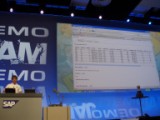 In his demo for "SAP Business Objects Explorer On Demand Made Easy," Brian Dennett of Colgate-Palmolive Company presented a project that demonstrated a generic class allowing for Polestar reports to be created from list reports without extra development needed.
"The front end side was pretty cool, and he talked about a real experience working with SAP," said attendee Sri Bodige of. W.W. Grainger Inc.
Cool offline quoting for SAP ERP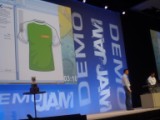 Jesper Moller and Shahid Ayub of Configit A/S presented their demo, "Cool Offline Quoting for SAP ERP." During the demo, they showed how they used RFCs, eSOA, Microsoft SilverLight and XAML and essentially morphed quoting in SAP with VA21 and VA01 into an offline quoting tool with embedded Sap pricing and SAP VC configuration.
"I think this could be applied in my company," said Bertran Sliwa of Total Petrochemicals Inc. after the demo. "It had real-world uses."
Mobilizing SAP CRM and Workflow on iPhone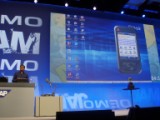 In his demo, "Mobilizing SAP CRM and Workflow on iPhone," Jagdish Bansiya of Sybase Inc. demonstrated a way for sales representatives to use a jointly-developed Sybase Mobile CRM and Workflow for SAP functionality together on iPhones and other mobile devices.
Doug Snyder of Pioneer Hi-Bred International Inc. was impressed by the presentation.
"I was looking for something mobile and I got it," he said.
Simplified Purchasing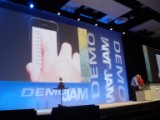 The demo for "Simplified Purchasing," also featured an iPhone to portray how reassigning purchasing documents could be replaced by an efficient client UI. John Astill of SAP Labs explained that through the application, SAP GUI transactions are replaced with simplified client interfaces and a mobile application that uses tagging and other features of SAP Business Suite to cut back on the amount of input and processing needed by procurement professionals.
"It looked pretty slick," said Rick McArthur of Agrium Inc. "It looked like it could save a lot of time on the purchasing side."
Get more info on SAP TechEd Demo Jam 2009. Watch the full replay of the contest on SAP TechEd 2009 Live.
Hannah Smalltree contributed interviews to this report.