News
Stay informed about the latest enterprise technology news and product updates.
SAP's CEO gets down to earth on plans for SAP cloud computing
SAP's co-CEO shed more light on the vendor's plans for cloud computing at a forum Friday and talked about why he thinks you can't put everything in the cloud.
NEW YORK -- SAP will focus on making its software easier to consume and use, according to SAP co-CEO Leo Apotheker, who shed light on the vendor's plans for cloud computing Friday.
Apotheker's vision for SAP cloud computing could be called partly cloudy -- he doesn't think all customers want to, or should, run everything in the cloud. But under the leadership of John Wookey, recently tapped to lead the development of on-demand applications for large companies, SAP can give customers a choice while helping them maintain core competencies and stay competitive, Apotheker said.
"There are certain things that you cannot run in the cloud because the cloud would collapse. It's simple," he said. "Don't believe that any utility company is going to run its billing for 50 million consumers in the cloud. I believe, and John [Wookey] is there to help us, what we can do is to combine the two worlds."
SAP will also make its software easier to use by harmonizing the user interface across its suite.
He shared these thoughts at the company's New York City office Friday afternoon during a wide-ranging forum called "Why Investing in IT Makes Sense in Troubled Times." The forum included two customers and Harvard Business School professor Andrew McAfee.
For more on SAP strategy
Read more about SAP's strategy in this interview with exec Bill McDermott

Find out why SAP hired a former Oracle exec to head up on-demand for the enterprise

Learn about SAP CEO Leo Apotheker's vision for the SAP product roadmap
SAP's hiring of Wookey, the former head of Oracle applications development, to handle its cloud computing business has created some buzz in the marketplace. SAP sees it as one way to improve the way its customers consume software.
"There's one thing that all of us in the enterprise software business didn't do well, for lack of trying," Apotheker said. "We focused on functionality at the expense of figuring out how to make software easy for people to actually consume. We understand that, and we will make sure that you can actually consume real software."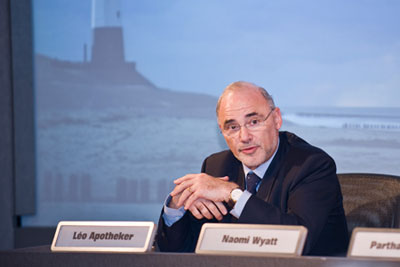 Discussion did shift to the economy, however, when Apotheker brought up the delayed release of SAP's on-demand ERP for SMBs, Business ByDesign. He said that all of Business ByDesign is basically ready, and "it's probably the coolest application we have ever written," but it is being rolled out slowly because of the economy.
"We are releasing it slowly because we are aware of the economic situation out there," he said. "And if we were to release it right now … just compare the profitability of many on-demand vendors … and you'll see that if you are an enterprise vendor that is running at the margin we are running at, if we release it now, we would be hurting our margin."
As for SAP's on-demand effort for large companies, Apotheker declined to discuss what Wookey would be working on first. But he made clear that he didn't think it was wise for some companies to float everything in the cloud. He pointed to Compaq as an example of what happened to a company that relied only on services.
"It started out being a great PC manufacturer and ended up being a logo," he said.
Customers on the panel echoed Apotheker's thought.
While she might be willing to push some business intelligence capabilities there, Naomi Wyatt -- secretary of administration for the state of Pennsylvania, which, with 95,000 users, runs SAP's largest public sector installation -- said there was no way she wanted some of the state's very sensitive data in the cloud.
"I love the cloud. The cloud's a really neat magazine cover," Wyatt said. "I don't want that information in the cloud … but there are some light things that maybe we do want out there."
There are many strategic business processes that Joerns Healthcare -- a Wisconsin-based company that specializes in making beds and lifts for healthcare facilities -- does daily that the company would want to keep in-house, CIO Partha Biswas said. Five hundred of Joerns' 750 employees use SAP.
"CIOs and geeks, they all get excited about using clouds. That's just one side of the story," Biswas said. "We need to understand what this means to business. You don't want to use Software as a Service where you have no competitive advantage [over] the next John Doe using the product."
The customers also shared their top priorities and some advice for SAP in the coming year.
Wyatt said the top IT priority for Pennsylvania -- which recently purchased Business Objects software -- is business intelligence. In these difficult economic times, she said, it will help the state figure out where best to direct projects and purchases.
"If I have this software, I'll know which bridge I want to fix," she said.
Biswas said that SAP needs to offer SMBs a modular approach to licensing and a modular approach to its software.
"SAP has got a lot to offer," he said. "You need to help expand that and reach out to [SMBs] and give them the ability to afford [it]."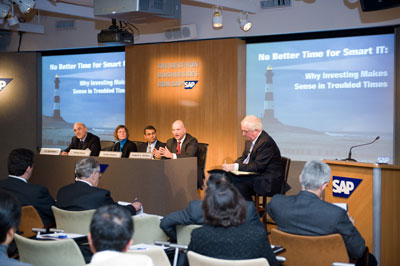 In other news, Apotheker said:
All customers will have upgraded by 2010: Apotheker said about 500 customers a month are moving onto SAP's newest release, ERP 6.0. He predicted that by 2010 all customers will have moved onto ERP 6.0 or the latest Business Suite releases.
"I actually think it's moving along at a very fast pace," Apotheker said. "I would urge everyone to do this. It is probably the greatest savings you can do. From that point onward, your total cost of ownership drops dramatically."
SAP will focus more on helping customers lower TCO: SAP will deliver more service offerings around TCO, Apotheker said, and Solution Manager will be a key component of these services. It will be the pivotal point of delivering SAP enhancement packs -- new, downloadable functionality available through the NetWeaver platform.
"We are not releasing any more releases," he said. "We are releasing enhancement packages."
SAP Enterprise Support will deliver more value: The new support package will lower customers' TCO because SAP is providing proper IT landscape support, Apotheker said, and there will therefore be a whole bunch of services customers won't need anymore.
"I will shock you by saying that I believe that by having provided Enterprise Support … we will actually bring the cost of ownership for customers down," he said.
Software discounts? Maybe: While Apotheker wouldn't say that SAP was having a sale, he did say: "Discounting has been part of the software industry from the second day of existence. On the first day, no one knew what software was."
"We have a vested interest in making sure that our customers come alive out of this crisis," he said. "And we'll work with them to help them as much as we can."
Dig Deeper on SAP trends, strategy and ERP market share