News
Stay informed about the latest enterprise technology news and product updates.
SOA-backed spell check wins SAP Demo Jam
Using SAP service-oriented architecture (SOA) and a little common sense, this year's SAP Demo Jam winner promises to bring spell check to the enterprise.
Turning in work to the boss with a t missing in the word assets isn't the best path to promotion.
This happened to a "friend" of Michael Portner's, and, good friend that he is, the SAP custom developer decided to build a SOA-backed application to make sure his friend never made that mistake again.
Portner developed a spell checker for SAP and won the annual Demo Jam, an "American Idol for Geeks" that pits developers against one another at SAP's annual TechEd conference. The event is the most popular at the weeklong conference for developers, IT administrators and managers, with folks crowding into the ballroom as early as half an hour before it begins to get a good seat.
The winner is dubbed by the applause-o-meter -- which shot to the top when Portner completed his six-minute demonstration.
He showed the audience how to integrate seamless spell check into a Web Dynpro application, among others. The spell checker can be run from anywhere in the NetWeaver platform because the entire project was backed by service-oriented architecture (SOA). The product will be available in early 2009.
"I didn't think spell check would win," said Jeff Word, vice president of product strategy at SAP and host for the event. "Then again, it's a huge problem evidently for our customers."
While he, too, was surprised he won, Portner said he thinks two things put him over the top: First, the audience was impressed by the use of SOA, a technology many SAP customers are still trying to implement and master.
"On the technical front, we are building upon a lot of the business process current technology, enterprise services and things like that," he said. "And functionally, [spell check] remains a pretty big gap in SAP software."
Plus, Portner said, he kept the audience entertained.
"We really tried to keep it light, put a little humor in there," he said. "To demonstrate the value in the actual solution."
Watch Portner's demo here(Demo starts at 50 minutes)
SAP Demo Jam began in 2003. Three months before its TechEd conference each year, SAP puts out a call for demos using its current technologies, like NetWeaver. SAP receives between 60 and 100 demos every year from customers, partners and its employees. Seven entrants are chosen to perform their demonstrations for the audiences at the shows, and the winner is selected via an applause-o-meter.
The projects have to show business value and be ready for release in six months following the demo. Perhaps most importantly, the demo has to be entertaining. This year's projects included everything from a track inspection tool used by Canadian National Railways, in which touch-screen-accessible software was developed for workers who maintain the tracks to monitor defects, inspections and maintenance, to a demonstration from Apple on customizing Web services using XML or HTTP.
The TechEd audience wants to see things they can use to solve business problems, not the stuff of science fiction, which is why Portner's demo played so well, Word said.
"The TechEd audience [is] the ultimate pragmatist on the planet," Word said.
Portner's project fits that mold.
"The idea was sort of the easy part," he said.
Portner started interning with SAP four years ago, while he was a sophomore at West Chester University of Pennsylvania. Upon graduation, he was recruited into a job with SAP custom development.
A project he is currently working on had the fairly simple requirement that it support spell check, he said. He decided to take it a little further and open spell check up to the rest of the SAP world. There is spell check in every other application used by SAP employees -- from email to word processing tools -- but there is no spell check when the end user jumps to SAP software, he reasoned.
Portner said he's already been contacted by a fairly large SAP customer interested in the product after seeing it at SAP Demo Jam. But just entering SAP Demo Jam was a personal goal for Portner -- winning was the icing on the cake.
"If you have a good idea, throw your name into the hat," he said. "Be prepared to be a little stressed. I lost my appetite two days going into it."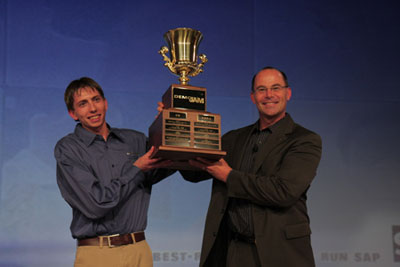 Dig Deeper on SAP and enterprise service oriented architecture