Get started
Bring yourself up to speed with our introductory content.
SAP HANA best suited for solving ERP performance issues
SAP expert Tony De Thomasis lays out a plan for companies looking to deploy SAP HANA.
SAP HANA gives businesses the ability to perform complex calculations faster than ever. But successfully deploying the technology rests on proper planning, from making sure the business case is right to having the skills on board to do the job.
SAP HANA is able to process large data volumes, which helps address ERP performance issues. The best SAP HANA use cases involve several simple data structures or simple table contents that must be joined, aggregated or searched. One of the more successful SAP HANA use cases so far has been fast ERP profitability reporting on line items without the administration overhead of data aggregation and the re-engineering of business functions.
In the simplest of terms, any large list of data that can be created by downloading multiple tables using transaction SE16 and a join in Microsoft Access makes an achievable HANA use case. The more adventurous might consider using SAP HANA to remove the latency between the creation of data in ERP and the reporting process in SAP NetWeaver BW.
Conversely, poorly selected SAP HANA use cases ultimately compromise results. For example, scenarios with complex business data logic or complex transformation rules such as alphanumeric conversions, currency translations and time-dependant logic are not good fits for SAP HANA.
What skills are necessary to deploy SAP HANA?
Much of the risk involved in an SAP HANA deployment can be mitigated by entering into a fixed-price, predefined installation of HANA statement of work. Under this agreement, SAP typically commits to a clearly defined fast-track installation of SAP HANA in two weeks. The scope of this agreement normally covers the following items:
Installing and setting up SAP HANA in conjunction with the hardware partner.
Installing and setting of one form of replication (SAP BusinessObjects Data Services, Sybase Replication Server or SAP Landscape Transformation).
Creating a data model within SAP HANA that connects it to one SAP Business Suite application.
Setting up and maintaining SAP HANA during customer knowledge transfer sessions.
A front-end reporting tool (Microsoft Excel or SAP BusinessObjects Explorer).
The successful outcome can only be guaranteed by close collaboration with a trustworthy SAP hardware partner who performs the following tasks:
Sizing.
Installing the application (only a certified hardware partner can perform the installation).
Backing up and restoring processes (only a restricted set of backup and recovery features are available at present).
Automatic patching (SAP HANA Service Pack 2 is available to SAP HANA hardware partners).
Identifying and resolving any early performance problems.
The local Basis resource is responsible for the following tasks:
Architecting the SAP HANA landscape (Figure 1). The current deployment scenario is referred to as the side-by-side scenario with the SAP ERP data as the source system.
Creating an appropriate SAP HANA landscape to support the nonproduction and disaster recovery systems.
Determining the most appropriate SAP HANA replication option(s), which include

Sybase Replication Server for non-SAP data sources.
SAP Landscape Transformation trigger-based replicator for ERP-based real-time replication.
SAP BusinessObjects Data Services for aggregation and transformation of data from multiple sources in near real time.

Ensuring SAP BusinessObjects Explorer is installed and working.
Installing the SAP Host Agent and SAP HANA Load Controller binaries on the ERP source system.
Setting up the client machine to access the in-memory computing engine.
Managing the SAP HANA application using In-Memory Computing Studio.
Establishing analytics privileges as well as security and user provisioning.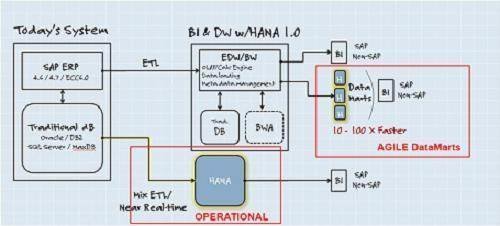 Figure 1. The HANA landscape
The local BW resource is responsible for the following tasks:
Creating models and table relationships in SAP HANA by selecting and loading ERP tables using the SAP in-Memory Computing Studio.
Building reports on top of the data models in SAP HANA using Microsoft Excel, SAP BusinessObjects Explorer, SAP BusinessObjects Web Intelligence or Crystal Reports.
Verifying that the data in SAP HANA is complete and correct.
It's also a good idea to learn from those who have already been there. For example, SAP Consulting Services has local and global experience gained from running proof-of-concept deployments with several other early adopters. In addition, several SAP partners have attended early consultant training through the Partner Enablement program. These partners might even have a small in-house HANA appliance for reviewing purposes.
SAP HANA Planning Resources
Apart from reading the latest release notes and installation guides (listed below), those interested in SAP HANA should familiarize themselves with the differentiators and exclusive offerings from certified SAP HANA hardware providers. The smallest SAP HANA appliance is the 128 MB offering (40 users), whereas the largest is the 1 TB offering (750 users).
Select the SAP HANA appliance that supports the recently released Westmere CPU. This provides over 30% better HANA results than the outdated Nehalem EX CPU. Furthermore, steer clear of SAP HANA appliances that require additional external storage arrays. SAP HANA storage is best handled internally.
Select SAP HANA disk offerings with internal SSD or internal 600 GB SAS drives. In addition, make sure the SAP HANA appliance can grow from two CPU sockets to four and eight CPU sockets without an appliance replacement required for this growth.
The following SAP Notes can also help with the planning of an SAP HANA implementation:
SAP Note 1600147: SAP HANA 1.0 SPS2 Release note
SAP Note 1514966: SAP HANA Sizing SAP In-Memory Appliance
SAP Note 1514967: SAP HANA 1.0 Central Note
SAP Note 1603671: SAP HANA 1.0 Software Download
SAP Note 1513496: SAP HANA 1.0 Release Restrictions
ABOUT THE AUTHOR
Tony de Thomasis has been working with SAP software since 1986. He installed the first SAP R/2 system in Australia for Mobil Oil in 1989. De Thomasis has presented at events like SAP TechEd and SAUG, authored over 30 SAP Community Network weblogs and written articles for SAP Professional Journal.