News
Stay informed about the latest enterprise technology news and product updates.
Choosing the right SAP systems integrator
SAP systems integrators all claim to be the best, so how can you pick one? Part 1 of this series looks at critical factors for choosing a systems integrator for your SAP project.
An ERP engagement is not easy, as any IT and business executives who have been through one will tell you. There...
Continue Reading This Article
Enjoy this article as well as all of our content, including E-Guides, news, tips and more.
is pressure to deliver on time and on budget, while demonstrating measurable benefits. Implementation time frames are measured in months, and many things can go wrong, complicating the management of an already complex project.
If you're reading this article, you've probably already chosen SAP as your software. Maybe you're about to begin your first SAP implementation, or perhaps you've already been through the implementation and are considering an upgrade or a geographic rollout.
No matter what type of SAP project you are considering, choosing your integration partner is not an easy task. They all claim to be the best at everything; each can provide a list of satisfied reference customers and has qualified staff with relevant vertical experience. The question is: How can you separate provider claims from the results you are likely to experience for yourself?
Since 2005, Peachtree City, Ga.-based Performance Monitor LLC has been tracking the performance of SAP systems integrators Accenture, BearingPoint, Capgemini, CSC, Deloitte, IBM, and SAP Consulting, and the company recently completed its 2007 data collection.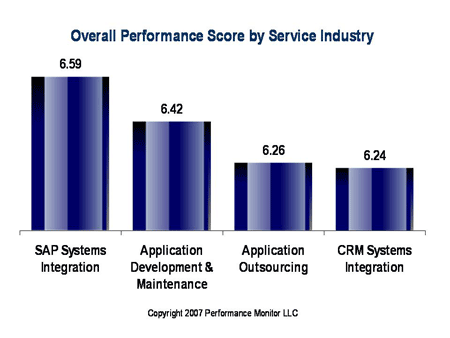 click to enlarge
The scale runs from 1 to 10, where 1 is low and 10 is high. A score of 6 equates to 'good', 7 to 'very good', and 8 to 'excellent'.
Every provider has clients that are very pleased with their implementations, as well as some who aren't. And industry watchers will tell you they often see the same firm deliver similar projects at two companies, with one being an overwhelming success and the other a painful experience for everyone involved.
Every provider has specific areas where it is particularly strong and other areas where it needs some improvement, according to the research, which identifies patterns in performance that allow clients to engage their provider based on track record and not on claims of excellence.
Industry well served
The research focuses on the quality of the delivery across the entire project lifecycle, client goal attainment, and client retention -- whether or not the client intends to work with its SAP systems integrator again.
As a result, various metrics are used to measure performance. The first metric is the overall performance score, which assesses a provider's ability to deliver from concept to post-implementation planning.
Good news for clients with an SAP systems integration project -- the SAP marketplace is mature enough that the leading providers generally perform at a fairly high level compared with other enterprise application-related markets that Performance Monitor follows.
About one in five SAP clients rate their systems integrator on the top end of the scale (in the 8-10 range), indicating excellent delivery experiences. On the opposite end of the scale, about one in three clients rate the delivery performance of their SAP systems integrator below the 'good' threshold.
So what makes the leading SAP systems integrators so good?
Two of the most critical components of a successful systems integration project are the delivery methodologies applied during the course of the engagement and the quality of personnel that implements them.
Methodologies and tools were the criteria that research participants were most satisfied with. This is a good indication that the leading systems integrators have invested in their methods and improved them over time.
Because the SAP market is fairly mature, there are many experienced consultants who can add value to projects. Therefore, the quality and experience of the integrator's staff also scored well.
When clients hire an SAP systems integrator, there are two levels of consideration. First, they are hiring the integrator -- the firm that will do the work. Hiring a firm that is in the game for the long haul is important and helps minimize risk for the client organization. Second, they are hiring the individuals who will be assigned to the project. Having the wrong people is one of the top project-killers.
But how can customers make sure they are hiring the right firms, with the right people?
"Gaining access to the project team can be difficult during the buying process. Perhaps all the provider's A-teams will be delivering on other clients' projects," Michael Doane, founder and chief intelligence officer for Performance Monitor, writes in The New SAP Blue Book. "Just the same, clients should use the leverage they have in the selection phase to require a face-to-face with the key members of the team. Have your best technical people vet their qualifications. Demand that you get reference clients with similar project requirements and ask the difficult questions."
This is the first of a three-part series on SAP systems integration delivery. The next installment will look at some common pitfalls of SAP systems integration projects and how to resolve them.
---
Paul Reynolds is chief research officer of Performance Monitor, an independent research firm that monitors the field performance of the leading service providers. He is a contributing author of The New SAP Blue Book.
Dig Deeper on SAP trends, strategy and ERP market share