News
Stay informed about the latest enterprise technology news and product updates.
SAP plans to phase out the common meeting -- web 2.0 style
At Sapphire 2007, SAP jumped aboard the Web 2.0 train, announcing three products to help users communicate more efficiently and not leaving them in the digital dust.
Seeking to capitalize on the emergence of social networking technology and the Web 2.0 phenomenon, SAP will release three new applications to foster better internal communication.
"I'm sure that many of your organizations have already set up wikis and blogs so that your employees can collaborate in order to solve problems, explore opportunities, and accelerate innovation," Tim Murphy, a member of SAP's design services team, told attendees at last month's Sapphire conference in Atlanta as part of CEO Henning Kagermann's keynote address.
SAP is jumping aboard the Web 2.0 bandwagon with three new products: an employee skill categorization tool, a business networking engine, and a business process tool. Pricing and availability information was not released.
Wikis and blogs allow users to hold discussions among predetermined group members in a virtual space. There are existing Web sites that allow people to take advantage of this new trend, and at no cost to the user, but SAP is seeking to bring these discussions into its own platform.
"Many [companies] have disparate tools from specialist vendors," said Ray Wang, principal analyst for Forrester Research Inc. in Cambridge, Mass. "Web 2.0 tools to improve collaboration among SAP and other heterogeneous systems can only improve the productivity of existing systems and assist with helping companies consider the migration to NetWeaver."
Harmony: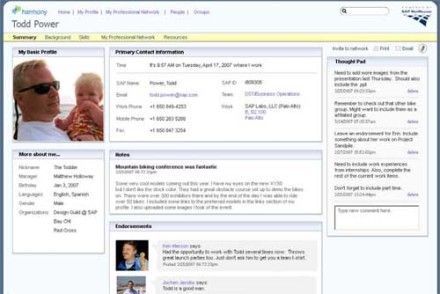 Photo 1 -- click to enlarge

The first release, dubbed Harmony, will offer companies a way to categorize employee skills. Users will be able to access profiles from behind the firewall and "publish their skills so [they] can facilitate making connections," Murphy said. For example, a user would be able to see a colleague's ability to speak Spanish as well as English.

Photo 1 shows a customized user profile.

Harmony, in essence, combines internal business contacts and personal information in every personal blog space.

Customrconnect: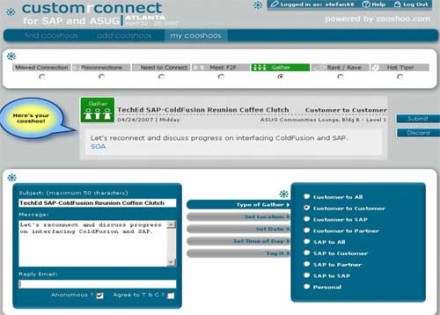 Photo 2 -- click to enlarge

The second addition, customrconnect, developed for SAP by Cooshoo.com and based on the cooshoo social networking engine, is a social business networking service that will "enable members of our regional user groups to connect and create communities, independent of their physical location," Murphy said.

For example, an SAP user in Germany would be able to connect with an SAP user or group of users in California for advice on deploying SAP BW.

Third addition: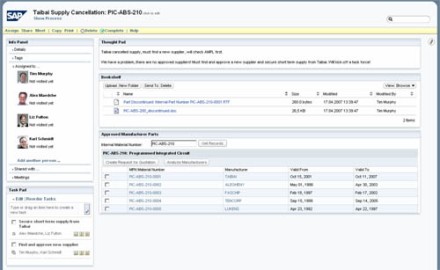 Photo 3 -- click to enlarge

The final addition, as yet unnamed, will "bring Web 2.0 to structured business processes," Murphy said. A Web 2.0 wiki/blog style dashboard will pull together profiles, business intelligence, and business processes.

Each window inside this dashboard features drag-and-drop customization, and each dashboard is personalized and used for one conversation/problem, but has the ability to create and manage others.

Photo 3 shows a discussion between employees assigned to a model problem occurring within the company. These employees are able to view and respond to the situation in their own workspaces after they have received their appropriate access.

Standard business practices can be dragged and dropped directly into the task pad. It is essentially a template that contains the steps necessary to correct a problem so that users can view and address the problem in a standard fashion. Employees can work together to discuss internal issues or customer relations problems.

"Customers are looking for many of the Web 2.0 technologies, such as wikis and blogs, in order to spur collaboration," Wang said. "This type of technology is rapidly becoming mainstream."


Dig Deeper on SAP trends, strategy and ERP market share